INIFD Chandigarh student designers showcase their collection at lakmé Fashion Week: Three student designers of INIFD Chandigarh made the city proud by showcasing their amazing creativity and design aesthetics at the spectacular show 'INIFD Launchpad' on an opening day during 'Lakme Fashion Week in partnership with FDCI' that concluded recently at the Jio World Convention Centre, Mumbai, held from 12th to 16th October 2022.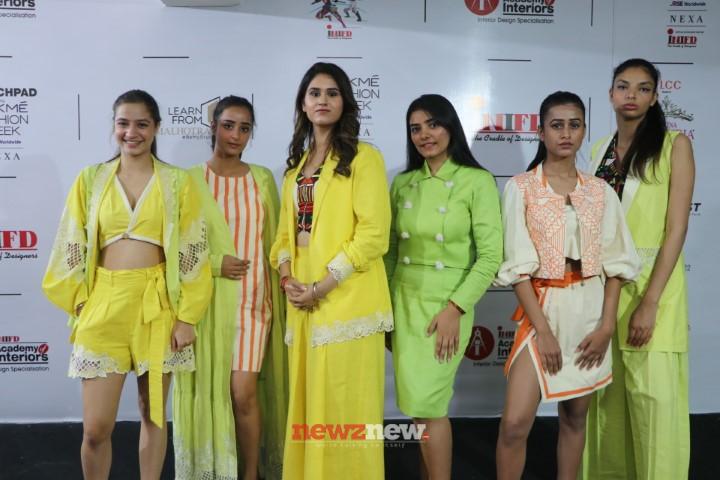 Each season, the INIFD Launchpad show has been one of the most awaited shows at the most prestigious India's Fashion Week.
Adding great style to the finale, Bollywood Actress and Winner of Bigg Boss 7, Gauahar Khan looked radiant in creation by student designers of Inter National Institute of Fashion Design (INIFD) at the INIFD Launchpad show. These included two fashion design students Samiksha Chouhan and Yashika Chugh and one interior student Aakash Verma were selected for 'Lakme Fashion Week.
Fashion Design students Samiksha & Yashika had to take inspiration from Street Style to design their collection and unveil their stunning designs on runway of the main show area. They presented their collection PUTU PUKKAL offering a delightful charm into the multi-layered charms of the Coastal town, Puducherry. Incorporating the essence of Puducherry, its rich cultural, Intellectual, and spiritual vibes and artistic flavours in designs, is a wonderful mix of local and French cultures. The old-world charms of Puducherry lie in its distinctive Yellow Walls, the French architecture, Big French windows, the wild bougainvilleas, and the most important common feature that runs through the entire town, the love for art, graffiti, and artistic flair that makes it conducive to artists and designer. The collection offered comfortable outfits in linen fabric that are reversible, and convertible, and can create multiple looks in fresh colours of Yellow and Lime green. Handcrafted techniques of appliqué work, cut work, hand embroidery, and hand painting were also incorporated. Unique patterns were developed through pattern manipulation and crisp finishes were given to reversible garments as another characteristic of this streetwear collection.
INIFD Chandigarh interior designer Aakash Verma closely worked with the renowned show directors of the industry to design sets of the magnificent fashion shows at India's premier Lakme Fashion Week in partnership with FDCI where eminent Designers like Rajesh Pratap Singh, Satya Paul, Anamika Khanna, Shantanu & Nikhil, Pankaj & Nidhi, Abraham & Thakore, Shyamal & Bhumika, Rina Dhaka, Gaurav Gupta to name a few, unveiled their latest collections. He got firsthand exposure and intense insight into the planning, installations, and execution process involved in the designing of sets on such a huge platform. The practical experience of designing the set was immense.
INIFD is the only student body that is giving an opportunity to its existing students to showcase their designing abilities at the most coveted Fashion weeks at major international platforms – London Fashion Week for 7 seasons and New York Fashion Week for 6 seasons and for 33 seasons for India's premier Lakme Fashion Week in partnership with FDCI.
INIFD has been providing its student designers a direct chance to showcase from their Class Desks to the Ramps of prestigious Lakme Fashion Week in partnership with FDCI while sharing the same Ramp with top Designers like Manish Malhotra, Anamika Khanna, Satya Paul, Shantanu & Nikhil, Anju Modi, Gauri & Nainika, Amit Aggrawal, Pankaj & Nidhi, Gaurav Gupta, Rina Dhaka to name a few.
While introducing the young student designers of INIFD Launchpad at Lakmé Fashion Week in partnership with FDCI to the media, Corporate Director of INIFD, Ms. Ritu Kochhar said, "Showcasing on-ramp of the prestigious Lakmé Fashion Week in partnership with FDCI direct from the class desks is a unique experience for INIFD budding designers. This talented batch of 20 budding designers selected out of 1000 designers who participated all across the nation is bound to make their mark at national & international fashion markets. Their immense creativity & talent crafted by top mentors of the fashion industry is evident from today's showcase which mesmerized each & everyone present."
The final selection of INIFD student designers to showcase at the INIFD Launchpad show during Lakmé Fashion Week in partnership with FDCI was done during 'The Design Festival', a unique platform where eminent jury members select INIFD Fashion and Interior design students from pan India INIFD centres, for a direct entry to showcase at this premiere platform.
The jury comprised top Designers like Rajesh Pratap Singh, Urvashi Kaur, Rahul Khanna, Priyanka Modi, Samant Chauhan, Apoorva Shroff, Sarabjit Singh, Akshat Bhatt, Kuldeep Kaur, Rahul Mistry and Media heads like Shefalee Vasudev and Neeraj Gaba. Winners were later groomed by Stylist Vinita Makhija to showcase their breathtaking collection at the most sought-after INIFD Launchpad show.
These INIFD student designers are lucky to have learned the techniques of Fashion & Design art at INIFD under the able mentorship of names like Manish Malhotra, Ashley Rebello, and Twinkle Khanna.
Over the years, Inter National Institute of Fashion Design (INIFD), the largest network of Design Institutes has established a strong global presence and has emerged as one of the leading and largest chains of design Institutes that has been instrumental in revolutionizing the entire field of Design education, keeping in sync with today's rapidly changing dynamics of the design world.