NewZNew (Chandigarh) : On Sunday Open Air Theatre was buzzing with trophy winners of Juniors Radio Masters-2016, 8th Season of  Inter  School  Radio Drama Competition. Chief  Guest  SSP( Traffic Police ) of  Chandigarh,  Dr. Eish Singhla gave away awards to the winners of Radio Dramas on the themes of "Road Safety" & Clean India. Place was packed with Students, Parents & Teachers. This entire activity was held from April to August. All these participants were earlier given training in the workshops conducted in their schools by IRJ, (Institute of Radio Jockeying) team. They wrote the scripts which were improvised by IRJ writers then the students recorded their Radio Dramas in IRJ Studio which were then edited & mixed with sound effects. There are total 630 participants.
These dramas on burning social issues were recorded by students from classes 1st to 12th of various schools from tricity of Chandigarh, & Patiala. There were two levels: Semi Finals & Finals. In semi finals, all students did there drama in solo voice i.e., All the characters of the drama were enacted by one self only.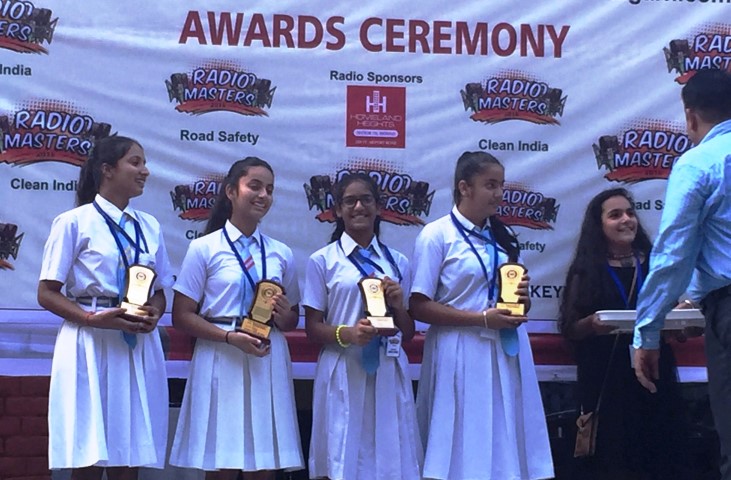 415 students were selected in Finals. In finals, they formed the groups of 3 students each. A workshop was conducted for them in which they were again imparted training in script writing & Voice modulation, dramatic expressions, Their scripts were improvised by IRJ team. Their dramas were recorded, edited & mixed with sound effect & background music. A judgment session was held & awards got decided. The dramas were judged by Mr. Karanbir Shah, a journalist & TV announcer, & Mr Ramesh Kapoor ( Senior Announcer All India Radio, & Ms Ghavri Bhanot (Audio Content Analyser)
All the dramas can be listened to on www.Radiochandigarh.com & their videos can be viewed on "Youtube" Awarded dramas are being broadcast on AIR 107.2 FM w.e.f 24 August at 6.35 PM to 6.50 PM on every Monday, Wednesday, & Saturday.
Senior announcer All India Radio was among the judges & Guest of Honour in the ceremony. He appreciated the herculean effort involved in the process & enormous learning for the children & their showcasing
Chief Guest SSP ( Traffic Police ) of Chandigarh, Dr. Eish Singhla applauded the concept of "Radio Masters & Congratulated IRJ director Mr. S.P. Singh & Mrs Gunjan who founded the concept in 2008. He said that children not only learn Communication skills But give away wonderful messages to society through such Radio Dramas.
In Juniors Category ( Class 3-5 ), On theme of Road Safety, Best Drama Trophy was awarded to Sacred Heart Sen. Sec. School, Chandigarh & Runner up to The British Co ed High School Patiala
On Theme of "Clean India", British Co Ed School Patiala bagged the Best Drama Juniors trophy & Runner-Up Trophy went to Ryan International School Chandigarh
2nd Runner up in Juniors were won by Bhavan Vidyalaya Chandigarh common in both categories.
In Toddlers  Category ( Class 1-2), Hansraj public School, Panchkula & Sacred Heart Sen Sec school Chd bagged Best Drama Trophy
In Seniors Category ( Class 6-12 ), Hansraj  public  School, Panchkula & Sacred Heart Sen Sec school Chandigarh bagged Best Drama Trophy respectively in themes of "Clean India" & "Road Safety" Runner up in Seniors were won by Carmel Convent School Chandigarh &  St John's  School  Chandigarh. 2nd Runner up in Seniors were won by Carmel Convent School Chandigarh & Ryan International School Chandigarh.
30 Super Actors & 30 Super Writers among all schools were also awarded.
About 20 groups also enacted their Radio dramas on stage & got thundering applause from audience.
Most interesting part of the entire function was that it was all managed by the students of class VII to XI, Anchors to stage coordinators & reception executives, all was managed by them. Professional team of IRJ comprises of  Mr. S.P. Singh (chief trainer) ,Mrs. Gunjan, Coordinator & trainer Mr. Harish (Harry) Writer & Trainer , Ms Aparna Trainer, Mr Swapnil Editor, Mr. Rajendra Budhori (Recording Engg.)
These are names of students of Sacred Heart School
Awarded The Best Drama in Senior Category Group A10
Aashna Bagri .: Girl and Narrator
Aakriti ojha: Boy
tisha  bali: Old Punjabi Man
Urvashi : Haryanvi  Police Man
List of Participating Schools
Sacred Heart Sen. Sec. School, Chandigarh
2. St. John's High School, Chandigarh
3. HansRaj Public School, Panchkula
4. The British Co Ed High School, Patiala
5. Ryan International School, Chandigarh
6. Carmel Convent School, Chandigarh
7. Bhawan Vidyalaya, Sector- 33, Chandigarh
8. Little Angels School, Rajpura