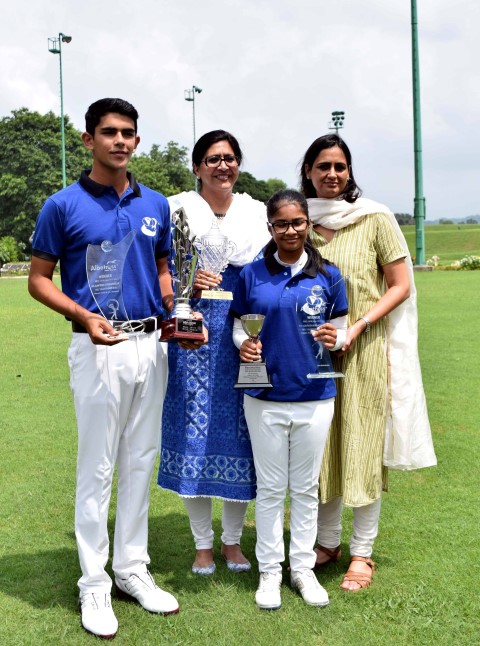 NewZNew (Chandigarh) : The team of highly talented golfers of Aadil Bedi and Vasundhara Thiara, from Vivek High School Chandigarh, won All India Inter-school Albatross Golf Championship. The  Championship was conducted from August 25-26  at the ITC Classic Golf Course,  Gurgaon.
Renu Puri, principal of Vivek High School said that Vivek High School is very proactive in providing assistance to its athletes, and therefore it gives us a great sense of pride to see the school team of Aadil and Vasundhara lift the trophy for the third year running."
Despite very hot, humid and wet conditions, the Vivek High School team  scored 300 and beat the Modern School Vasant Vihar New Delhi team comprising Saarthak Chhibber and Ananya Barthakur by 4 shots. Both Aadil And Vasundhara won in their respective individual  categories A & B too and thereby making it a clean sweep of all the major awards. Aadil was the only player who shot an under par round with scores of 70 and 73 (143 one under) and won by a huge margin of 8 shots in A category over his school mate Virain Khosla. Vasundhara Shot 81,76  (157) and also won by a solid margin of 15 shots over Amani Narang.
The Albatross Team championship in  A/ B category Boys/ Girls was keenly contested with the participation of over 12 schools  including Doon School-Dehradun, Army public School-New Delhi, Maharaja Sawai Man Singh School-Jaipur and Modern School-New Delhi. Over 100 school going young golfers participated in the two days championship.The team of First Step school, Chandigarh  comprising Jujhar Singh and Manjot singh won in C/D category by 6 shots over Modern School Vasant Vihar New Delhi .
Both Aadil and Vasundhara  are also doing the country proud in International matches. Aadil recently  finished runner up in the World Cup at Las Vegas USA. Vasundhara represented the country at the Mercedes Benz Junior Asian Masters golf championship at Thailand and finished at 3rd position. Both the players from Vivek High School have regularly displayed talent and potential to represent the country at the world stage in the coming years as they have already shown promise by bringing medals for the country.
Aadil,  who is already six feet tall thanks to the coaching of Dr Gurmeet Singh, his athletic coach, has his eyes set on the next Olympics ,said "It is my dream to represent India in Olympics 2020.  With my special coach Bob Byman at USA along with my  coach at CGA Chandigarh, Mr Jesse Grewal I will work upon all areas of my game. Now onwards I am looking forward to participate in more international matches through IGU and Government simultaneously, so that I can acquire more international exposure in term of experience and handling pressure before my big events in 2020".
Vasundhara too has started working towards preparing herself to play at the highest level internationally within the next few years. Under the expert tutelage of her coach Jesse Grewal, she recently went through a grip change, which has started to bear positive results for her in terms of giving her game an extra edge. According to her "It is my goal to win a medal at the Youth Olympics, followed by the Asian Games and the Olympics". She is now laying a lot of emphasis on her fitness and stamina under the watchful eyes of her TPI certified trainer Sagar Diwan.