Investiture ceremony at  Shemrock  Sen Sec. School: To inculcate the leadership qualities in students and to give them a feel of functioning of the administrative body, a school cabinet was formed and an investiture ceremony was organized by Shemrock Senior Secondary School, Sector – 69 to nominate students for various appointments in the school.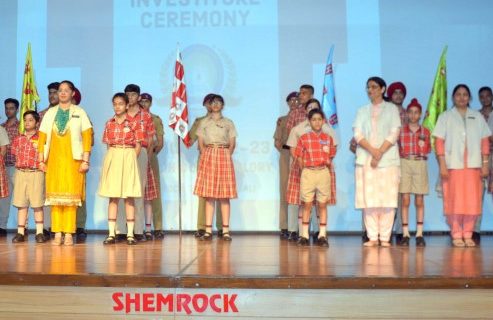 Air Cmde. Nitin Sathe Director AFPI institute graced the occasion as the chief guest. The newly elected members of the council were conferred the badges and flags by the chief guest. The outgoing Head girl, Inderpreet Kaur administered the oath to the inducted members. The members donned the mantle ready to accept the duties and challenges. The audience witnessed the speeches of the Head boy and Head girl, sports captains and House captains.
Aananya Benipal appointed as Head Girl and Alex Pranav Chaudhary appointed as Head Boy, while Harsdeep Singh & Harkirtan kaur appointed as Sports Captian.  Jashanjeet singh as Oxford House Captain, Mehtab Singh Sidhu  as Cambridge, Aryan Kalia as  Harvard &  Lakshay Mahajan  as  Stanford  Captian of the school Houses.
The chief guest Cmde. Nitin Sathe while motivated the students to do the best in their lives. According to him the investiture ceremony in schools is an occasion for great pride. For those chosen by the school to shoulder the responsibility it is not just an honour which makes you stand a step ahead of your peers, but is also a reminder that you have duties to perform.
While Addressing students, Principal of the school Parneet sohal said the school had bestowed a huge responsibility on them and they should carry out their duties in such a way that they set an example for the entire school. He brought out the need to shoulder responsibility and develop leadership qualities to the students. The members of the school council promised to strive for perfection in all endeavors and take their school to greater heights of glory.