IPL 2019: Top 5 Big hitters to watch out for: The twelfth installment of the Indian Premier League is on its way. Fans all over are excited for one of the most awaited cricket tournaments of the year. Let's take a look at the Top 5 Big Hitters to watch out for.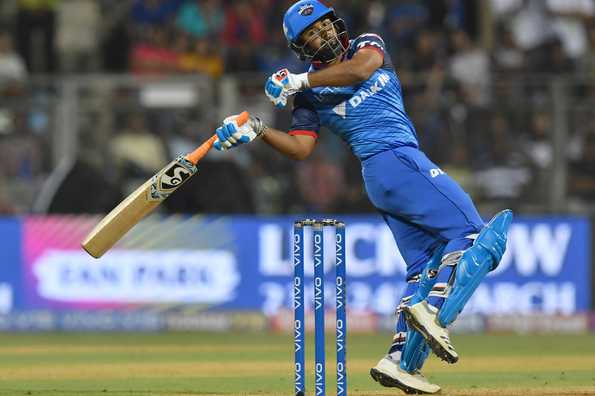 #5. Rishabh Pant
The 21-year-old young gun from India is all about strong and powerful hitting. He loves to strike the ball out of the ground, a proof of which we saw him hit his first runs in test cricket with a six and was also the very first Indian to do so.
IPL has sen Pant emerging as a player. From being just a teenager from Delhi to a national cricket sensation, Rishabh Pant has come a long way. He has one of the better strike rates in the tournament and has proven to take his team to better position in the IPL points table in past season. Hitting the ball at a strike rate of 160+, Pant literally played havoc in last year's IPL, hitting 37 sixes and a century. Pant ended last season of IPL with 684 runs from 14 games.
The only thing that Pant lacks, is a bit of focus. If he can concentrate and convert his promising starts into brilliant innings, Rishabh Pant can surely take the IPL 2019 by storm.
#4. Virat Kohli
It goes without saying that nowadays it's just not possible to create a batsman-centric list and not have Virat Kohli on it. The Indian captain is the epitome of batting class. He starts playing a different game altogether whenever he is on a roll.
Virat Kohli holds the record for most runs in a single season of IPL, 973 runs in 2016. He has scored 4,948 runs coming into IPL 12 and is the second highest run scorer in the history of the tournament.
2017 and 2018 were rather ordinary for Kohli as far as IPL is concerned. But there is no denying that he is dangerous irrespective of his form. Furthermore, we didn't see any drop in form for the Kohli who plays International cricket.
Kohli is beyond doubt, the best batsman in the world at the moment. He is also the most dangerous batsman in the world once he starts to get going. Let's see if he can turn IPL 2019 into a Virat Kohli special.
#3. David Warner
Returning from a year-long ban from cricket, David Warner would surely be eyeing some redemption. He is one of the two batsmen to have won the Orange Cap twice (2015 & 2017). And the way he bats, he surely gives the bowlers, a run for their money. Furthermore, IPL is going to be all the practice Warner gets before he takes on the world stage at ICC Cricket World Cup. We can expect to see some exceptional batting from the Australian opener this season. We all know about the panache of David Warner. It would be exciting to watch the comeback of someone as great as Warner this IPL.
#2. Chris Gayle
Christopher Henry Gayle, the Universe Boss is just an absolute treat to watch when he gets going. And once he is on a roll, there's absolutely no stopping him. When he starts to clear that front leg of his, the fielders turn into mere spectators and the bowlers become helpless. Chris Gayle has the record for most runs scored in an innings in IPL, 175 runs in just 66 balls for the Royal Challengers Bangalore against Pune Warriors India in 2013. This was also his fastest century which he scored in just 30 balls.
He also has the record for most number of sixes under his belt. He has struck 292 sixes in his 111 innings so far. The next best, AB de Villiers is more than a hundred sixes behind with 187 sixes from 129 innings. Gayle's records speak for themselves. Talking about his current form, Gayle is coming into this IPL from a successful series against England. He scored. It's only a matter of time before Gaylestorm strikes IPL 2019.
#1. Andre Russell
The all-rounder from West Indies has earned a lot of reputation ever since he transferred to the Kolkata Knight Riders from Delhi Daredevils in 2014. He has the highest overall strike rate, a whopping 177.29 over the span of 2012-2018. He has very rapidly become an integral part of the KKR franchise. The way he bats, there is a certain charisma to it. Especially his ability to perform in pressure situations. The big man from the Indies doesn't shy away from a tough challenge. It's seen more often that he emerges on the top of a difficult situation and gets the IPL score for his team to a bigger number. Russell truly deserves to be on any list that involves 'Big Hitters' of the ball.