IRON LADY Awards 2 – a salute to Woman Power commemorating International Women's Day: Coinciding with the International Women's Day, the IRON LADY awards were presented in a glittering function held here today at DLF Citycentre Mall in IT Park, Chandigarh.
The awards mark a salute to the women who have carved out a niche for themselves in various walks of life thereby exhibiting the growing role of women in every sphere of life.
The jury to decide the awardees included Additional Director Information and Public Relations Department Haryana- Varsha Khangwal(HCS); Police Grief Counsellor, POSH Chairperson and Pad Women – Renu Mathur, GM Hyatt Hotels- Maulina Gupta and WICCI President – Deepika Bahri.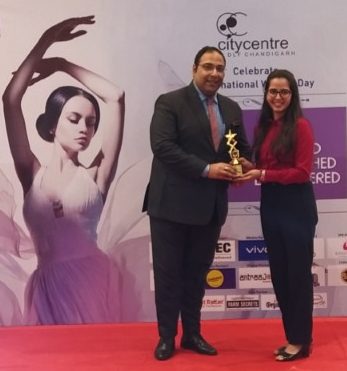 Speaking on the occasion Mr. Siddharth  Prakash, AGM, DLF Power & Services Limited said "The sanctity of the awards is reflected in the women who have made their way to beat the odds and make a mark for themselves. These awards are conducted every year. This year we had an opportunity to have a wonderful jury comprising of 4 members, who reviewed and have finalised the best to be recognized this year. May the spirit of courage, selflessness and self belief encourage many more women. Happy Women's Day.
On the occasion, International Para Athlete & Motivational speaker Jeetin Kumar Bishnoi besides, Chief Mentor & Director, Mindridge Consulting- Manjot K.S. Gill highlighted the issues being faced by women all across the globe as well as their marvellous success despite heavy odds stacked against them.
The gala event was marked by ribtickling comedy by Gurleen Pannu with singers Sukh Mann and Dev Sandhu mesmerizing the audience with their soulful melodies.