Ivy Hospital introduces 'heart team approach': Ivy Hospital, Mohali on Wednesday announced introduction of an internationally endorsed  'heart team approach' in the management of complex heart and vascular diseases.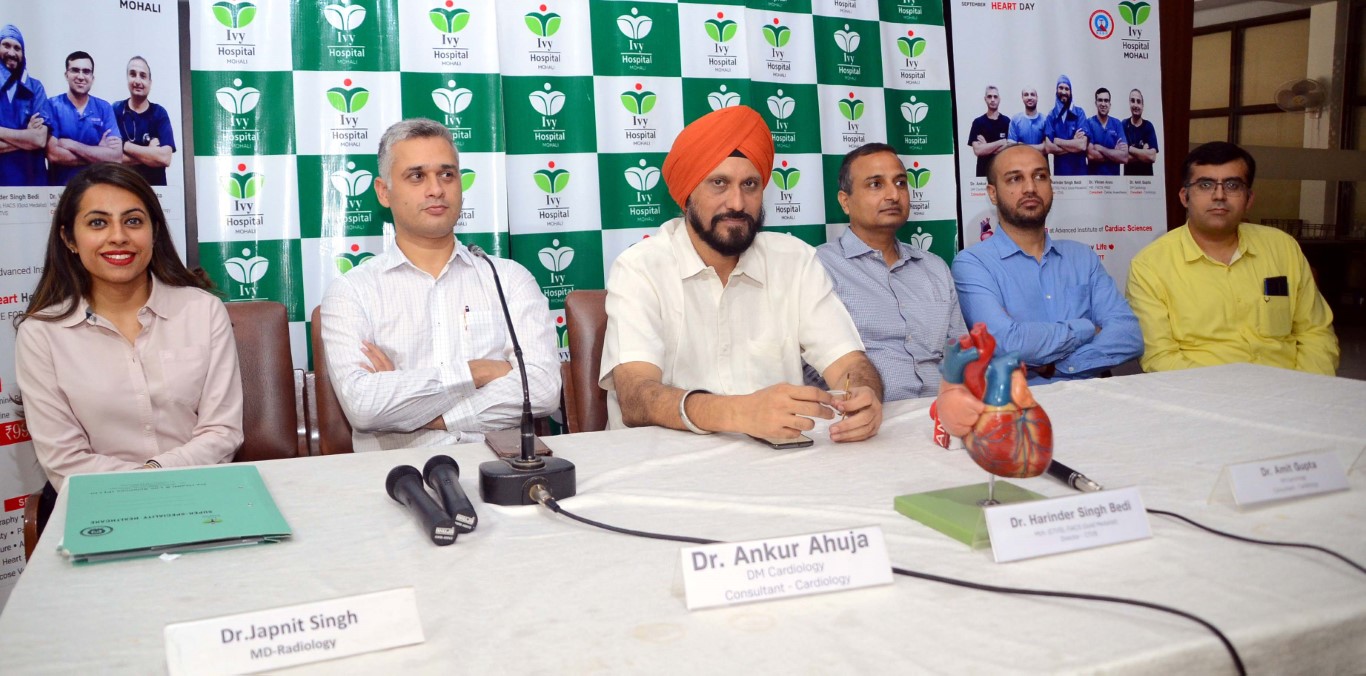 Addressing a press conference at Chandigarh Press Club today, Dr. Japnit Singh, Director stated that this concept is gaining popularity all over the world to provide holistic and ethically correct treatment to patients suffering from various cardio vascular diseases.
Dr. Harinder Singh Bedi, director cardio vascular endovascular & thoracic sciences at Ivy Hospital, Mohali said that the management of complex cardiovascular disease has changed with the development of new strategies of care.
Dr Bedi said further that applying all the scientific information and making it useful for the patient and family have assumed central importance. To facilitate this process of patient centric evidence-based care, a multidisciplinary heart team has been setup at Ivy, he informed.
The objective of the team is to provide patient-centric care where family and the patients can participate in decisions. All the alternative options of treatment are discussed in the presence of family and the outcome of each approach is also discussed to understand the expectations. The final treatment will only be given once the family and team take the final decision, he explained.
The team will consist of Dr Bedi, Dr Ankur Ahuja and Dr Amit Gupta both invasive cardiologists, Dr Jiten Singh the cardiac surgeon and Dr Vikram Arora cardiac anesthetist . They all in combined have a vast experience of over 80-yr of cardiac patient care.
Talking about the benefits of concept, Dr Ankur Ahuja and Dr Amit Gupta – both cardiologists said that not one but a team consisting of all the experts decide a best line of treatment. The family would also save crucial time which would otherwise be wasted running from one doctor to another. The team applies scientific criteria to decide on line of treatment based on medical guidelines to reach on a treatment option, they asserted.  
Dr Bedi has worked at the Escorts Heart Institute New Delhi and the St Vincents Hospital in Sydney . He was the senior most cardiac surgeon in the startup of the flagship Fortis Hospital . He holds the Limca Book of World Records distinction in starting the first series of multivessel beating heart surgery and a number of innovations in cardiac and vascular surgery .  He hasa been honoured with  various awards by the Punjab Chief Minister and the Union Health Minister . He is a member of the prestigious Society of Thoracic Surgeons USA and is the founder President  and Patron of the North Zone Association of Cardiac Surgeons .
Dr. Ankur Ahuja, MD, DM, FISC, He did his DM from prestigious KGMU, Lakhnow and did further training in Interventional Cardiology from Escort hospital, Delhi. He is proficient in complex coronary interventions (Including radial primary angioplasties) & peripheral Interventions (Critical limb ischemia, EVAR, Carotid, angioplasties, etc.).
Dr. Amit Gupta, Senior cardiologist and Fellow European society of cardiology, Worked at Apollo hospital LDH and Max Hospital Mohali before joining IVY Hospital Mohali
Dr Jiten Singh has worked earlier at the Fortis Heart and in Australia. Dr Vikram Arora is an experienced Senior Consultant in cardiac Anesthesia .  Dr Sanjeev Mittal is an expert in non invasive Cardiology.