VLCC presents the 2019 edition of its annual 'Transformation Show' in Kolkata: VLCC, a leading Indian beauty and wellness chain, hosted the VLCC Transformation Show in Kolkata today, showcasing and celebrating inspiring, real-life transformational stories of women and men across age groups, who shared their journey to wellness, including weight loss, grooming and better health with the audience.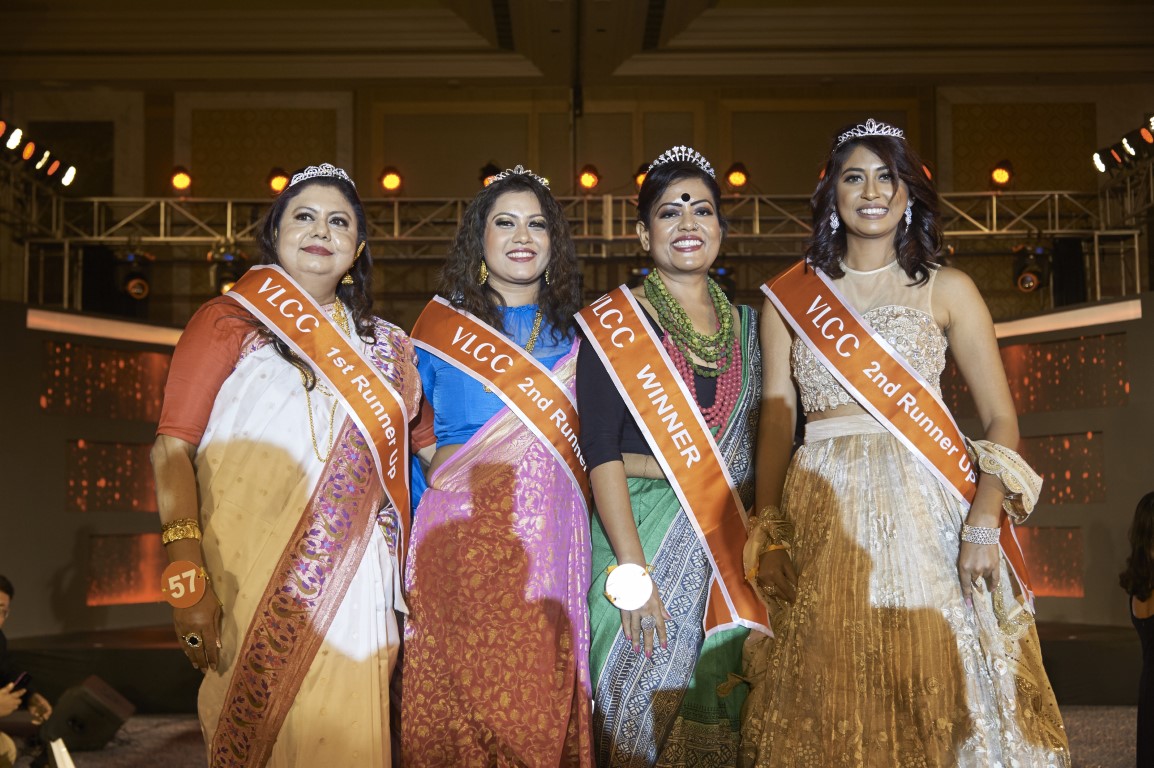 VLCC has been organizing the Transformation Show annually since 2016 to promote the need for and benefits of leading a healthy lifestyle by bringing on stage participants who have led by example and regained their health and fitness parameters and confidence through positive lifestyle changes, dietary modification and physical activity regimen, as practiced at VLCC.
Speaking on the occasion, Mrs. Vandana Luthra, Founder, VLCC said, "It is a momentous occasion for us to be able to witness these real-life transformations. These inspiring stories are a testimony to the possibility of leading a healthier life if a person chooses to work towards it and seek the right kind of expert guidance.
VLCC has been offering holistic wellness and beauty solutions for three decades now, and it is success stories like these, that keep us motivated in our mission to spark self-transformation, spread happiness and imbibe individuals with wellness for life."
Attended by over 400 guests, this year the show featured 63 women and men aged 19 to 70 years from diverse backgrounds across East India.  The event was in the form of a contest where awards were given to three winners of the ramp show followed by winners for sub-categories, including Best Transformed, Beautiful Skin, Beautiful Hair, Ms. Congeniality, Beautiful Smile, VLCC Ms. Confident, VLCC Ms. Perfect and VLCC Special Recognition Award.
The panel of judges comprising eminent personalities and celebrities included Ms. Nusrat Jahan, Member of Parliament (Lok Sabha) and popular Bengali actor; Ms. Usha Uthup legendary singer of India, Ms. Dona Ganguly, renowned Odissi exponent and wife of cricket legend Sourav Ganguly; Mr. Sourendro Soumyajit, famed music virtuoso; Ms. Richa Sharma, ex-Mrs India International; Ms. Alesia Raut, supermodel, VJ and fashion choreographer; and, Dr. S. N. Sharma, Director, Kasturi Das Memorial Super Specialty Hospital, Kolkata.
About VLCC Group: Founded by Mrs. Vandana Luthra as a beauty and slimming services centre in 1989, VLCC is today widely recognized for its comprehensive portfolio of beauty and wellness products and services and also enjoys a high level of consumer trust. The VLCC Group's operations currently span 350+ locations in over 165 cities and 16 countries across South Asia, South East Asia, the GCC Region, and East Africa.
VLCC manages one of the largest chains of Slimming, Beauty & Fitness centers across Asia; operates one of Asia's largest networks of vocational education academies in Beauty & Nutrition; and, manufactures in Switzerland and the company's cGMP-certified plants in India and Singapore, a comprehensive range of skin care, hair-care and body-care products as well as nutraceuticals under the VLCC Natural Sciences™, Skin MTX™, BelleWave™, VLCC Slimmer's™, VLCC Shape Up™, Specifix™ and VLCC Wellscience™ brands, which are not only used as consumables in treatments and therapies at all VLCC Wellness Centers globally but are also retailed through over 250,000 retail outlets and beauty salons across Asia and Africa.
Winners List
Beautiful Hair- Dona Poddar ( Salt Lake)
Beautiful Skin- Rakshanda Muquim (Theatre Road)
Beautiful Smile – Dr. Sutapa Biswas (Bbsr 1)
Miss Congeniality- Anusree Basu (Theatre Road)
Miss Perfect – Rajwant Kaur (New Town)
Miss Confident – Purnasha Das ( vip)
Special Recognition award-  Ratna Dutta (kkg)
Special recognition- Savita Jhawar (Howrah)
Special Recognition- Baisakhi Sarkar (Kasba)
Special Recognition- Parvati Devi (Howrah)
2nd runner up- Madhurima Dey (Behala)
2nd runner up- Ananya Lahiri (Salt Lake)
1st runner up- Anusree Basu (Theatre Road)
Winner- Anindita Dutta (Kasba)