NewZNew (Chandigarh) : Cataract is a worldwide problem affecting eye sight of around 75 lakh people in India who become blind every year due to cataract. Most of the retinal diseases are main cause of the vision related problems and blindness. Isotine Plus eye drops, developed and launched by Jagat Pharma, is claimed to be effective in curing cataract without surgery. It was announced here today at Chandigarh Press Club.
[blockquote author="Dr Mandeep Singh Basu, Eye specialist, said," pull="pullright"]"In allopathy, surgeries are carried out for various eye diseases, but thanks to the recent research in Ayurveda, all this can be treated without surgery, depending upon the sensitivity of eye diseases. We are here to participate in the All India Ayurvedic Congress (Arogya Expo) being held at the Law Auditorium, Panjab University on 12-15 March, 2015. People can visit our stall no. 63-64 for free consultation and check up during the expo."[/blockquote]

He said that Isotine Plus eye rops is the result of several years of Dr. Mahendra Singh Basu's research work. It is based on Ayurvedic herbs and bhasmas. After many clinical trials, it has since been registered, GMP,ISO 9001:2000 certified, CIMAP and CDRI Tested, Sreeram Institute of Industrial Research tested, and  patented by Govt. of India. During the past 30 years, thousands of patients suffering from immature cataract and other eye diseases like Myopia, Hypermetropia, Diabetic Retinopathy, Colour Blindness, Muscular Degeneration, Glaucoma and Retinitis Pigmentosa have been benefited without operation.
Dr. Basu's Isotine Eye Drops is a visionary breakthrough with magical qualities for correcting vision. Many patients who were refused by famous hospitals like AIIMS New Delhi, Sitapur Eye Hospital Aligarh, Shankara Netralaya Chennai, KG Medical College Lucknow etc. have been successfully treated for various eye diseases. The improvement in vision is without any side effect.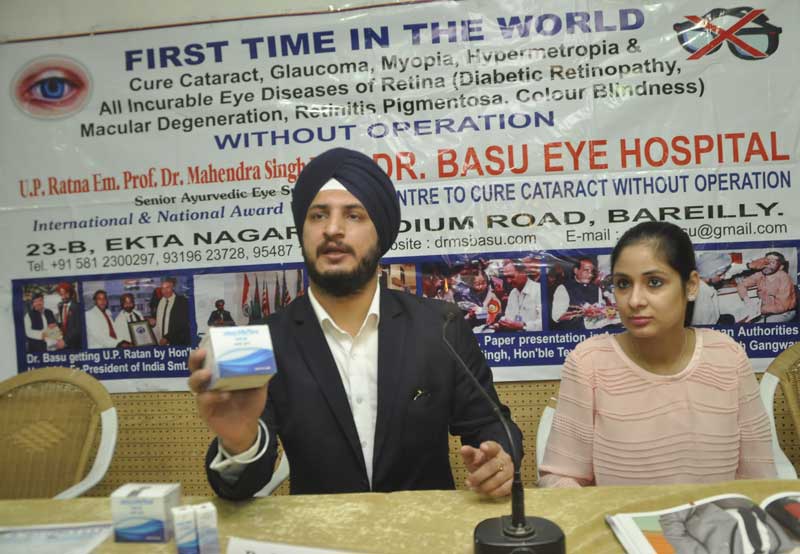 Dr Basu further said that Isotine Plus eye drops has also been found to be very effective in improving eye sight in post operation cases of cataract, Laser and Lasic Laser. Spectacles of many patients have also been removed up to +8.50 Dsph. For this breakthrough innovation and human services Dr Basu has been conferred with Sight First Excellence Award, USA Lions International, Ayurveda Ratna (Vishwa Ayurveda Parishad) Rashtriya Gaurav Award, New Delhi and the Distinguished Services Award from the Heart Care Foundation of India.