Jet Airways, India's premier full-service international airline, today introduced tri-weekly non-stop flight connecting Chandigarh, the capital of Haryana and Punjab, with Kolkata – the city of joy. In an industry first, the airline also introduced a daily, non-stop flight effective 01st September, 2018 between Chandigarh with Lucknow – the capital of Uttar Pradesh replacing its erstwhile one-stop connection via Delhi.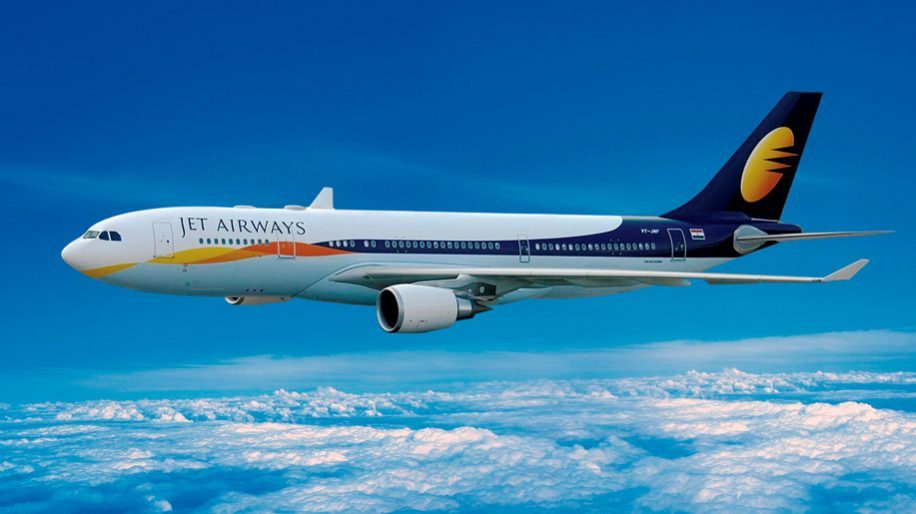 Jet Airways' new services will promote business and economic activity in the region. The airline has increasingly been introducing services that cater to the growing demand for travel between emerging cities and metros, stimulating the growth of Small and Medium Enterprises, assisting corporate travel as well as guests who are visiting friends and relatives.
Chandigarh has one of the highest per capita income in the country and a high travel propensity, having been rated amongst the "Wealthiest Towns" of India. Jet Airways currently operates daily flights connecting Chandigarh with Mumbai, Delhi, Hyderabad, Indore, Jaipur and Pune respectively and the airline's latest service to Kolkata will link it with the commercial and financial hub of the East.
Mr. Raj Sivakumar, Sr. Vice-President, Worldwide Sales & Distribution, Jet Airways said, "Air traffic from Chandigarh has grown in excess of 16 percent CAGR over the last three years. The burgeoning demand for air travel pan-India is seeing guests travelling to more than one destination, reinforcing our network model. More and more guests prefer seamless connectivity with minimum stoppages, regardless of their point of origin. Our schedule has been meticulously planned to meet the expected surge in demand over the coming months. New flights connecting additional sectors are meant to offer our discerning guests choice, convenience and superior comfort. I am sure these new flights will reinforce Jet Airways' perception as the preferred airline and will boost trade and development in each of these cities."
Jet Airways Flight Schedule from Chandigarh to Kolkata
Jet Airways flight 9W 158, on Monday, Wednesday and Friday, will depart from Chandigarh at 13:45 hrs and arrive at Kolkata at 16:25 hrs. From Kolkata, he return flight 9W 157 will depart at 10:35 hrs and land at Chandigarh at 13:15 hrs (IST).
Jet Airways Flight Schedule from Chandigarh to Lukhnow
Jet Airways flight 9W 3523, will depart from Chandigarh at 14:45 hrs and arrive at Lucknow at 16:40 hrs. From Lucknow, flight 9W 3524 will depart at 13:50 hrs and land at Chandigarh at 15:40 hrs.
JET AIRWAYS' GLOBAL LINKER
The introduction of the new services will also help expand Jet Airways' GlobalLinker programme. Catering to the Small & Medium Enterprises (SMEs), Jet Airways GlobalLinker is a unique digital solution which provides SMEs and startups the ability to better manage their business; by building new business connections and gaining from offers and deals for services required for their businesses – all on a single platform.
Jet Airways membership benefits

Flat 10% off on flight tickets for self and family.

Access to a LINKER.store, where SMEs can create an online store and sell their products and services

Exclusive deals from partners on a range of products and services covering insurance, hotels, cars, business & group packages, advertising solutions, legal advice, loans, printing solutions, insurance solutions, card protection to name a few.

Network feature, allowing users to connect with others GlobalLinker members, receive recommendations to connect with business prospects and search for new contacts

Business Forum: to review latest, relevant news, articles & features and start, participate-in or observe business discussions

Other value ad includes a Calendar feature where the SMEs can send invites and reminder for tasks, eBriefcase, where the SMEs can store documents and files and an Email feature
Other developments
Continuing its focus on growing its domestic presence, Jet Airways, India's premier full-service international airline, has introduced 28 new flights in September.
Being a network carrier, Jet Airways' new services – including industry firsts as well as a mix of non-stop and one-stop flights – will strengthen the airline's footprint, enabling it to meet the rising demand for domestic and international air travel in emerging cities. The new services will also help connect guests with other cities including metros as well as the airline's global network via its hubs in Mumbai, Delhi, and Bengaluru.
In a series of industry-firsts, Jet Airways will introduce daily flights from Indore, connecting the 'largest city in Madhya Pradesh' to Jodhpur as well as to Vadodara. In other notable firsts, Jet Airways is also set to commence flight operations between Ahmedabad and Jodhpur as well as Vadodara and Jaipur. Jet Airways will be the only airline in the country operating these routes which will improve connectivity between north India and central as well as western India.
The airline is also introducing additional frequencies on key existing routes, expanding non-stop capacity between Mumbai – Guwahati and Delhi – Bagdogra and providing additional one-stop connectivity on the Mumbai – Bagdogra and New Delhi – Guwahati routes.
Among other network enhancements, the schedule will see Jet Airways launch non-stop flights connecting Bengaluru with Lucknow, Indore with Kolkata, Coimbatore with Hyderabad, Visakhapatnam with Mumbai and Delhi, reflecting the growing demand for its services to facilitate the travel aspirations of its guests.
The airline's focus on Indore is evident, given that the city is fast shaping up as a key pillar in its pan-India network due to its central location and expanding infrastructure. Jet Airways is all set to deepen it's connect with Indore by offering services to 14 cities across the country. In fact, the airline will be the only one providing non-stop connectivity from Indore to emerging markets and mini metros such as Ahmedabad, Jaipur, Vadodara, Jodhpur, Allahabad, Chandigarh, Lucknow, Nagpur and Pune. Jet Airways will also provide non-stop connectivity from Indore to metros such as Kolkata and Hyderabad as well as its hubs in Mumbai, Delhi and Bengaluru channelising network traffic seamlessly to its international network.
The airline's new services such as Indore – Vadodara and Indore – Jodhpur will promote travel and stimulate business and economic activity in each of the cities, especially for the Small and Medium Enterprises located in and around Vadodara as well as Jodhpur. The new and existing flights will also enable Jet Airways' guests to avail the airline's day-return services from Indore to Mumbai, Delhi, Ahmedabad, Jaipur and Nagpur. Further, guests from Bengaluru, Hyderabad, Pune and Kolkata will now have additional connectivity to Jodhpur, Allahabad, Vadodara and vice versa via Indore.