Pre-book for Rs 500 via Jio retailer or MyJio application.
The much awaited JioPhone, which is set to unleash a Digital Life for 500 million feature phone users, will open for pre-booking on 24 August 2017, 5pm.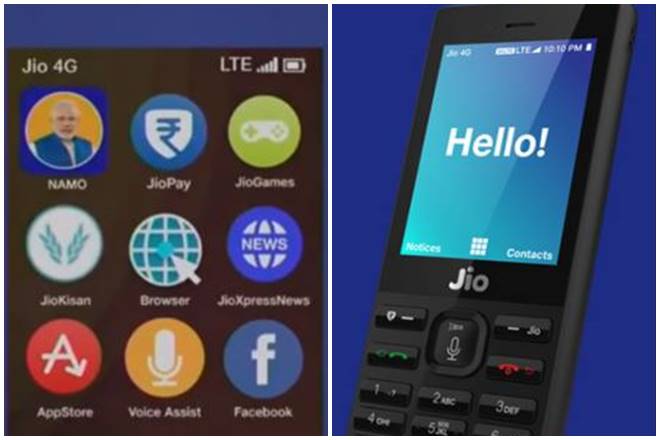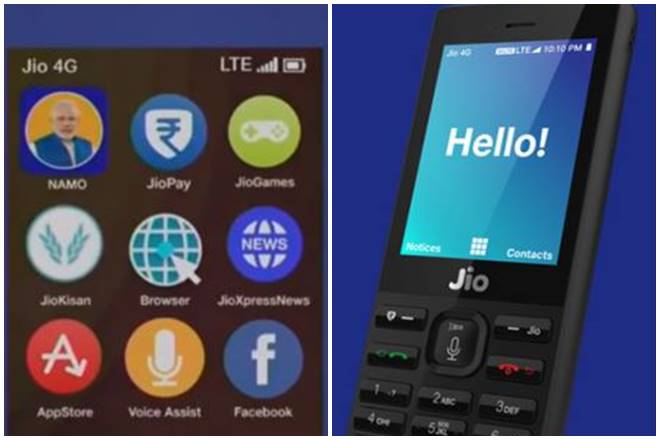 This revolutionary device, that was unveiled at the Reliance Industries AGM on 21st July 2017 is available to customers at an effective price of zero, ie, effectively free. Customers are required to pay a fully refundable, one-time, security deposit of Rs 1,500 against every JioPhone to avoid potential misuse. The JioPhone will be distributed on a 'first come first serve' basis to only those who pre-book starting 24thAugust, 2017.
VALUE PROPOSITION
First, On the JioPhone, voice will ALWAYS be free.
Second, to enable a Digital Life, they need access to DATA at affordable rates. Jio will give them access to UNLIMITED DATA on the JioPhone.
Third, Jio will provide free voice and unlimited data at ONLY Rs 153 per month. That is one-thirtieth the price at existing industry standards.
Fourth, In order to fit every pocket, we are also introducing 2 sachets…A weekly plan for Rs. 53 and a 2 day plan for Rs 23, that provide similar value.
Fifth, the JioPhone comes pre-loaded with the Jio suite of apps for messaging, entertainment, etc. especially Jio TV which features more than 400 live TV channels as well as JioMusic and JioCinema, which give access to the latest in entertainment in multiple regional languages. It will also include some of the most popular instant messaging and social networking apps, to ensure consumers continue to enjoy the best services.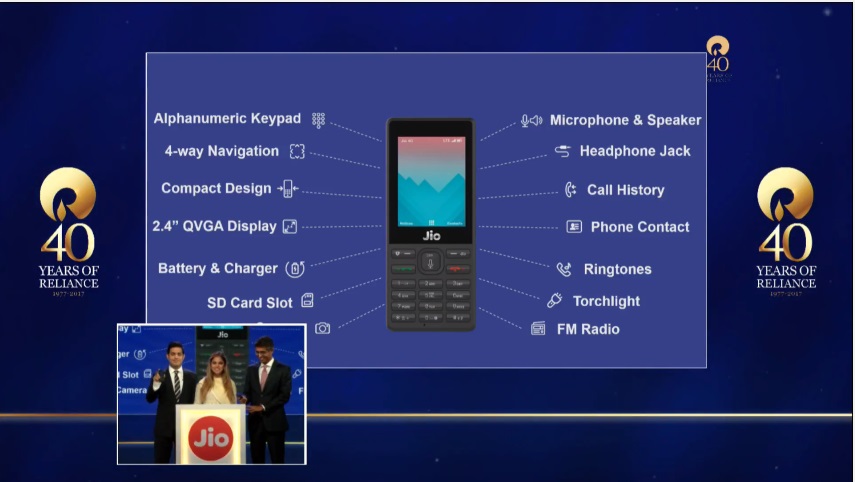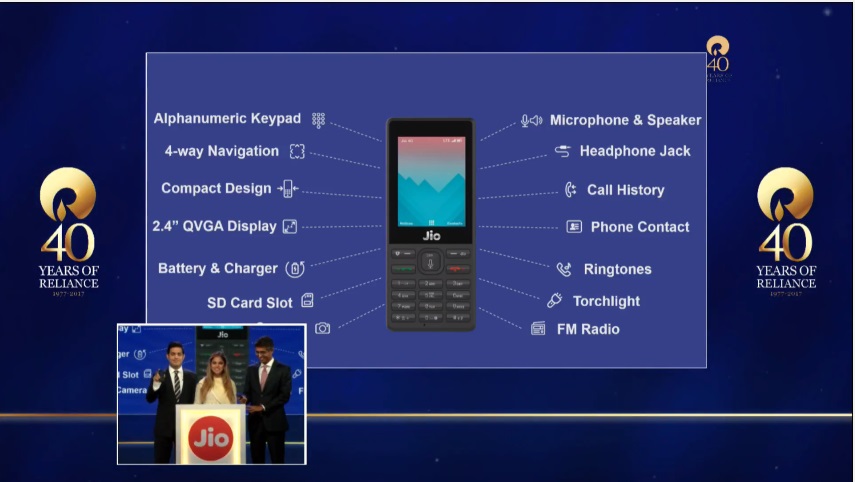 To sum it up, this breakthrough and revolutionary device named JioPhone along with Jio's disruptive tariff will unleash the power of Digital Life in the hands of 1.2 billion citizens of the largest democracy in the world.
HOW TO PREBOOK
One can pre-book the JioPhone through online and offline channels. The offline mode comprises of Jio retailers and multi-brand device retailers including the Reliance Digital stores network. The online channel includes the highest downloaded selfcare app in the world – MyJio and the company's own
websitejio.com
.
PRE-BOOKING AMOUNT
The pre-booking can be done against a pre-booking amount of Rs. 500, which will be adjusted against the fully refundable, one-time, security deposit at the time of delivery. The balance Rs. 1000 towards security deposit needs to be paid at the time of delivery of the device. A JioPhone user can use the JioPhone for 36 months, and can get a full refund of the security deposit of Rs. 1,500 by returning the used JioPhone.
A REVOLUTIONARY DEVICE
The JioPhone, a revolutionary device, has been made in India made by Indians and made for India. It has generated massive buzz in the market, with consumers communicating their interest through retailers as well as directly on various Jio platforms. It has several unique features that will make life simple, smart, and secure for users.
With the Jio Phone, every Indian will have access to the highest quality, highest quantity, most affordable and unlimited data. This is how Jio will end the digital exclusion in India. And this is what Jio calls true digital freedom. Digital Life will no longer be the privilege of the affluent few.