"Andhra Ruchulu", A Two-Week Andhra Food Festival At The Café@JW, Offers Awesome Opportunity To People Of The Region To Relish The Rich Andhra Cuisine
NewZNew (Chandigarh) : Offering the people of the region a unique opportunity to relish South Indian cuisine like never before, JW Marriott Chandigarh is organising "Andhra Ruchulu", a two-week Andhra food festival, at The Café@JW, its all-day dining restaurant.
From 16th to 28th September, 2016, the patrons of JW Marriott Chandigarh can avail this awesome opportunity to enjoy an array of exquisite delicacies which are an integral part of the Andhra palate.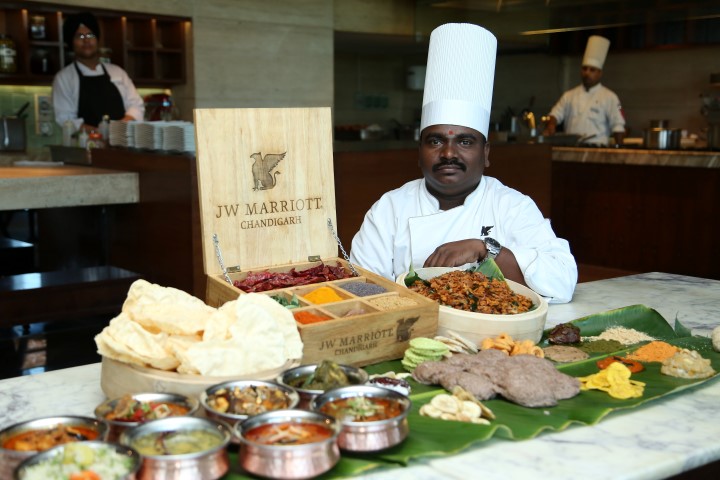 "Through Andhra Ruchulu, which literally means Taste of Andhra, we at JW Marriott Chandigarh have taken special care to offer our guests a gateway to the world of tangy, hot and spicy flavours which the Andhra cuisine is known for. Andhra cuisine has a wide variety of gastronomical wonders, bringing together an assortment of heavenly flavours from different parts of the state on the platter. There is so much to explore in terms of the different styles of preparation, use of ingredients and spices etc which makes Andhra cuisine all the more unique and interesting. 'Andhra Ruchulu' is an extension of our effort to offer an exclusive experience to our guests which they can get only at JW Marriott Chandigarh," said Vikas Kumar, Director of Operations, JW Marriott Chandigarh.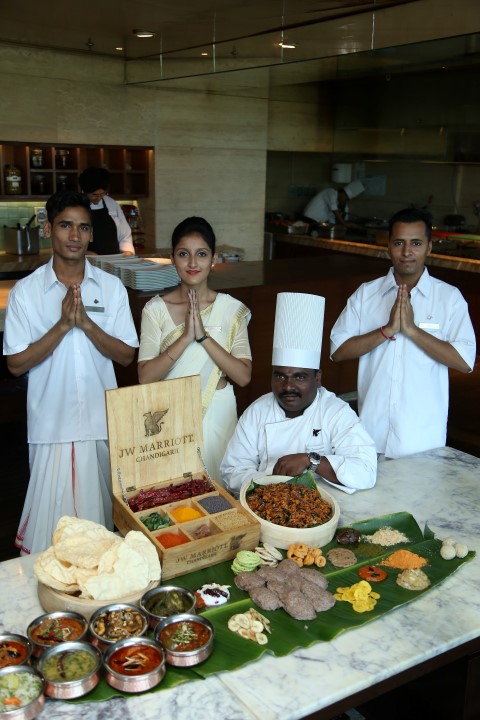 "Andhra Ruchulu" will offer a choice of vegetarian and non-vegetarian fare. The menu includes starters, soups, live station (vegetarian and non-vegetarian) and main course with chutney and condiments. A veritable feast awaits food lovers with options for starters like Murukulu (snack made with rice flour and urad dal flour), Chekodi or Chegodi andAratikaya Chips (Raw Banana Chips). The main course will have options like Munakkaya Vankaya Koora  (dish made with brinjal and drumsticks), Andhra Pulao, Palakoora Pappu (a spinach dal) for vegetarians and  Naatu Kodi Koora (Country Chicken Curry) and Nellore Bommidala Pulusu  (Nellore fish curry) for non-vegetarians. Wrapping it up on a sweet note, Andhra Ruchulu" will also offer desserts like Ariselu and Bellam Pongali.
Chef Somu Shekhar Gedi, Jr Sous Chef at JW Marriott Chandigarh, has several years of rich experience in preparing the gastronomical wonders of Andhra Pradesh, which he has put to good use to lay out an epicurean delight for the guests at "Andhra Ruchulu".
"To offer an authentic experience of Andhra cuisine, we will be serving the choicest of traditional food of the state.  We have ensured that we have flavours from the entire state on the platter of Andhra Ruchulu," said Chef Somu.
Through this Food Festival, JW Marriott Chandigarh is also offering dishes which are not only flavoursome but also rich in nutrition. Gongura Pacchidi (Sour Red Roselle Leaves Pickle), for instance, is an authentic pickle of Andhra prepared with Sour Red Roselle leaves rich in iron, vitamins, folic acid and anti-oxidants and highly recommended for patients with heart conditions and diabetes.  On the live counter will be Ragi Sangati with chepala pulusu and Palakoora Pappu, a traditional Andhra dish made with ragi flour which is a natural body coolant and a perfect antidote to the scorching summers. Another interesting dish on the menu is Chamagadda Pulusu made with arbi or taro root, which is a good source of fibre, protein, calcium and phosphorus.
You can savour this delicious meal for dinner from 7:30 pm to 11:30 pm at The Café@JW. The vegetarian and non-vegetarian buffets are priced at Rs 1550/- onwards per person (exclusive of taxes), respectively. You can also call at 0172-3955555 or +91 998 889 8309 to reserve your table.