In its 5th year, the festival has an exciting line-up of non-stop entertainment for a noble cause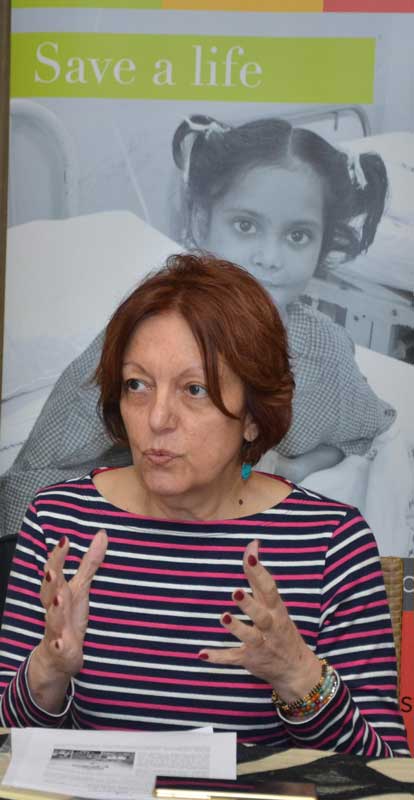 NewZnew (Chandigarh) : Genesis Foundation (GF) is back with its annual fund-raiser—Kasauli Rhythm & Blues Festival, which is being held this weekend from March 25-27, 2016. The 5th edition of Kasauli Rhythm & Blues Festival promises to be a perfect blend of pleasing weather and live performances by India's most popular bands and artists in the magical hills of Himachal. The proceeds of the Festival will be used to support the treatment of children suffering from critical illnesses in the areas of cancer, heart and thalassemia.
#KasualiRnB is one of the coveted music festivals in India. The three-day excitement-packed weekender will showcase top musical talents from a very impressive line-up of well-known bands and musicians from across the country. The hill town of Kasauli will be home to an audience who will be traveling from various cities across the country just to attend the Festival in aid of critically ill children. There are more than 150 children that the Foundation is in touch with, who are awaiting immediate medical intervention. Many of these children will be supported by the funds raised from this Festival.
Prema Sagar, Founding Trustee, Genesis Foundation said, "The extensive support from our supporters, bands and patrons has made this annual music festival rank among the top music festivals in the country. The immediate funds raised help us grow our network of friends, raising more awareness around the cause and connecting us with more volunteers and philanthropists. It is because of these events that we have been able to support more than 850 children on our journey and hope to support event more."
Renowned Bollywood actor, producer, humanitarian, Dia Mirza, the Ambassador of Genesis Foundation is also expected to attend GF's most exciting fund-raiser to lend her support to its cause. Dia has become the voice of the Foundation, using her influence to spread awareness about GF's cause and initiatives.
The following bands will create magic at this year's festival:
Day 1
Day 2
Day 3
·         Frisky Pints

·         Tabla Maestro & Sultan Of Strings (feat.Ustaad Fazal Qureshi & Ravi Iyer)

·         Mihir Joshi Band

·         Shilpa Rao

·         After Party with SUN-(DJ)

·         Kanchan Daniel & The Beards

·         The Local Train

·         Massive Vibe

·         Lesle Lewis

·         After Party with SUN-(DJ)

Army Pipers and Army Jazz band
The Kasauli Rhythm & Blues Festival is Genesis Foundation's flagship fund-raiser and its cult status inspired the Foundation to take the format to Goa and host the first Goa Rhythm & Blues Festival last year. Believing strongly that music is a positive and participatory force in the creation of change, the Foundation invites established and upcoming artistes from India's diverse pool of musical talent to perform in support of the critically ill under-privileged children under its care.
In order to raise awareness and resources to facilitate medical assistance to GF Kids, Genesis Foundation has created unusual and unique participative fundraising events involving music, art and food. Some of these events are Goa Rhythm & Blues Festival, CEOs Cook for GF Kids and Music for Life events, among many others. GF is also the beneficiary of CEO's Got Talent, produced by FremantleMedia.
Entry to #KasauliRnB will be for the supporters and donors of Genesis Foundation.
The supporters for Kasauli Rhythm & Blues include Bacardi, Monster India, DMI Finance, Fitbit, Daikin, Mini, Tata Housing, Indigo, Sennheiser, Kingfisher, RedFM, Pepsico, Genesis Burson-Marsteller, Baikunth Resorts, Encompass, NZT, Quik Relations and GBM Step Up.
Readers can book their entry passes by visiting: http://genesis-foundation.net/kasaulirnb/