Farmers' Manifesto is a comprehensive document to cover all aspects of farming
Separate Manifestos for various sections are in making, to be released soon
NewZNew (Chandigarh) : Delhi Chief Minister and National Convenor of Aam Aadmi Party, Arvind Kejriwal will release Farmers' Manifesto on August 11 at Moga.
Announcing this, Head of the Manifesto Committee of AAP, Kanwar Sandhu termed the Farmers' Manifesto as a comprehensive document to cover all aspects affecting the Punjab farmer to go beyond the Green Revolution which has hit a plateau.
Farmers' Manifesto was prepared after series of dialogue with stakeholders in different districts, where farmers opined up with their woes and grievances and gave suggestions for their betterment, Sandhu said.
On the issue of diversification, Sandhu said there is a need of Rainbow diversification in Punjab to bring farmers out of the vicious circle of wheat-paddy cycle.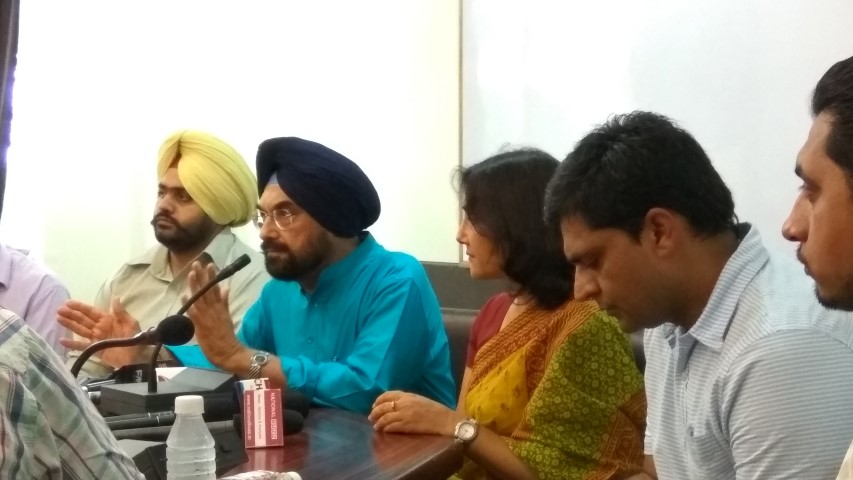 Separate Manifestos for various sections are devised to spell out the Agenda of the AAP for Punjab for the next five years, Sandhu said adding that farmers' Manifesto will be followed by a separate Manifesto for SC/ST, besides Industry and Trade.  Dialogues with representatives of these categories are already under way.
Earlier on July three, Arvind Kejriwal had released the 51-Point Youth Manifesto in Amritsar. Finally, there will be a comprehensive "AAP Manifesto – Mission 2017" – giving out the Vision of the AAP for Punjab for 2017 and Beyond.
Sandhu revealed the farmers' Manifesto will roll out an "Action Plan" to prevent suicides by farmers and farm labourers. A major Debt Relief Package is on the cards as AAP is committed to zero-farmer suicide within one year of the formation of Government, he added.
"Idea is to bring back cheer on the faces of the farmers in the state", Sandhu vowed adding that the Manifesto will set at rest all kinds of rumours and falsehoods being spread about AAP's plans by Opposition Parties, who have been unnerved by the Youth Manifesto.
Sandhu said Farmers Manifesto has been prepared by the "Bolda Punjab" Team after holding eight dialogues with farmers in different regions of Punjab – Moga, Talwandi Bhai, Bathinda, Mansa, Nadala, Hoshiarpur and Tarn Taran, besides Ludhiana (Dairy Farmers).
The most agonising dialogue was at Mansa, where farmers have been left out in the wilderness by the Governments, he said. It is to be noted that Mansa is worst affected by farmer suicides.
The Team considered nearly 2400 suggestions received in writing, besides 5,000 emails, SMSs and Whatsap messages. More than 200 suggestions in form of emails etc came from Punjabis settled abroad, who related their farming experiences abroad with practices back home.
In addition to interactions with small groups of specialist farmers, there were scores of one-to-one meetings with experts and officials, Some farming practices of other countries will also be adopted by the AAP Government to revive farming in Punjab, Sandhu vowed.
The Farmers' Manifesto will also address problems of the farmers in Kandi belt, Mand area and the Border belt. It has also taken into consideration issues relating to Vegetable and Fruit growers, besides farmers growing other crops like sugar cane, maize, paddy and wheat.
The Manifesto will cover new ground as it will list out measures for Farm Labourers, who have been left on the margins by successive governments in the past. "Farm labourers are an intrinsic part of the farm sector and you can't revive farming by ignoring them", Head of the Manifesto Committee, Sandhu said.