Extended Free Service applies to all new RO Water Purifiers 
India's most trusted water purifier brand, "KENT RO," takes a step forward to enhance KENT RO water purifier's customer service and ownership experience.  KENT RO is now available with extended 4 years free service (1-year warranty+ 3 years of free service). So, time to enjoy extended happiness and complete peace of mind. This move by KENT RO is to ensure that consumers do not fall prey to the substandard services and spare parts offered and recommended by local service providers existing in the market.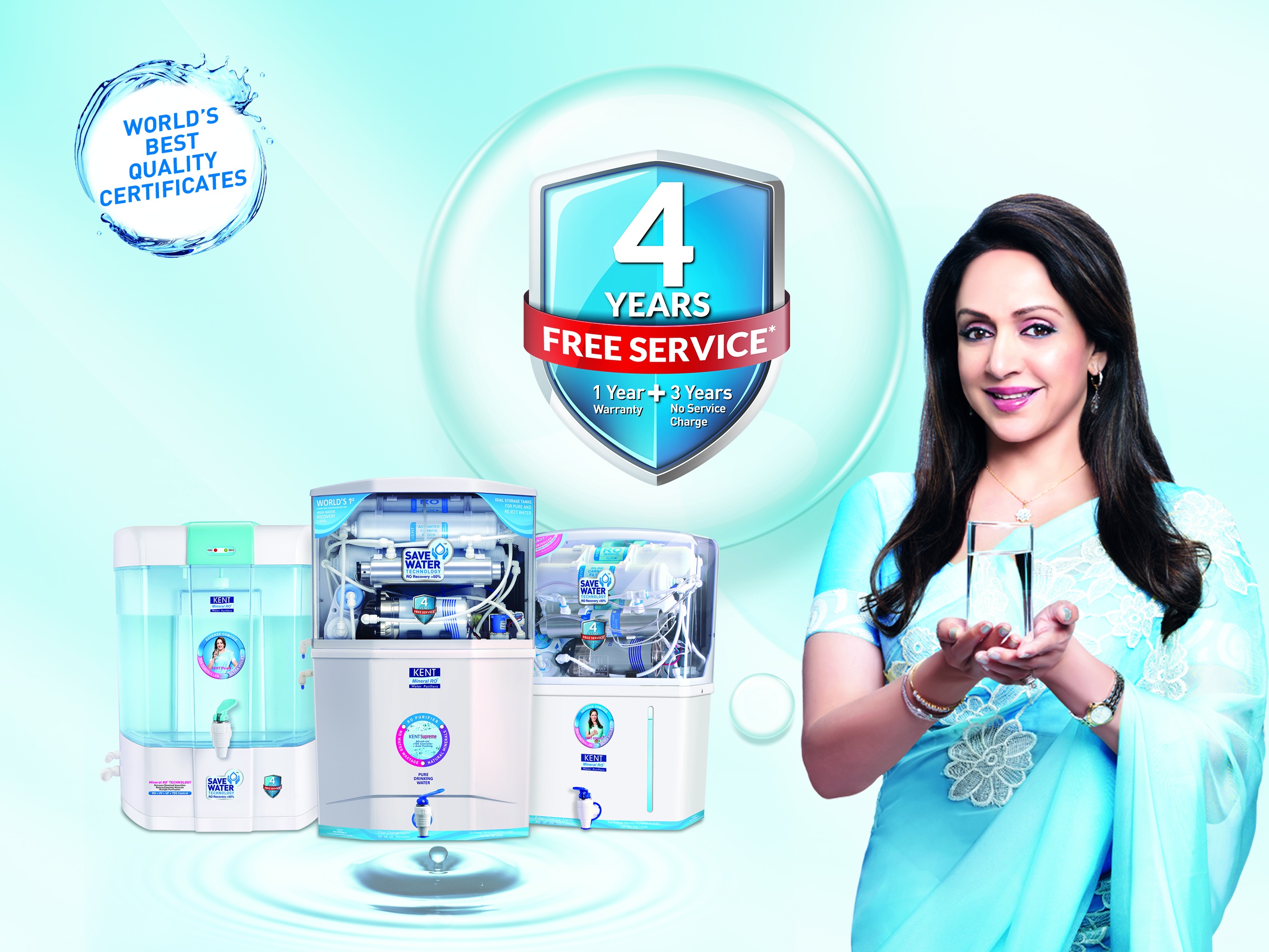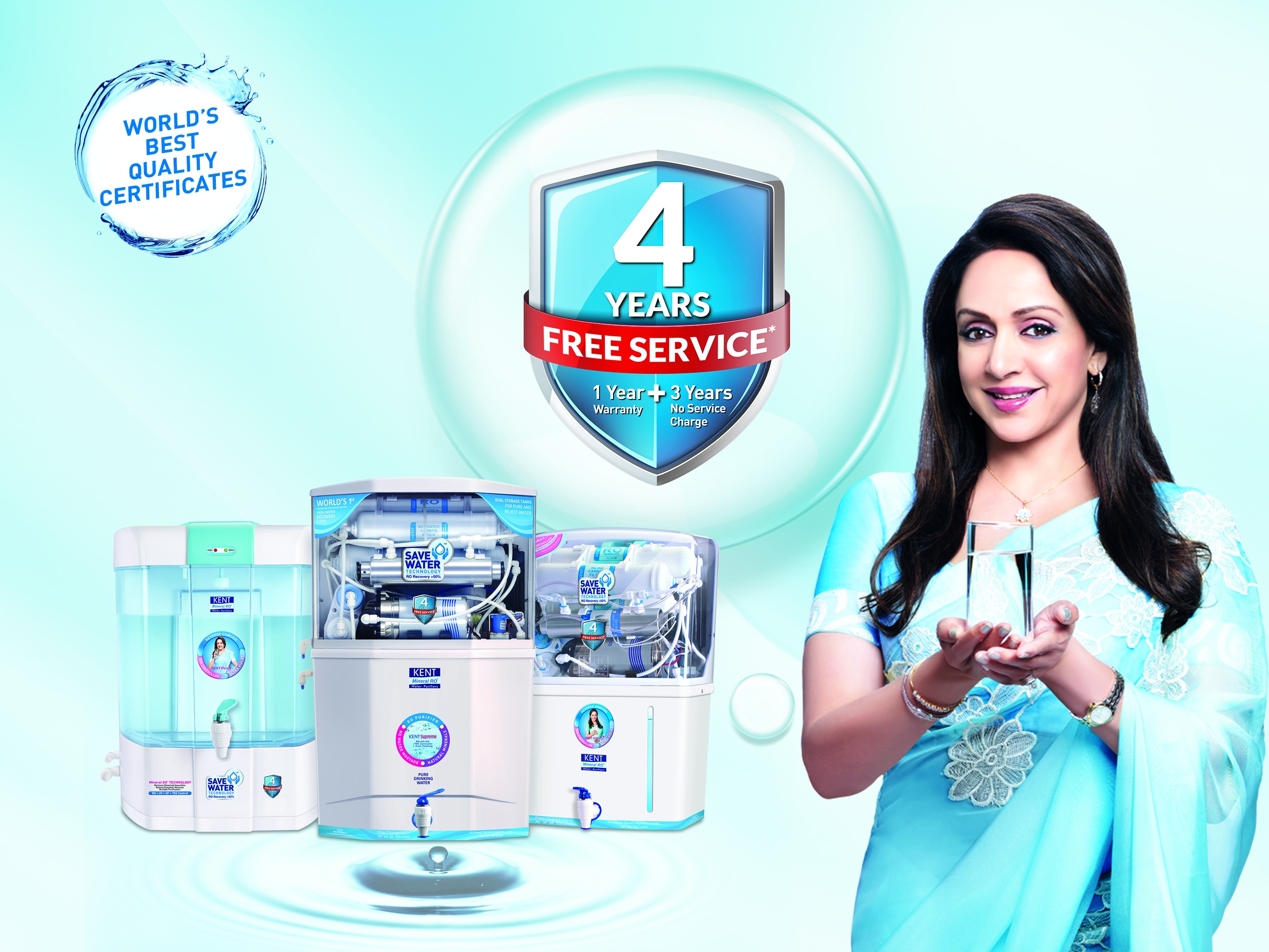 Stressing on the need for reliable service, Mahesh Gupta, Chairman Kent RO Systems Ltd. said "Often consumers do not understand the rationale behind the regular and quality service and maintenance, that it is for ensuring your filters run properly, you get pure water and the life of the RO water purifier is preserved.
 In Ignorance, consumers switch to cheaper and local filters which do not yield the desired results. Also, there are fake and cheap alternatives available with local service providers which although cuts down the cost in the short term but proves to be more expensive in the long run as it totally damages the RO purifier."
The 4-year warranty on KENT RO is a step to tackle and encounter the current issue. KENT RO is the first one in the market to introduce this 1-year warranty plus 3 years of free service. This will help create awareness among the customers to not get the servicing done from local service providers and go with fake parts for a small amount as it totally deteriorates the quality both of the machine and the purified water.
"The 4-year free service will also help us gain customers' confidence as they will not switch to local and unreliable servicing alternatives as the consumer will have access to free quality and professional service and genuine spares. Also, the life of the RO Purifier will be enhanced besides ensuring 100% satisfaction and peace of mind to the consumer.
We are rest assured that with this 4-year free service now available on KENT RO's will serve as an awareness drive. It will help in keeping our customers away from the local service providers for their maintenance needs." further added Mahesh Gupta.
 So, bring home a KENT RO Water purifier today and enjoy the power of KENT Technology.
With the patented Mineral RO TM Technology, KENT RO water purifiers retains essential natural minerals in purified water using the TDS Controller, thereby providing 100% safe and tasty drinking water. It also utilizes double purification for 100% Pure Water. The advanced technology removes dissolved impurities, retains essential minerals and boasts of multiple purification techniques combining RO, UV, UF and TDS control to make water 100% pure.
Furthermore, The water purifier from KENT RO have received world's best quality certifications from NSF(USA) & WQA(USA). Besides, KENT RO's revolutionary Save Water Technology™ offers best water recovery rate of more than 50% and the reject water percentage is reduced to less than 50% and the waste water is stored in a separate tank.
Time to drink pure water while you enjoy the extended happiness and complete peace of mind!