NewZNew (Chandigarh) : Smart Phone, Smart TV and now it's the turn for Smart Water Purifier, which keeps you alarmed and informed about the water quality, TDS, service record and many other features to ensure you drink pure and safe water. Country's largest RO purifier brand Kent RO has introduced world's first smart RO Purifier which is equipped with digital technology.
The Smart RO water purifier christened as Kent Superb is a first of its kind water purifier, which has been crafted from an amalgamation of digital technology and KENT's patented mineral RO technology.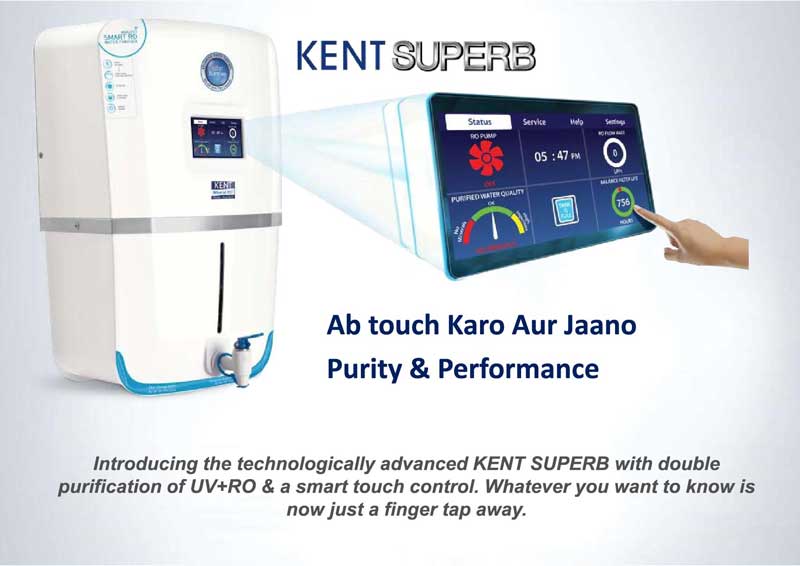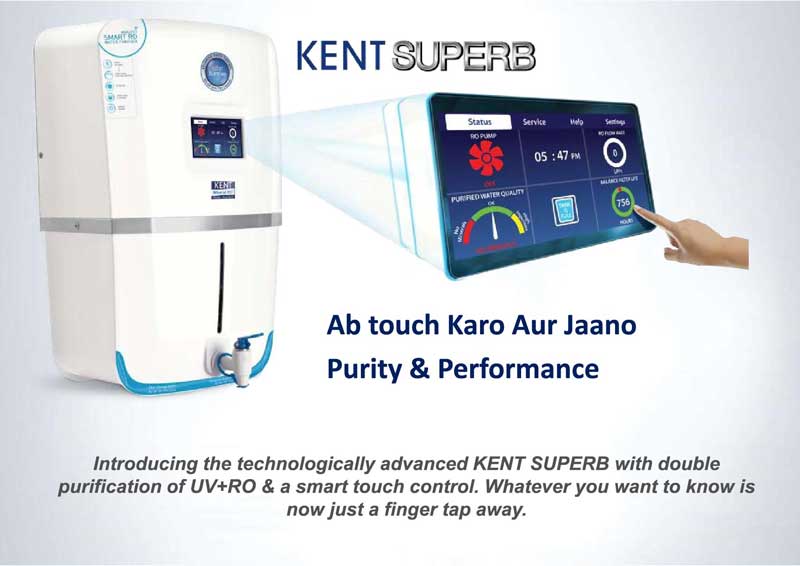 According to, Dr. Mahesh Gupta, Chairman, Kent RO Systems Ltd said, "Chandigarh itself is emerging as IT Multimedia digital hub, and we couldn't find a better place than Chandigarh to roll out this product in the market." He told that brand Kent is committed to provide the best digital experience to its users. "The world is moving toward digitization and here we have taken a leap by introducing a smart and digital RO water purifier.
Dr. Gupta said, the newly launched RO purifier is Touch Operated with an inbuilt micro-controller which senses water quality on real time basis and displays it on the digital screen. It also senses and displays the total dissolved salts (TDS) in the purified water as well as the filter life. It automatically warns the users when the filter life is less than 60 hours.
In additions, the purifier automatically detect UV lamp malfunctions or a filter gets chocked or the TDS levels in the water are not within the prescribed levels, the micro system senses and displays it on the screen for users convenience. The trouble shooting system allows user to diagnose few problems and even suggests common remedies for it. The smart system in SUPERB- RO water purifier allows it to record and display the service history at a call of a button.
Quoting some past reports, Dr. Gupta said, Punjab, Haryana groundwater has arsenic beyond limit. Groundwater Samples from 50 districts of Punjab were collected.  Arsenic contamination is — more than 0.05 milligrams per litre (mg/l) — was found in six districts. These include Gandiwind (Amritsar district), Patti (Tarn Taran), Jhunir (Mansa), Dhilwan (Kapurthala), Ropar and Fazilka. In fact, 30 more blocks in 13 districts of Punjab have arsenic contamination ranging between 0.01 and 0.05 mg/l. Consuming arsenic in water could damage multi organs, including skin, the gastrointestinal tract, the immune system, reproductive system, nervous system, and excretory system. Hereby, we have water purifiers which can work wonder. We have developed a water purifier Kent Gold AS which does not required any power electricity to operate and it is the only gravity purifier which removes arsenic from the water.
Commenting on the Indian water purification industry Mr. Gupta Said, "The market for RO water purifiers in India is growing at CAGR 24% and it will touch 2.48 million units in next 2 years. However in terms of penetration it is less than 1 %."  However, the increasing  awareness for safe drinking water cities like Chandigarh, Amritsar, Jalandhar, in Northern region are emerging as the key markets and our mission is to increase our brand penetration here."  "Besides, RO we have developed a Kent Gold AS which is more suitable for entry level and especially rural India where ground water is heavily contaminated with arsenic.
Enjoying 40% share in the RO market, Kent RO is looking at Rs 1,000 crore turnovers by 2016-17. The company which has its manufacturing unit in Roorkee is planning to set up new another manufacturing facility with an investment of Rs 100 crore  along with added product line including Air purifiers, cold process juicers etc.