Department of Technical Education, Kerala has just published the Provisional rank list for Polytechnic Admissions 2017 in the State. The Government has authorised DTE to carry out the single window admission process for all Polytechnic Colleges and as per the revised schedule, provisional rank list along with Kerala Polytechnic Trial allotment result has been published by DTE Kerala. The registered students can check the temporary list & allotment from the official website polyadmission.org.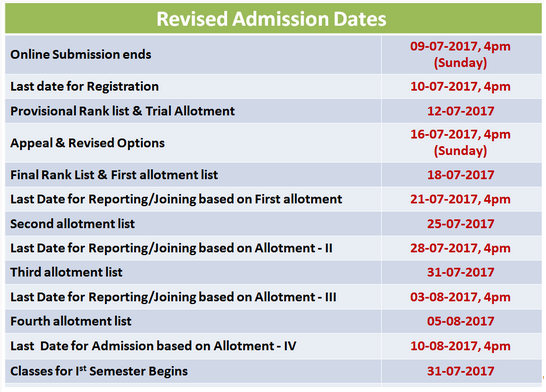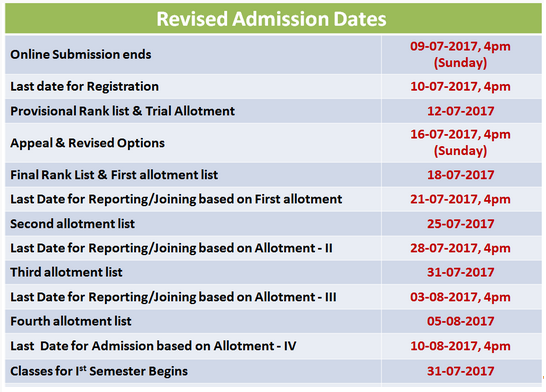 The students seeking admission to the first year of six-semester diploma courses were asked by DTE Kerala to submit the online applications from May 15 to 29 so that theadmissions/ allotment of seats to the registered students could be made on the basis of merit. The admission process, however, got fixed in some issues and schedule of events was later revised by the DTE. Also, the online application process was once again opened which ended on July 9.
Kerala Polytechnic Admission 2017 – Revised Schedule. Click to zoom in.
DTE is conducting the online admission process for regular seats in government polytechnics, government aided programs/ government seats in Self-financing programmes, management seats under Aided programmes and under NCC/ Sports quota for the academic session 2017-18.
As Kerala Poly trial allotment and provisional rank list has been released now, the students can make changes in the already entered options so as to increase their chances of getting allotted a seat of higher preference. Kerala Poly provisional rank list has been prepared by DTE on the basis of index mark, prepared by considering the grade points secured by the students in the qualifying examination.
The students should check Kerala Poly rank list published by DTE and inform the authority in case of any error in the details mentioned in it. The students can report to the Polytechnic colleges/ reporting centers for making appeal against the provisional rank list, the appeals can be made up to 4 pm on July 16. After taking into account the appeals by students, DTE will publish the final rank list on July 18. The first allotment list will also be made public on the same day, based on the revised options entered by the students.
After the publication of Kerala Polytechnic first allotment list, the students allotted a seat will be required to report to the Polytechnic Colleges to secure/ reject the admission to the allotted seat. There will be total four allotment lists published by the DTE and the classes for 1st sem diploma courses will being on July 31, the official calendar mentions.