WBJEE 3rd round seat allotment has been announced today for the admission process to engineering and allied courses, West Bengal Joint Entrance Examination Board (WBJEEB) notified. WBJEE counselling result for the third round was scheduled for July 12 and the result of students' opted choices were published at the official website in the morning. Candidate can now download their call letter and report to the institutions/reporting centres for completing the admissions formalities. The counselling for WBJEE 2017 that commenced back on June 5, will now come to an end on July 17, as per the scheduled mentioned in the official notification at WBJEE website: www.wbjeeb.nic.in.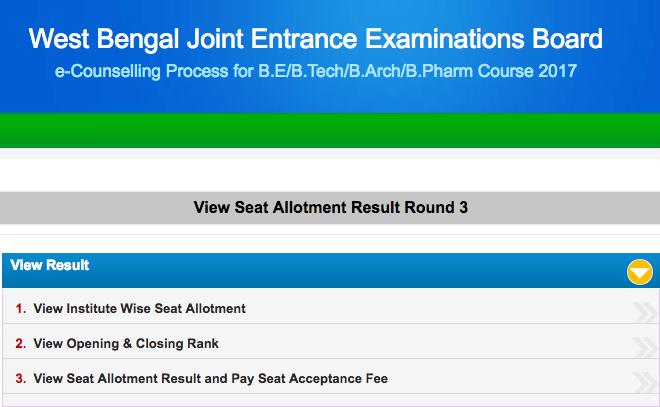 Candidates can now view their WBJEE seat allotment result of round 3 counselling which has been published here at this link. The round 2 allotment result, along with opening and closing of rank and institute wise seat allotment have also been published.
Noteworthy points
Now, the students who have been allotted fresh seats (who are fresh allottees), are required to report for document verification process at the reporting centres. It is mandatory that the student be present there himself/herself. This should be done on July 13 and July 14, 2017 only. No further extension is given so far, so make sure to verify the documents by reporting.
The candidates who have been allotted a seat, need to confirm and complete the admission formalities by physically reporting at the finally allotted institute. This can be done upto July 17, 2017.
E-admission process concludes on July 17.