KFC India's Double Down all-chicken no bun burger is here! : It's time for some real chicken fun (without any bun) at KFC Land. Taking the crispiness (and chicken-ness!) a notch higher, here's a real treat for chicken lovers – the Double Down – a burger with all chicken, no bun! Yes, you heard it right! Chicken love is forever and nothing, absolutely nothing, should get in the way; not even the bun.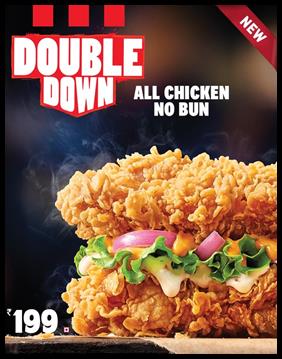 Fresh lettuce, onion, a creamy spicy garlic sauce and a tangy sajita sauce, packed between two KFC crispy chicken fillets – now that is what awesomeness looks like. So, wait no more! Head to your nearest KFC, bite into the only real chicken burger in town.
Starting at INR 199/-, this all chicken, no bun burger is available across all KFC restaurants in India. If you wish to relish this burger at home, you can order online at www.online.kfc.co.in or on a call at 33994444. Enjoy 2 Double Downs at INR 389/- and a Double Down combo of 2 Double Downs and 2 cans at INR 449/- on delivery.
*GST @18% included
About KFC
KFC, a subsidiary of Yum! Brands, Inc. (NYSE: YUM.), is a global chicken restaurant brand with a rich, decades-long history of success and innovation. It all started with one cook, Colonel Harland Sanders, who created a finger lickin' good recipe more than 75 years ago, a list of secret herbs and spices scratched out on the back of the door to his kitchen. Today we still follow his formula for success, with real cooks breading and freshly preparing our delicious chicken by hand in more than 22,000 restaurants in over 135 countries and territories around the world.
Follow us at :