Know All About PM SVANidhi Yojana for Street Vendor Loan: Pradhan Mantri Street Vendor's Atma Nirbhar Nidhi or PM SVANidhi is a central government sponsored scheme to provide financial assistance to street shopkeepers/vendors.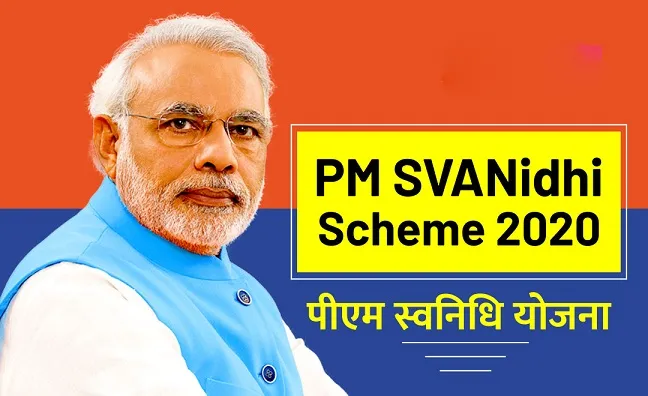 Under this scheme, the government has subsidised the collateral free working capital loan to let street sellers recover their losses and re-establish their financial normalcy post pandemic.
So, let's discover every aspect of this government scheme in detail.
Features and Benefits of PM SVANidhi Scheme
Following are the attributes that this scheme entails:
It grants Rs. 10,000 as a loan to manage the working capital deficits of street vendors.
Urban street shopkeepers along with those in operation at surrounding rural and semi-urban areas are eligible to apply for this scheme on or before March 24, 2020.
Applicants do not need to pledge/mortgage their property as collateral.
Borrowers will get a 7% subsidy in their instalments if they repay on or before due time.
They can enjoy an additional Rs. 50 to 100 cashback every month if they opt to repay online. The government has made an effort to promote digital payment by providing this cashback facility.
Eligibility Parameters of PM SVANidhi Scheme
To qualify for this government subsidised programme, individuals must meet the following eligibility criteria:
Street sellers need to have their shops registered by Urban Local Bodies (ULB), and they must have vending permit ID cards provided by the ULBs.
Census identified, but unregistered street sellers can get the scheme benefits after collecting their temporary Certificate of Vending. In this regard, the government has requested the ULBs to provide the permanent certificate as quickly as possible.
Vendors having their shops near the urban/rural area can get this loan after obtaining a reference letter mentioning the same from ULB or TVC (Town Vending Committee).
Registered vendors who have left the local area after pandemic can also be beneficiaries of this scheme only after returning and opening their shops again.
If you are eligible under this scheme, you need to be aware of the loan application process as well.
Procedures to Apply for PM SVANidhi
Individuals can apply for this scheme online through the government portal of PM SVANidhi or offline through their nearby Common Service Centres (CVCs).
Following are the steps to apply for this scheme online:
Step 1: Go to the official portal of PM SVANidhi and create a user account
Step 2: Log in to this portal using your credentials
Step 3: Click on 'Apply for Loan'
Step 4: Identify and tap on a relevant option to mention the category of vendor you fall under
Step 5: Fill in and submit the application form properly.
Upon completing these steps, you will successfully complete your application process.
Steps to Check PM SVANidhi Survey Status
The portal also enables individuals to check their survey status. For this, they need to follow the below-mentioned steps:
Step 1: Log in to the concerned government portal using credentials.
Step 2: Click on 'Street Vendor Survey Search'
Step 3: Fill in the appeared application form with appropriate details, such as vendor ID number, ULB name, Vendor's name, spouse's name/father's name
Step 4: Tap on 'Search'
Following this process, individuals will be able to see their survey status.
Vendors affected by the shortfall of income after lockdown may need more liquidity than this scheme provides (Rs. 10,000) to begin their operations in the market as before. They need to buy their raw ingredients, provide salaries for workers, etc.
In case vendors do not qualify for this government schemes, they can apply for MSME loans to meet their financial shortages. One of the major benefits of such business loans is that the funds come with no end-use restrictions. This means borrowers can leverage this borrowed amount for any purpose.
The PM SVANidhi scheme enables individuals to get credit assistance through collateral-free and subsidised loans. They can use the capital to meet their working capital requirements and kickstart their business after the unexpected shock of the pandemic.