Know Linking Words for IELTS Writing Task 2 & IELTS Speaking Exam: IELTS Writing Task 2 – Essay Writing for IELTS Academic and IELTS General is always the same.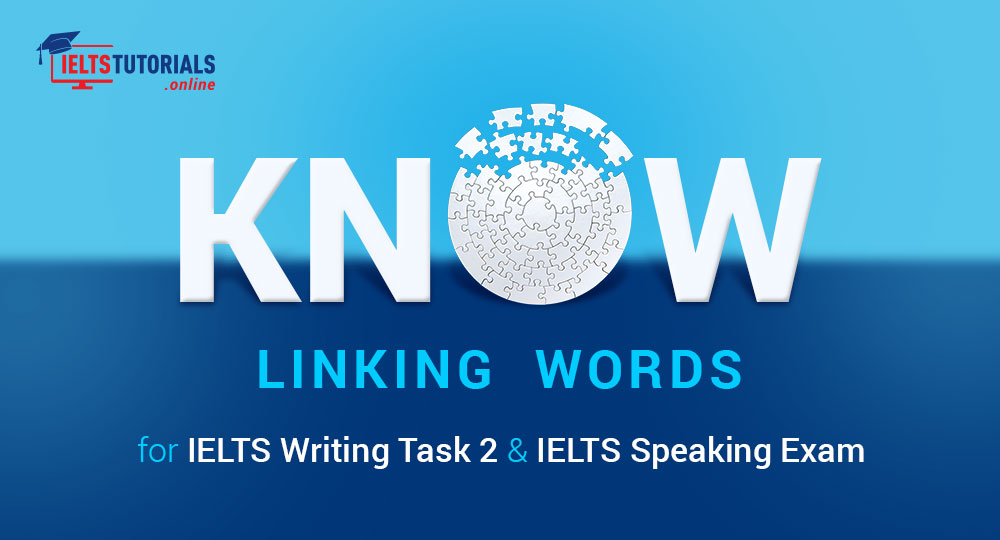 Whether you are preparing for IELTS Academic or General, you will get a topic on writing an essay.
Task 2 of IELTS Writing exam is essential because it helps to get high score band. To get a top band score is not an easy task, but with appropriate steps, you can achieve it.
Linking words are essential to achieve high scores in the IELTS Writing Task 2. The examiner looks for a wide range of linking words in your essay.
Your essay will be judged on your range, accuracy, and the way you use a wide range of linking words in essay writing. Linking words are suitable for both IELTS Academic and IELTS General exams.
Learn How to Give Listing: Listing helps you to keep your essay in order or list down some important supporting points. You can use words like:
Firstly,
Secondly,
Thirdly,
Fourthly,
Fifthly,
Lastly,
Finally,
Learn How to Add Information: When you want to add any extra information to your essay, these following linking words can help you to do that. These linking words will inform the assessor that additional information is about to come.
In addition,
additionally,
furthermore,
moreover,
also,
not only…, but also
as well as
and
Learn How to Give Examples: To give support to your ideas in an essay, you need to show some examples. Those examples should be from below listed words.
for example
one clear example is
for instance
such as
namely
to illustrate
in other words
Learn How to Explain Results and Consequences: The below-listed words can help you when you need to explain the consequences of something.
as a result
consequently
therefore
thus
hence
so
for this reason
Learn How to Highlight or Give Stress on Essay: You have to be clear with your essay writing, and you must know where you have to give stress to your content. The following linker words will help you in the IELTS Writing Task 2.
particular
in particular
specifically
especially
obviously
of course
clearly
Learn How to Give Contrasts: There is often a need to give contrast ideas in your essay. At such point of time, you can use the following words in your essay when you want to introduce an opposing point.
admittedly
nevertheless
however
even though
although
but
despite
in spite of
still
on the other hand
by contrast
in comparison
alternatively
another option could be
Learn How to Explain Reasons and Causes: There are a different set of words for explaining reasons and causes for something prevalent in IELTS Writing Task 2. When it comes to cause/solution essays, you might need the following listed words in your essay.
because
owing to
due to
since
as
Learn How to Give Opinion: Whenever you want to give your opinion on an essay, you can use the following words to start your sentence. These linking words will add confidence to your sentences.
In my opinion
I think
I believe
I admit
In my view
I concur/agree
I disagree / I cannot accept
Learn How to Use Conclude Linking Words: To give a perfect end to your essay writing, you can use the following linking words at the end of the passage.
In conclusion
To conclude
To sum up
For more bonus points, find the linker words for IELTS Speaking Exam. For speaking, you might need some informal and straightforward linking words to connect your sentences.
Add More Information
and
also
as well as
another reason is
Time Phrases
now
at the moment
at present
right now
before
then
Expressing Ideas
I think
I guess
I suppose
Contrasting and Concessions
but
on the other hand
while
although
or
Conclusion
Improve your use of linking words by practising more writing essays and speaking passages. Include these linking words in your IELTS preparation and see great results in your IELTS exam.
For more writing preparation materials, you could install the IELTS Writing APP. You will get a variety of topics on essay writing, and you can also refer to their model answers & comments for a better learning experience.
Download the App now!