Kriti Dhiman shines in the MasterChef India Kitchen; the show streaming exclusively on Sony LIV: The sizzle of pans and the aroma of spices fill the air as MasterChef India kicks off the heart-pounding competition to find the next culinary genius of the country.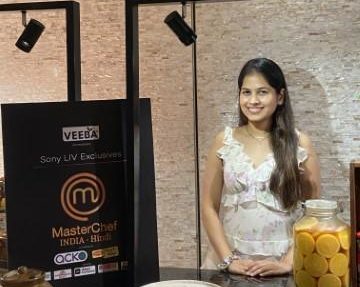 The stage is set with the top 12 contestants who are showcasing their culinary prowess and challenging the normal standards to emerge as the ultimate MasterChef.
The show is streaming from Monday to Friday at 8 pm only on Sony LIV. One of these talented individuals is Kriti Dhiman, from Gobindgarh, Punjab a talented 23-year-old home baker with big dreams. Her kitchen journey began in the 5th grade when she was inspired by her father's Sunday cooking sessions.
Those special moments with her dad sparked her passion for cooking and set her on a path to explore the culinary arts. The lockdown provided a unique opportunity for Kriti to take her culinary experiments to the next level.
She started experimenting in the kitchen, and it quickly became a family affair with friendly cooking competitions. What truly sets Kriti apart is her unwavering commitment to her culinary craft.
She doesn't just see cooking as a pastime; she views it to inspire others like her, proving that dreams can be achieved through dedication and hard work. Kriti aspires to follow in the footsteps of renowned chefs like Ranveer Brar.
Her ultimate goal is to establish herself as a trusted culinary expert and make a name for herself in the world of food. Her journey is a perfect blend of her love for culinary art, her family's influence, and her deep-seated desire to leave a significant mark on the food industry.
MasterChef India on Sony LIV promises an extraordinary blend of creativity and courage, setting new benchmarks in the world of culinary arts. With Chefs Vikas Khanna, Ranveer Brar, and Pooja Dhingra at the helm, this digital-exclusive season boasts a gastronomical extravaganza like no other.
Tune in to MasterChef India, streaming now only on Sony LIV from Monday-Friday at 8pm!