Latest Punjabi Song TSUNAMI released by T-Series: Punjabi music industry is rapidly growing with its back to back single tracks almost every day.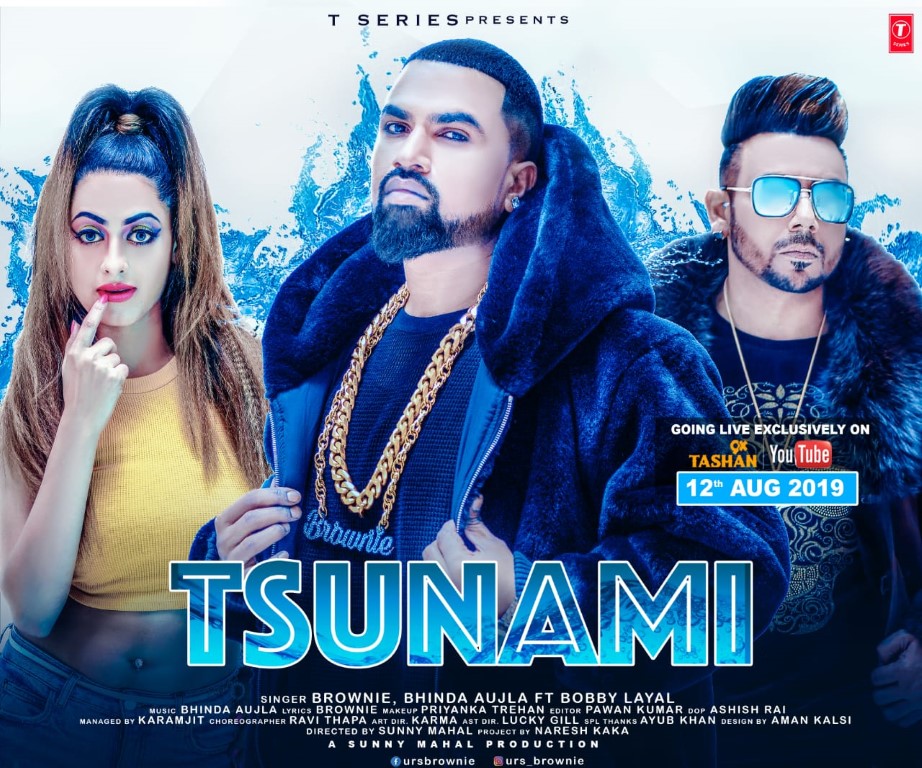 T-Series in association with Sunny Mahal productions, a project by Naresh Kaka today released their new song "TSUNAMI". The song is featuring BBB ie Brownie, Bhinda Aujila and Bobby Layal and had already started receiving love from the audience.
Sunny Mahal, the director of Yaar Anmulle 2 recite that this is a debut track of Brownie as a singer. As a director, he had tried to add the best of his efforts in this music video. Also, his films ZOR and KHARKUWAAD are on the way of release and details for the same would be announced soon.
He had done more than 300 music videos until now. He was glad to direct TSUNAMI as he tried to do some uncommon things with this project which would be a surprise for the Punjabi audience.
Brownie feels lucky to be the part of TSUNAMI as he knows Bhinda and Bobby very well and singing with them as a debut track gave a positive start to his career. Revealing about the details of the song, the lyrics for the song are penned down by Brownie himself.
Brownie adores Michael Jackson (Lt American singer/songwriter) and had made him his idol for the rest of his career. He is always fascinated with Jackson's work and had tried his best to make reach Punjabi music on the next level. He also reveals that his upcoming future tracks will have something unique with mesmerizing music by Bhinda Aujla and Bobby Layal.
Bhinda Aujla, the famous music director of Punjabi industry had worked several times with Gippy Grewal, Diljit Dosanjh, Ammy Virk, Ranjit Bawa and many other personalities of the industry. Apart from singing in Tsunami, Bhinda Aujla had contributed with his best music composition in the track.
His composition for TSUNAMI is already being praised by the audience in the comments section. Apart from Brownie, Bhinda too is looking amazing with his cool avatar in the video.
Bobby Layal the gorgeous lady of the industry had gained loads of love after when she represented India as Miss India Continental held in Germany in 2012. Bobby had worked under several banners like White Hill music, Shemaroo Entertainment, SAGA Music and many more. Also, her albums Dulla Valley, The Most Wanted were a superhit. 
Bhinda Aujla and Bobby Layal sang many songs together and their track "Teri Pyari Pyari Do Akhiyan" had crossed more than 180 million views on Youtube. The song was also in the list of trending romantics on Youtube. Both of them had done several hits of Punjabi music videos and also their single tracks. The steps which would be seen in the video were choreographed by Ravi Thapa.
Naresh Kaka presented the project to T Series. Naresh Kaka is a loyal personality who had worked for more than 25 years in T Series and had also ensured that he is working on some more projects with Brownie and they too will be presented by him.