DAV College, Sector 10 hosted a talk on "Legal Awareness: A Tool for Women Empowerment" by eminent advocate Sh. Ajay Jagga, on Feb 23, 2018. Sh. Ajoy. K. Sinha (Finance Secretary, Chandigarh Administration) was the Chief Guest for the day while State Liaison Officer, Sh. Bikram Rana was the Guest of Honour.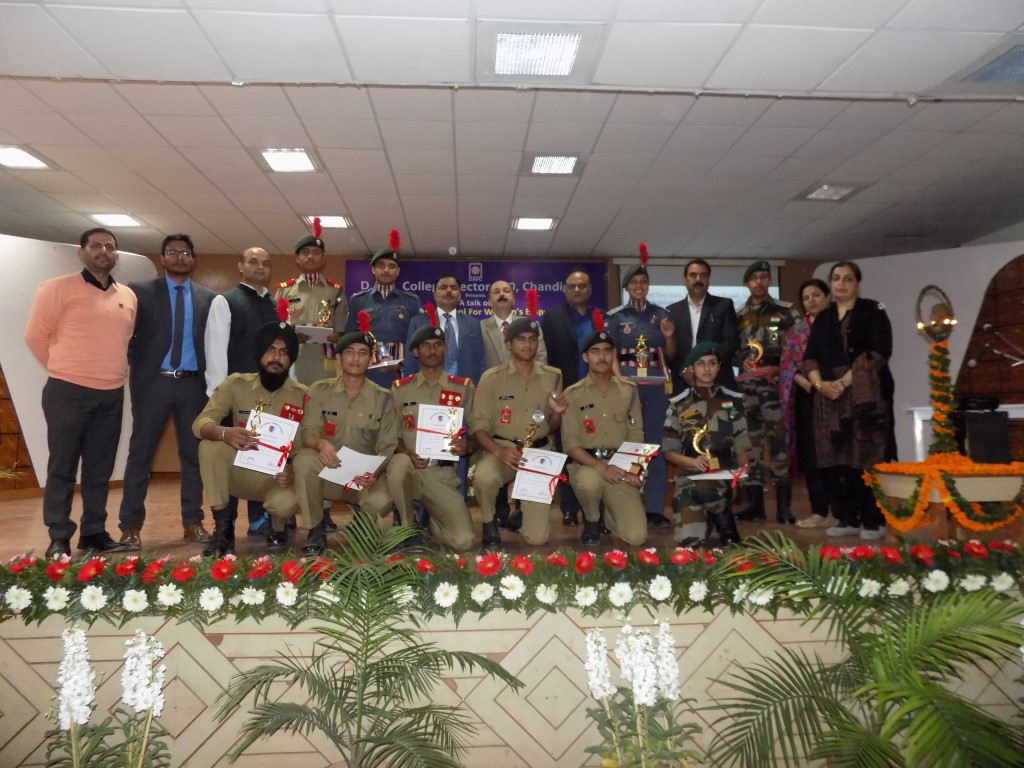 The event commenced with a floral tribute to the martyrs, after which the Principal of the college, Dr. B. C. Josan extended a warm welcome to the dignitaries and cited women empowerment as the "most revolutionary idea ever." This was followed by a very melodious recital of Saraswati Vandana byt the students of the college.
Sh. Jagga commented that the empowerment of women as a viable tool for a country's development has not just been a critical, but also a proven ideal.  Drawing examples extensively from mythology, history and the contemporary times, he deliberated on the concept of the three Ws of 'Womanomics' – Women, Weather and Web, and also discussed how the present government and especially, the administration of Chandigarh was trying its level best to provide the women around all the security, encouragement and awareness they need.
Talking about the legal reforms in the favour of women, Mr. Jagga commented on how various sections of the Indian Penal Code, The Criminal Procedure Code and the Indian Evidence Act have been altered and amended to become more conducive to the plight of women subjected to violence and harassment of any kind.  Citing examples, he also explicated on the various penalties to be meted out for the plethora of crimes against women, including cyber crime and stalking, enlightening the audience on how it is only a matter of time before the true extent of the strength of the woman, and especially the 'Indian Woman' is realised by the world.
The very informative talk was applauded by Sh. Ajoy Kumar Sinha, who said that women are definitely more aware today and the city of Chandigarh is quite ahead as far as enforcement of their rights are concerned, with only more such encouraging trends to follow in the future.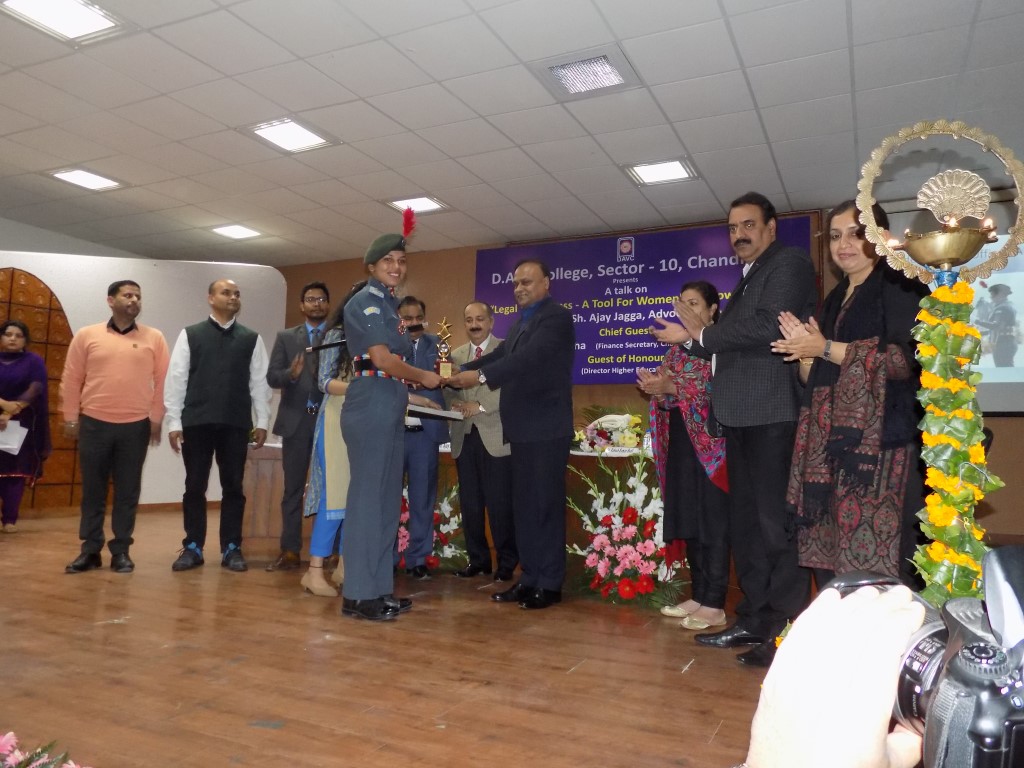 The talk was followed by the felicitation of meritorious NCC cadets, the students of DAV College Sec-10 who have been embodiments of grit and pride. The cadets, Ankit  Jaglan (All India Best Air Cadet 2018), Roshni, Abhishek Moudgil, Ritik Bhardwaj, Ankush Kumar (represented college at Rajpath New Delhi 2017-2018 RDC), Ravi Vats, Rohit Kumar Rawat, Abhay , Subham Prabahkar and Prakash Singh (won best contingent Award at Chandigarh RDC – 2018) were awarded certificates and trophies by Mr. Sinha.
The event was concluded by a Vote of Thanks from the Staff Secretary, Dr. Harjeet Singh, who expressed his deepest gratitude to one and all for being a part of the occasion.