Lenovo re-designed, re-engineered and re-imagined Legion Gaming brand : Gamers, are you ready to level up? Lenovo ushered in a new era for its Legion gaming portfolio, unveiling a power-packed lineup of hardware with stronger processing muscle, that is stylish on the outside, and savage on the inside.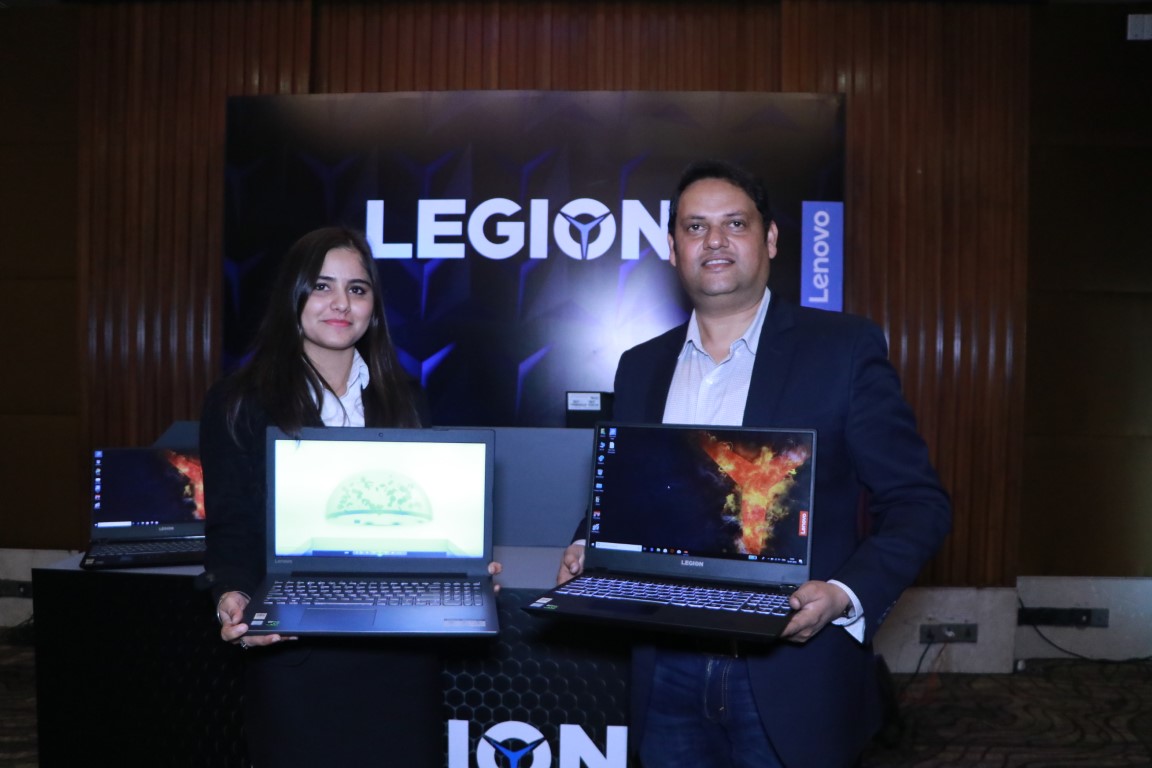 In line with Lenovo's plans to double down efforts in the gaming market, the latest Legion evolution showcases game-changing designs that are distinctively different from their predecessors and in sync with what gamers today are looking for. Lenovo conducted extensive research among more than 750 participants from around the world, learning from gamers themselves about their wants and needs to bring them the ultimate gaming experience.
Also Read : Lenovo unveils new Vibe K5 Note in Haryana
With rapid development of the gaming community in India as well, the Legion portfolio will be able to cater to diverse user preferences that offer immersive gaming experiences.
As per the GFK report for FY17'-18' Q1-Q2, Lenovo enjoys a 15% market share in Greater Punjab (Punjab/Chandigarh/HP/J&K).
Also Read : XOLO unveils Era 4X smartphones with 30 days Money Back Offer exclusively on Amazon.in
Lenovo welcomes new additions to its Legion brand that are uniquely tailored to matchthe needs of the modern gamer
Industry-leading design and engineering deliver the ideal balance between aesthetics and performance: clean, sleek and more portable options that still pack a punch
Lenovo will cultivate partnerships to bring together its Legion tribe both on and offline, fostering stronger local gaming ecosystems
Priced at INR 89,999 onwards
"The gaming community in India is booming at breakneck speeds and is reported to have a staggering 320 million gamers of the total 735 million internet users by 2021. As such, it becomes critical to connect with gamers and get an in-depth understanding of what they are really looking for. Moreover, with the dynamic nature of the space we operate in, Lenovo believes that putting out devices with the latest-generation specs is not the only core objective anymore. It is crucial to go a step further and build products that embody purposeful design that are aesthetically pleasing as well as incredibly functional to capture the admiration of an evolved community of users such as gamers," said Vipul Mathur, General Manager, North, Lenovo India.
Follow us on Instagram :
 Specially engineered to address the desires and concerns of today's gamer, the new offerings answer users' calls for increased power, portability, customization capabilities and more. Performance-ready right out of the box, Legion's expanded range couples top-of-the-line gaming specs with sleek, modern and purposeful design, helping players dominate the competition – and look impressive while doing it.
Also Read : Elante throws a big musical feast with live performances by 'Do Dooni Panj' star cast
With the Intel® Optane™ technology, a smartsystem accelerator that improves the performance and response of PCs through adaptive machine learning, gamers can now launch their favourite titles up to 2.48x faster; load game levels up to 32% more quickly than on other PCs; and rapidly save their progress with up to 2.1x better overall system performance, basking in total uninterrupted gameplay.
The gaming and sub-gaming family now includes:
Legion Y530 Laptop

This 15.6" gaming laptop guarantees serious power for the avid gamer, delivering more muscle per millimeter than any 15″ before it. Thermally optimized to run cooler and quieter with a full-sized white backlit keyboard, the Lenovo Legion Y530 is primed for those who demand gaming wherever life takes them. It is now at INR 85,585 + GST at the wide network of Lenovo Exclusive stores and multi brand stores such as Croma, Reliance Digital and Ezone/or order online at www.lenovo.com

IdeaPad330 Laptop

The Ideapad 330 is a strapping machine powered by an Intel 8th gen CPU and NVIDIA GeForce GTX 1050 Graphics that enables it to deliver an immersive gaming experience for esports lovers. The device houses a 15.6″ backlit display and keyboard which lets users stay productive in artificial or no lighting just as much in natural lighting. The laptop comes at a price of INR 69,990 + GST at the wide network of Lenovo Exclusive stores and multi brand stores such as Croma, Reliance Digital and Ezone/ or order online at www.lenovo.com

Legion T530 Tower

This explosively powerful 28-litre desktop has been redesigned from the ground up to deliver a bold new look that houses the latest Intel® gaming processors, discrete graphics, DDR4 memory, PCIe SSD storage and dual-channel cooling, all with external red system lighting. It is now at INR 86,299 + GST at the wide network of Lenovo Exclusive stores and multi brand stores such as Croma, Reliance Digital and Ezone/or order online at www.lenovo.com

Legion C730 Cube

Don't let the compact size fool you – this 19-litre gaming PC has all the hardware players need for a breathtakingly immersive gaming experience. The latest Intel K processing, NVIDIA graphics, and overclocked Corsair® memory, all housed in a chassis featuring a dual-channel thermal system with RGB system lighting and transparent top panel, come together to deliver a truly evolved design. It is now at INR 1,34,599 + GST at the wide network of Lenovo Exclusive stores and multi brand stores such as Croma, Reliance Digital and Ezone/or order online at www.lenovo.com

Legion T730 Tower

Combine style with power with this 28-litre desktop starring: customizable RGB LED system lighting, a transparent side panel, optional liquid cooling, and extreme processing and graphics power with overclocking options to completely immerse gaming fans in their favorite titles. It is now at INR 134599+ GST at the wide network of Lenovo Exclusive stores and multi brand stores such as Croma, Reliance Digital and Ezone/or order online at www.lenovo.com

Legion Y25f-10 Gaming Monitor

Designed for gaming, this display provides 24.5″ of near-edgeless viewing and certified Eye Comfort, reducing eye fatigue, tiredness and neck and shoulder pain. AMD FreeSync™ Technology with fast 144 Hz refresh rate eliminate screen tearing, and its incredible 1ms response time minimizes display stutter and input lag – perfect for gaming. It is now at INR 17,100 + GST at the wide network of Lenovo Exclusive stores and multi brand stores such as Croma, Reliance Digital and Ezone/or order online at www.lenovo.com