Life Insurance Corporation of India completes 61 years of its incorporation on 1st September, 2017. LIC has played a significant role in spreading the message of life insurance among the masses and mobilization of people's money for people's welfare.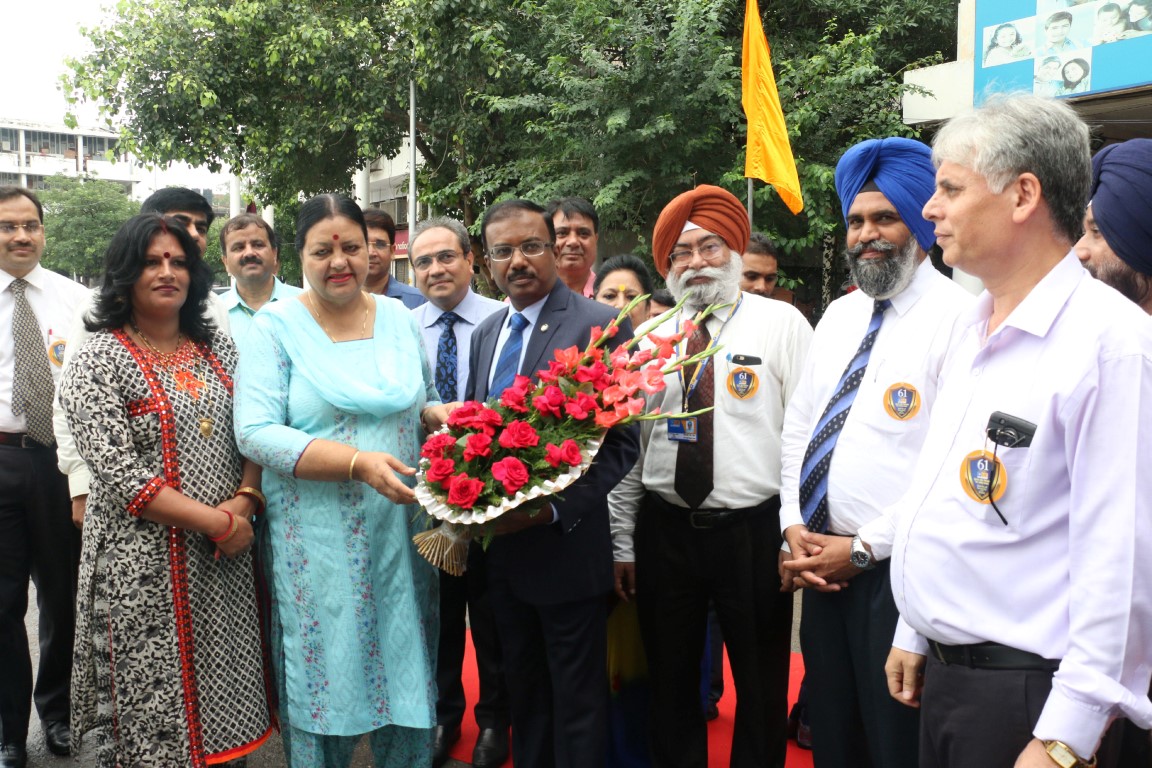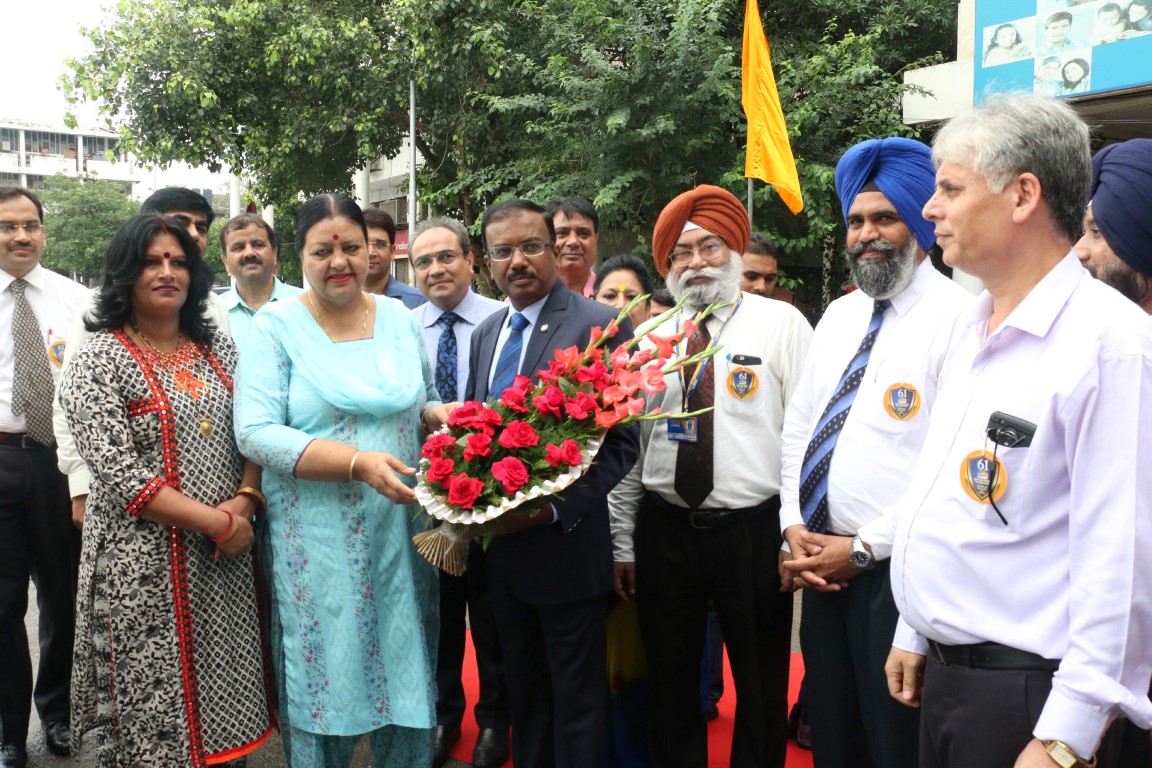 At the end of the FY 2016-2017, we had 23 plans for sale under Individual Business. In the current FY four new plans have been added viz. LIC's  Aadhaar Stambh, LIC's Aadhaar Shila, LIC's Jeevan Umang and Pradhan Mantri's Vyay Vandana Yojana. The products satisfy  different needs of various segments of the society. Various categories being Endowment , Term Assurance, Children, Pension, Micro Insurance, Health Insurance and Market linked products etc. Our customers are assured to be provided with the best products as per their changing needs and changing times.
Starting with an initial capital of Rs.5 Cr in 1956 today LIC has Assets of over Rs.25 lakh crore with Life Fund to the tune of Rs. 2323802.59 Crore. LIC started with 168 offices in 1956 and today with over 4897 offices and  has 1.15 lakhs employees, 11.31 lakh agents, 29 crore plus policies in force
During 2016-17 Life Insurance Corporation of India has registered a growth of 27.22% in the New Business  in  terms of the First Year Premium. The Total  First  Year Premium amounted to   ` 124396.27 Cr  at the end of 31st March, 2017 capturing 71.07% of market share. LIC's market share in terms of number of policies was 76.09%,garnering over 20 million new policies as on 31.03.2017.
In 2016-17 LIC of India settled 215.58 lakhs claims amounting to Rs. 1,12,700.41 crore. Excellent claims settlement standards, the best in the industry is a matter of pride for us and we achieved settlement of 98.34% Maturity claims and 99.63% of Death Claims in the year.
According to Sh.S.K.Srivastava,Sr.Divisional Manager, LIC of India, Chandigarh Division, the Division has performed very well by achieving 5th rank in the entire North Zone on %age achievement to the Budget on Number of Policies as on 31.08.2017 and has garnered First Premium of 77.15 Crores on the sale of 61,854 policies with appreciable growth over last year.  The Division has further procured 663 policies under Pardhan Mantri Vaya Vandana Yojana(PMVVY) with First Premium Income of 33.50 Crores.   Chandigarh Division has already achieved 4th rank in the country of 113 Division by achieving 18% budget in the first quarter ending 30.06.2017 on all four pillars , i.e Number of Policies, Single Premium, Non-Single premium and Total First Premium Income and our Branch Samana has also achieved its target for 2nd quarter also on all four pillars on 28.08.2017 and obtained 3rd rank among all branches in the Zone.
On claims front,  Chandigarh division has settled 6537 Death Claims and paid Rs.104.32Crores, and settled 1,78,423 Maturity Claims by paying 708.47Crores  for the year 2016-17.  As on 31.08.2017,  in the current year, The Division has paid 37Crores on settling 2316 Death Claims and paid 287.80Crores on settlement of 59,697 maturity claims.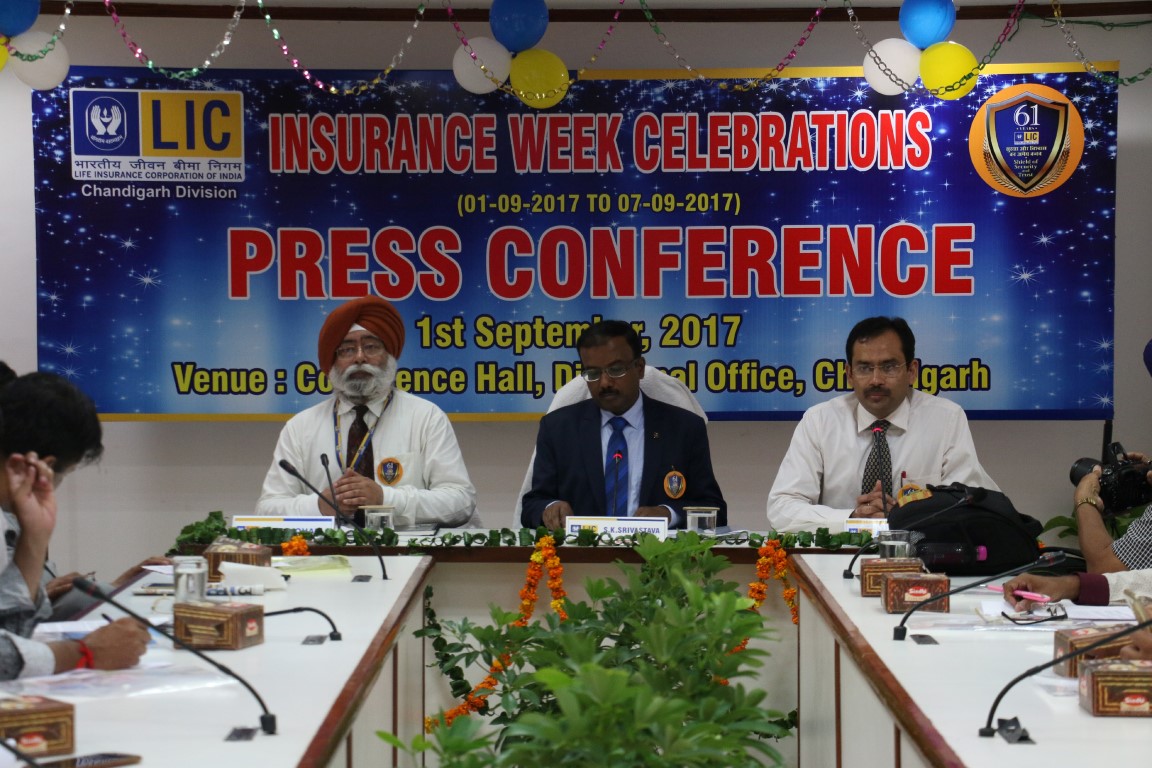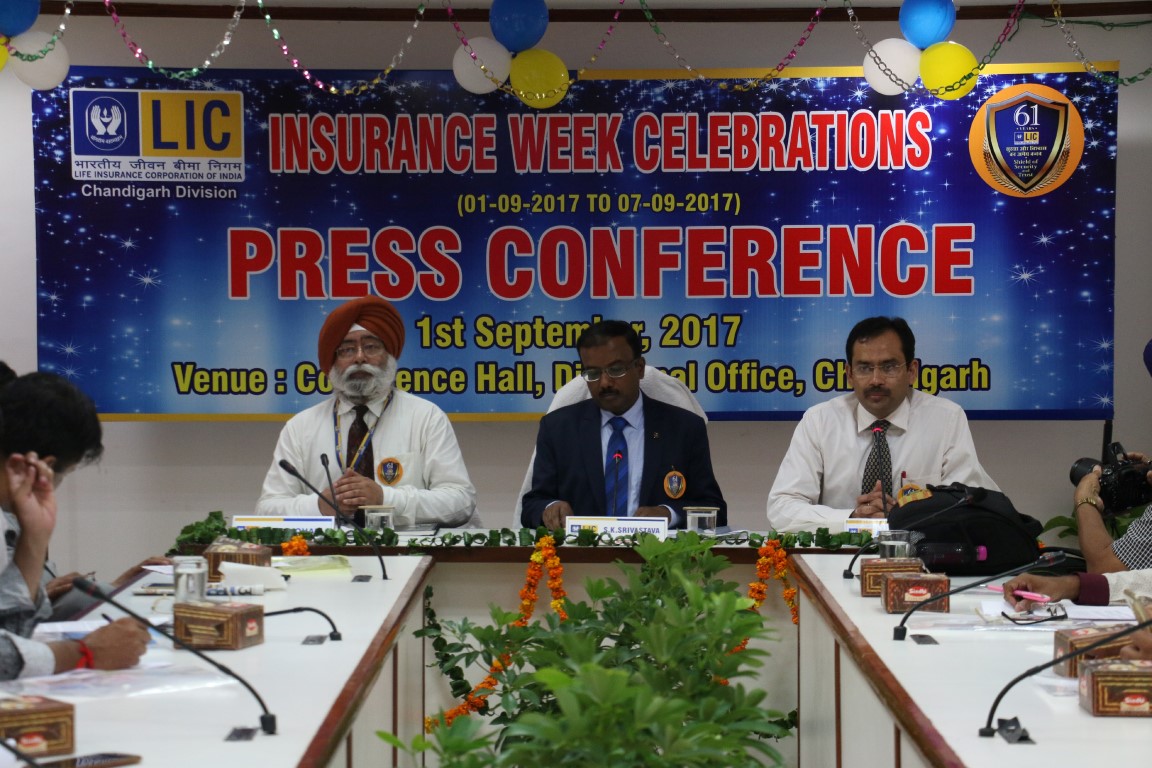 Today, in the inaugural function of LIC's  61st Anniversary,  Insurance  Week  Celebrations, Sh. Sh. S.K.Srivastava, Sr.Divisional Manager along with Sh. K.S. Johar, Marketing Manager in the presence of large gathering of LIC Officials at Jeevan Parkash Building, Sector 17-B, Chandigarh hoisted Corporate Flag followed by Corporate Anthem. Smt. Asha Kumari Jaswal, Mayor, Chandigarh was Chief Guest and  Sh. Ravi Kant Sharma, Councillor of the area was also present on this occasion. The Chief Guest congratulated the entire gathering on this prestigious occasion for LICians and felt elated on being part of this function. She further appreciated the vibrant achievements of LIC and various awards as informed in his address by Sr. Divisional Manager. She further praised the very good usage of Hindi language in the Chandigarh Division.
LIC has always explored and strived to upgrade all the avenues that technology offers to provide the best of Customer services. LIC has been a pioneer in using information technology for enhancing the quality of its service to customers being the largest insurer in India.
Information technology initiatives have facilitated  SMS based Helpline services, Online payment of premiums through wallets and SMS Alert on Transactions. Customers are able to make use of e-Services for many transactions. All payments now are made of through NEFT.
LIC Mobile Application for online Premium payment on Windows and Android phones and payment of premiums at POS machines  by swiping debit and credit cards at POS machines installed at selected Branches and Premium Points of authorized Merchants are few of the initiatives to facilitate the customers.
LIC Golden Jubilee Foundation, was established in the year 2006, a social initiative by LIC. The objectives of the Foundation are Relief of poverty or distress, Advancement of education, Medical Relief and Advancement of any other object of general public utility. Since inception, the Foundation has supported NGOs dedicated to the above causes through 398 projects. The Foundation has reached out to underprivileged sections of society through the infrastructural support provided in far flung remote areas throughout the country. Also LIC Golden Jubilee Scholarship Scheme provides scholarships to children from economically weaker sections of the society to pursue higher education till they complete their graduation/professional courses.
Life Insurance Corporation of India is present in 14 countries abroad through its Branch Offices, Wholly Owned Subsidiary and Joint Venture Companies. Our Overseas Offices are LICI Fiji Branch, LICI Mauritius Branch, LICI UK Branch, LIC (International) B.S.C., Bahrain operating in GCC countries of Bahrain, Qatar, Kuwait, U.A.E and Oman, LIC (Nepal) Ltd, LIC (Lanka) Ltd, Kenindia Assurance Co. Ltd, Life Insurance Corporation (Singapore) Pte Ltd and LIC (Bangladesh) Ltd.  LICI Fiji and LIC Nepal Ltd.( in NOP) are market leaders in their respective geographies.
LIC won 33 Awards this year. Notable among the various awards is the Golden Peacock Award   for National Training 2017, Super Brands 2016, Dun & Bradsheet BFSI & PSU  Award, Indian Insurance Award, Dainik Bhaskar Award, Greentech HR Award, Hindustan Award 2017. Readers' Digest Most Trusted Brand Award, Business Today-MT  Financial Award to name a few.
The Corporation has deployed the funds to the best advantage of the policy holders as well as the
Community as a whole,  true to the spirit of nationalization.  National priorities and obligation of reasonable returns to the policyholders are the main criteria of our investments.
The total funds, so invested for the benefit of the community at large are 24,72,389  crore as on 31st March 2017. The investment of the Corporation's funds is governed by Section 27A of the Insurance Act, 1938, subsequent guidelines/instructions issued from time to time by the Government of India and the IRDA by way of regulations.