Lily Swarn launched her latest book 'History on My Plate': "Culinary tradition is not always based on fact. Sometimes it is based on history, on habits that come out of a time when kitchens were fuelled by charcoal," aptly stated American television personality, Alton Brown and Lily Swarn's latest book, 'History on My Plate' stands testament to the same.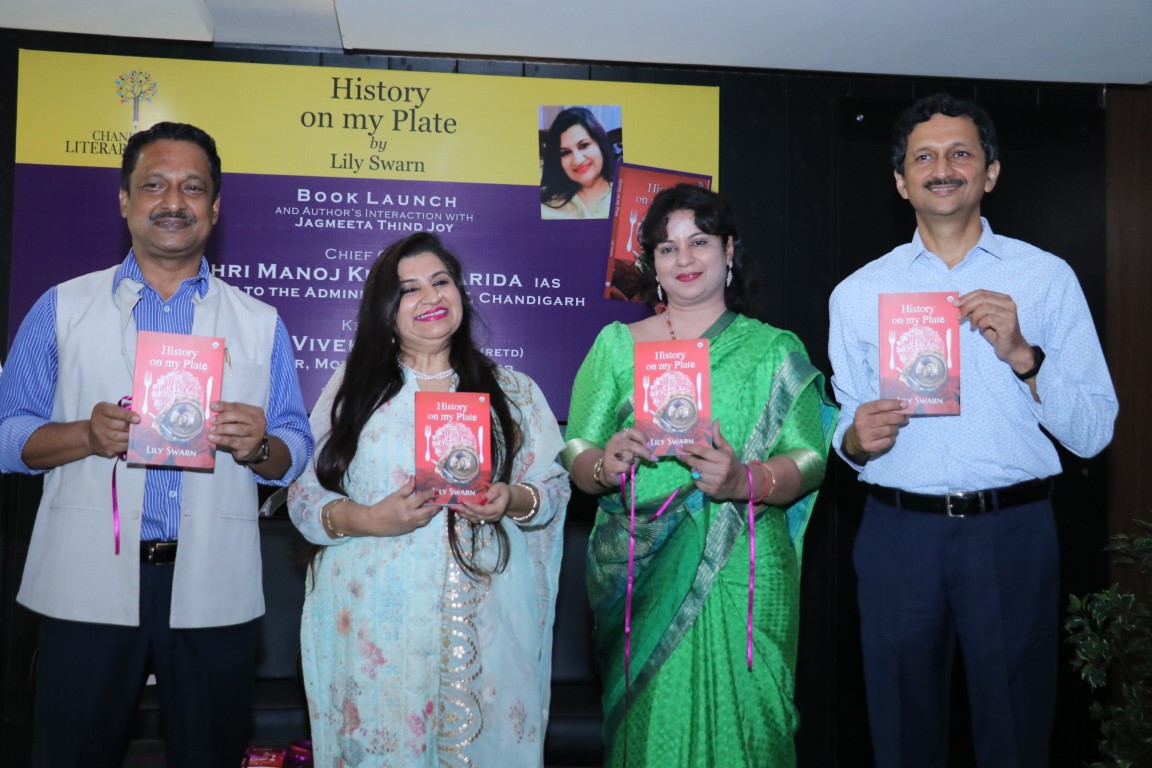 A tale of gastronomy and its rich times gone by, the book was launched today at Chandigarh Press Club in the presence of Manoj Kumar Parida, UT Adviser and Vivek Atray, Author, former IAS and motivational speaker.
'History on My Plate' promises to be an intriguing book about Lily's insatiable urge to find out the 'how', 'why' and 'where' of food, which proves to be a blessing in disguise for all the food aficionados out there. It is a wonderful attempt to help us savour not just the food but it's history. Her choice of food subjects is cosmopolitan and eclectic reflecting her own life and style, and style of writing, breezy and informative.
"It is the result of my innate inquisitiveness which is not far from being a Nosy Parker. Extensive research and innumerable walks through the ancient lanes led me to write these chapters for History on My Plate," shared Lily, a multilingual poet, author and columnist.
"I would like to extend my heartfelt gratitude to my maternal grandmother who taught me that one must immerse oneself completely in order to create magic while cooking. I would also like to thank my mother, who has always been the beacon of light in my life, my daughter, Ayesha Saluja who traversed the road less travelled with me while I set out on my mission to unearth the origin of food, my worthy colonel, my husband who is responsible for making me travel across the length & breadth of India, and my late son, Gobind Shahbaaz Singh in whose fond memory I have written a few chapters in this book. I hope that the readers enjoy my foray into the history of the food that they have on their plates," she further added with a satisfied smile on her face.
The event was organised by the Chandigarh Literary Society.

While addressing the gathering, Manoj Kumar Parida, UT Adviser congratulated the author Lily Swarn for unveiling her book 'History on my Plate' and said that it's a commendable that how beautifully Lily has illustrated the history of food in this book, which is not easy task.

He said that he loves to read motivational books, when he got time. " I have been posted in several states, and love all kind of foods. I especially love butter chicken, nan and bhindi masala the most."

Speaking on the occasion, Vivek Atray encouraged the youngsters to read and write more in their daily routine. He urged new generation to pen down their thoughts and said writing is the best way of expression.
The book is available for purchase on Amazon.
Know More About the Author
A multilingual poet, author and columnist, Lily Swarn is a gold medallist from Government College for Girls, Chandigarh and has University Colours for Best Actress and Histrionics from Panjab University from where she is a post-graduate in English.
Lily writes with a poignant touch in English, Hindi, Punjabi and Urdu. Her book, A Trellis of Ecstasy, was lauded in the media by Chief Minister of Punjab and her novel, The Gypsy Trail was launched by the Governor of Punjab. Her book of essays, Lilies of the Valley has been critically acclaimed.
Lily has an array of awards & accolades to her credit including the Reuel International Prize for Poetry 2016, Global Poet Encomium of Peace and Universal Love, Global Icon of Peace, Virtuoso Award, and Elizabeth Barrett Browning International Award. The coveted "Frang Bardhi" International Poetry Contest, Albania gave her a Special Award.
She got a Certificate of Honour for a disquisition on Metalanguage. World Directory of Literature, History, Art and Culture honoured her with a certificate. She was also awarded the World Icon of Literature, Pride of India, Living Legend of 21st Century, Ambassador of Humanity and International Icon of Literature titles.
Lily's poetry has been translated into 14 European and Asian languages. She has been a radio show host in the USA and hosted many stage shows. Her weekly columns "Cantonment Calling" and "History Mystery of Food" are immensely admired.