As monsoon season arrives in the region, Lion Services Limited, pioneer in providing integrated facilities management and mechanized road sweeping solutions across India, organizes a one week awareness drive in Chandigarh to combat Dengue and chikungunya.  Being a specialist in the field of cleaning and hygiene, the company constantly endeavours to educate citizens about the importance of clean surroundings for their healthy well being. As a part of this drive, Lion Services Limited has teamed up with Chandigarh Municipal Corporation and is organizing worker get-togethers at different locations in city to raise awareness about vector borne diseases in mosquito breeding season.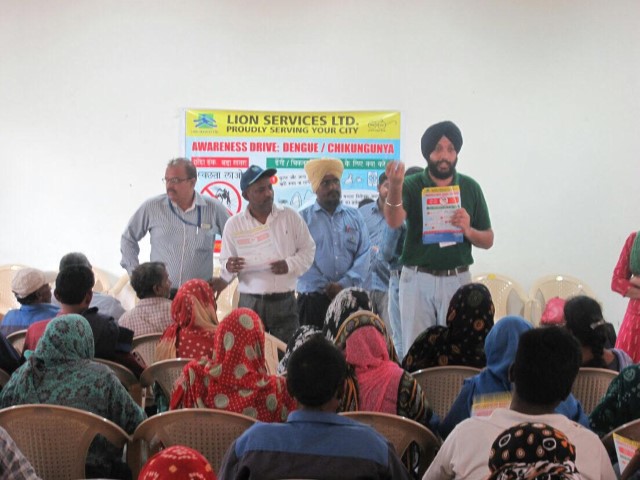 The drive scheduled from July 05, 2017 to July 10, 2017, aims to motivate company's workers to clear out stagnant water in their residential premises and further spread message among their community on how to keep themselves safe from Aedes mosquito which causes both diseases. On first day of the drive, workers were gathered at Maloya colony community centre and the event was presided over by area councilor, Mr. Rajesh Kalia.
Commenting on the idea behind organizing this drive, Dr. J.P.S Bakshi, M.D. Lion Services Limited said, "We have been witnessing a tremendous rise in number of Dengue and chikungunya cases reported over the past few years. It is very essential for people to know about the deadly outcomes of unhygienic surroundings and how to safeguard themselves and their families. We have particularly chosen to focus on our sanitation staff this time as maximum casualties are reported from the areas where they live and yet they are the ones who are often left neglected in most of the initiatives planned for the cause. Through this drive, we are pushing them as cleaning ambassadors for their respective localities so that they can reach out to other people and come together to eradicate this menace."
Applauding the initiative taken by Lion Services Limited, Chandigarh Mayor, Ms. Asha Jaswal said, "Awareness events like these go a long way in strengthening the health structure of city. It is definitely a step forward towards realizing our vision of disease free Chandigarh. We extend our full support to the company for organizing this drive and look forward to achieving a significant impact from it."
As the number of Dengue and chikungunya cases in Chandigarh this year have already risen to around 15 and 65 respectively, it is imperative to take necessary steps to battle these diseases at the earliest. With this awareness campaign, Lion Services Ltd. intends to contribute towards the bigger goal of creating a cleaner and healthier nation for all.