-Vararoha's intricately carved designer jewelry by Anushka Jain-                                  ​                             
Nowadays, women prefer light jewelry designs as it is comfortable for them to wear in daily routine. A challenge for women is not to overdo wearing heavy jewelry but about looking classy. The jewelry should complement your skin tone and outfit. The jewelry metals and gemstones should illuminate your skin tone. The color spectrum should be extensive in gold, silver, rose gold, turquoise, amethyst, etc.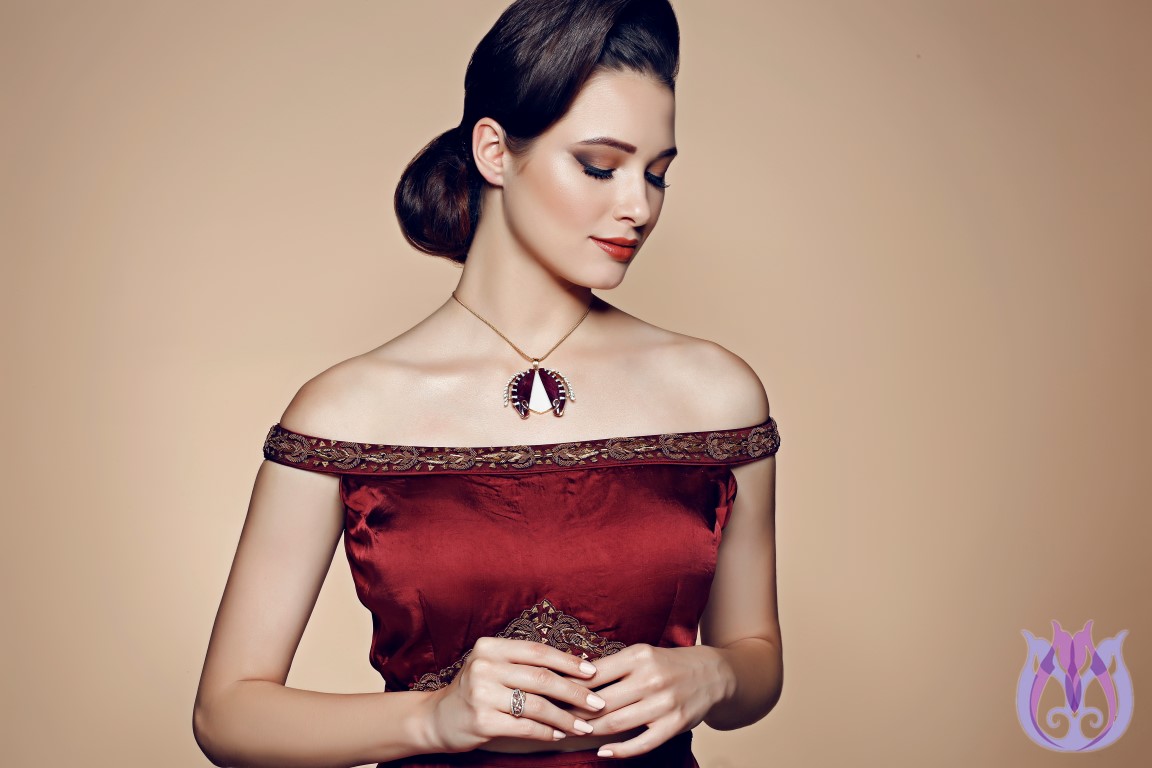 The design of the jewelry should be simple lines, circles, simple geometric designs or the designs that look elegant and should not attract unnecessary attention in office. Small diamond earrings and pendants​ are better choices​ to get a professional look.
Vararoha by Jewelery designer Anushka Jain, has introduced jewelry in varied forms and exclusive designs. Available in ear rings, bracelets, pendants, lockets etc.
The earring is studded with diamonds, delicate lines in Mother of Pearls with an oval design completed with Mother of Pearls in flower shape attached at the tip of the ear ring. Other stunning piece from Aranya collection is a uniquely designed bracelet, inspired from tree branches, the brouch is made of 14 kt gold studded with diamond, it is placed on stringrey leather band.The ruby and mother of pearl pendant, inspired from ladybird from Aranya collection is made in gold studded with diamonds.
Derived from one of the avatars of goddess Laxmi, Vararoha means 'ready to offer boons'. Steeped in culture, the jewels offered by the brand signify eternal beauty, power, inspiration and uniqueness for each individual.
The jewelry house specializes in bespoke jewelry making great efforts to personalize it to the highest level of rarity and craftsmanship. Designed for women and men, jewels in Vararoha's repertoire are one of a kind and inspired from different aspects of nature. The Collection draws inspiration from artist's paintings by the designer, different cultures and technology.
The brand prides itself on bringing to the fore beautiful gemstones such as spinels, quartzes, opals and tourmalines that are used extensively in international couture jewellery but somehow have yet to find their place in the sun in India. As such, unusual gem varieties such as rutilated quartz and opals feature prominently in Vararoha's collections apart from diamonds. The brand also has a beautiful array of objects d'art to choose from including personalized, bespoke JEWELLERY and GIFTS.
Price:  Price On Request
Availability: 11, First Floor, BQ Block, Shalimar Bagh, New Delhi
Website: www.vararoha.com