Haryana Champions Trophy T-20 Cricket Championship is being organized in the Protection of Haryana Government from
24 August 2017 to 2 September 2017
. The Haryana Champion Trophy includes six franchise teams (Ambala Lions, Bhiwani Boxer, Faridabad Falcons, Jind Jaguar, Karnal Cobra, Panipat Panthers). All matches will be played in Tau Devi Lal Cricket Stadium, Sector-3, Panchkula. All matches will be live live on Premier Sports Channel Neo Sports. The tournament has been organized to celebrate 50 years of Haryana's statehood.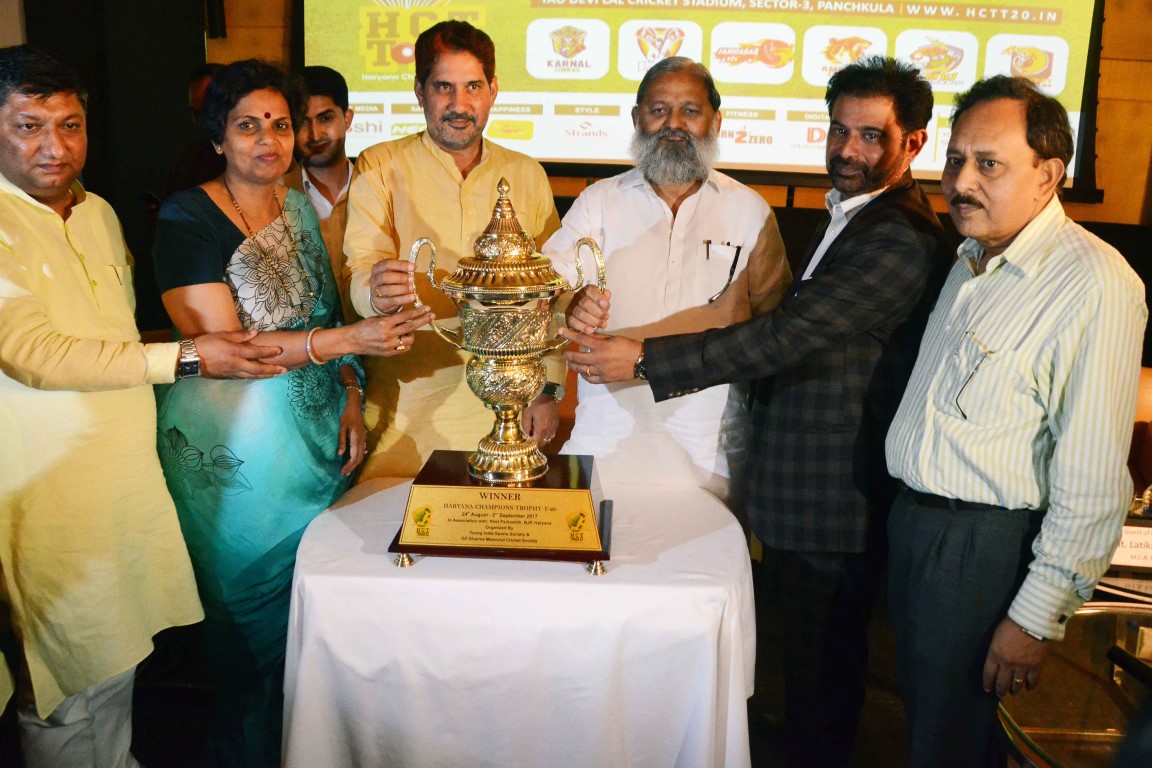 The Mega Cricket Tournament is being organized by the Young India Sports Society and the GD Sharma Sports Society in association with Sports Circular (Sports Wing) BJP Haryana. Trophy for the winning team and 21 lakh cash prize and runner-up team will be given trophy and Rs.1.1 million cash prize.
On
24th September
, on the occasion of the opening day celebrations, famous Punjabi singer Gurdas Man Tau Devi will perform live on the Lal Cricket Stadium, Sector-3, Panchkula. This is the first time in Haryana that many Bollywood personalities and corporate houses are associated with this kind of program. The famous music company will release the anthem song of the Times Music Tournament, which is sung by famous Bollywood singer Alamgir and Ramya Iyer.
FIXTURE OF TOURNAMENT
| | | | | |
| --- | --- | --- | --- | --- |
| SR. No. | DATE | TIME | DAY | NAME OF THE TEAM V/S THE TEAM |
| 1 | 24 AUGUST | 8:00 PM | THURSDAY | AMBALA LIONS V/S PANIPAT PANTHER |
| 2 | 25 AUGUST | 4:00 PM | FRIDAY | FARIDABAD FALCONS V/S JIND JAGUARS |
| 3 | 25 AUGUST | 8:00 PM | FRIDAY | BHIWANI BOXERS V/S KARNAL COBARS |
| 4 | 26 AUGUST | 4:00 PM | SATURDAY | PANIPAT PANTHER V/S FARIDABAD FALCONS |
| 5 | 26 AUGUST | 8:00 PM | STAURDAY | BHIWANI BOXERS V/S AMBALA LIONS |
| 6 | 27 AUGUST | 4:00 PM | SUNDAY | PANIPAT PANTHER V/S JIND JAGUARS |
| 7 | 27 AUGUST | 8:00 PM | SUNDAY | KARNAL COBARS V/S FARIDABAD FALCONS |
| 8 | 28 AUGUST | 4:00 PM | MONDAY | AMBALA LIONS V/S FARIDABAD FALCONS |
| 9 | 28 AUGUST | 8:00 PM | MONDAY | KARNAL COBARS V/S JIND JAGUARS |
| 10 | 29 AUGUST | 4:00 PM | TUESDAY | AMBALA LIONS V/S KARNAL COBARS |
| 11 | 29 AUGUST | 8:00 PM | TUESDAY | BHIWANI BOXERS V/S PANIPAT PANTHER |
| 12 | 30 AUGUST | 4:00 PM | WEDNESDAY | BHIWANI BOXERS V/S  FARIDABAD FALCONS |
| 13 | 30 AUGUST | 8:00 PM | WEDNESDAY | AMBALA LIONS V/S JIND JAGUARS |
| 14 | 31 AUGUST | 4:00 PM | THURSDAY | PANIPAT PANTHER V/S KARNAL COBARS |
| 15 | 31 AUGUST | 8:00 PM | THURSDAY | BHIWANI BOXERS V/S  JIND JAGUARS |
| 16 | 1 SEPTEMBER | 4:00 PM | FRIDAY | 1ST SEMI FINAL (TEAM – 1 V/S TEAM – 3) |
| 17 | 1 SEPTEMBER | 8:00 PM | FRIDAY | 2ND SEMI FINAL (TEAM – 2 V/S TEAM – 4) |
| 18 | 2 SEPTEMBER | 4:00 PM | SATURDAY | FINALS |