Abu Dhabi, United Arab Emirates – Louvre Abu Dhabi today signed the first exclusive platinum partnership with Etihad Airways. The symbolic ceremony took place under the museum's spectacular dome and its 'Rain of Light' effect.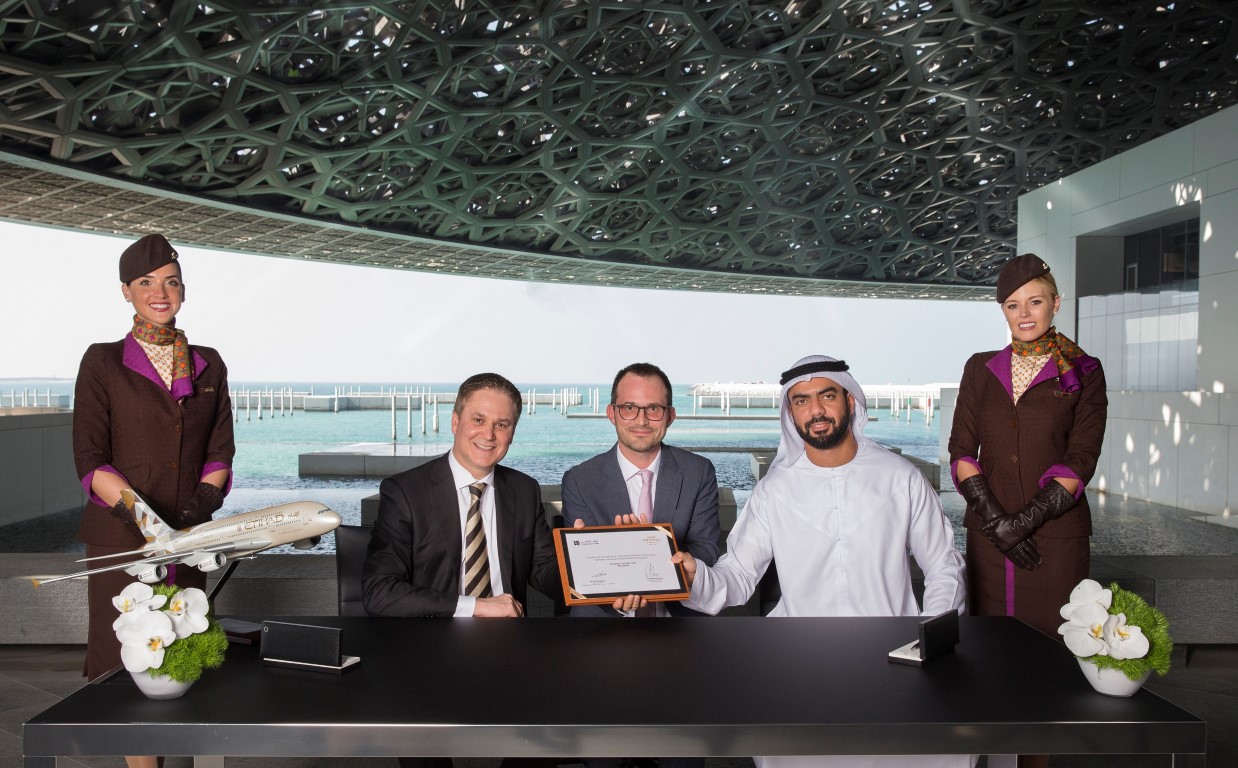 Louvre Abu Dhabi will officially open on 11 November as an iconic landmark on the city's geographical, cultural and tourist landscape. The architectural masterpiece is one of only a few truly universal museums in the world, awe-inspiring in both its scale and design.
His Excellency Saif Saeed Ghobash, Director General of the Department of Culture & Tourism – Abu Dhabi, said: "This important partnership comes at an exciting time as we prepare for our grand opening next month. Louvre Abu Dhabi and Etihad Airways not only bring people from around the world to Abu Dhabi, but they are both universal in nature. For the museum, this idea of universal is about understanding human connections from the beginning of time until the present through art. We look forward to celebrating Louvre Abu Dhabi's opening with the support of our Platinum partner."
As a Platinum partner, Etihad will work closely with Louvre Abu Dhabi on areas of brand partnership, marketing, social media, public and media relations, events and exhibitions, cultural exchanges, cargo support, inflight programming, and travel trade support. Etihad Airways' destination management company, Hala, will collaborate with the museum on bespoke tour packages in Abu Dhabi.
Peter Baumgartner, Etihad Airways Chief Executive Officer, said: "Louvre Abu Dhabi is a universal institution showcasing the achievements of mankind in art, in culture, in humanity – a beacon welcoming visitors to these shores for generations to come.
"Etihad Airways and Louvre Abu Dhabi are two leading characters in the same story and we share a deep bond. As the national airline of the UAE, flying from Abu Dhabi to the world, we are also a universal connector of people. Together with our partners at Louvre Abu Dhabi and the Department of Culture & Tourism – Abu Dhabi, we are committed to bringing guests from across our global network to our home, and to co-creating experiences which will showcase this magnificent museum."
Louvre Abu Dhabi is a universal museum on Saadiyat Island that exhibits art and artefacts from ancient times to the present day, its mission is to celebrate cultural exchange and diversity. Designed by French architect Jean Nouvel, the museum represents an Arab madina (city) with its 23 permanent galleries, exhibition galleries, Children's Museum, auditorium, restaurants, retail and a research centre. Surrounded by the sea, visitors can walk the promenades beneath the museum's stunning dome. They can experience Nouvel's enchanting 'rain of light', inspired by the shadows of overlapping palm trees in the UAE's precious oases where travellers once crossed paths.
Artworks on display originate from civilisations all over the world. They have been brought together to highlight universal themes and similar influences. This marks a departure from many traditional Western museums which separate objects from different civilisations. Themes at Louvre Abu Dhabi include: the portrayal of power; the representation of the divine; exploring unknown lands; and the dawn of globalisation. Louvre Abu Dhabi has acquired more than 600 artworks to date including individual works, series and collections. Many of these will be exhibited alongside 300 works on loan from 13 leading French institutions.
Louvre Abu Dhabi was born of an intergovernmental agreement between the governments of Abu Dhabi and France in 2007. The agreement includes the loan of the name of Louvre is on loan for a period of 30 years and 6 months; art works from French institutions for 10 years on a decreasing basis as the permanent collection grows; and the programming of temporary exhibitions for 15 years.
Etihad Aviation Group (EAG) is a diversified global aviation and travel group comprising five business divisions – Etihad Airways, the national airline of the United Arab Emirates, Etihad Airways Engineering, Etihad Airport Services, Hala Group and Airline Equity Partners.
From its Abu Dhabi base, Etihad Airways flies to, or has announced plans to serve, more than 110 passenger and cargo destinations in the Middle East, Africa, Europe, Asia, Australia and the Americas. The airline has a fleet of over 120 Airbus and Boeing aircraft. In 2013, it placed firm orders for 204 aircraft, which included 71 Boeing 787s, 25 Boeing 777Xs, 62 Airbus A350s and 10 Airbus A380s. For more information, please visit: etihad.com