newznew (Chandigarh) : Mahindra & Mahindra Ltd. (M&M Ltd.), a part of the US $17.8 billion Mahindra group, has introduced DiGiSENSE, a revolutionary connected vehicle technology solution in its leading tractor brand, Arjun Novo. This will enhance productivity of the farmers using Arjun Novo and will give new experience of tractor ownership. DiGiSENSE technology will be available in 57HP – 605DI-i  Arjun Novo.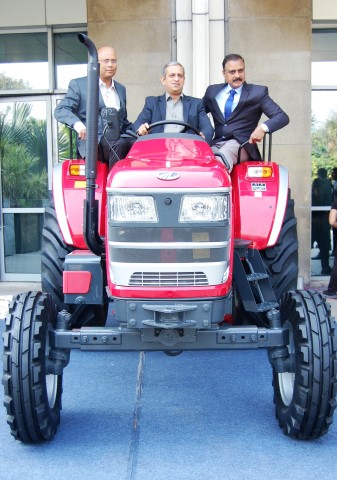 Mahindra becomes the first OEM in India to offer a cloud-based technology platform in the tractor category beginning with the Arjun Novo.
DiGiSENSE will empower tractor owners to access vital information about their tractors remotely, on a real time basis. This technology will benefit farmers significantly to improve their efficiency and productivity which will help them improve their earning potential.
According to Ravindra Shahane, Vice President – Marketing, Farm Division, Mahindra & Mahindra Ltd," Today the need to stay connected is a basic necessity for our farmers, to monitor their tractors and improve productivity. With the introduction of DiGiSENSE, we have become the first Indian OEM to introduce a connected vehicle technology in our leading tractor – the Arjun Novo, for the utmost convenience of our customers. I am confident that this will further revolutionize the way our farmers will interact with their Mahindra tractors, leading to higher productivity and prosperity."
Digitization is emerging as a key differentiator to increase productivity and the connected vehicles technology is one such manifestation. Developed by Mahindra, DiGiSENSE is the first of its kind technology platform which is multi-application and multi-product enabled. This unique technology connects the owner to his tractor and enables him to control its usage and prevent misuse. It is a smart application that will empower customers to digitally build knowledge 24X7 about the performance and location of their tractors. Farmers can now do a live tractor tracking, while remote diagnostics and reports will enable to monitor the tractor's health and productivity parameters.
Key Features of DiGiSENSE applicable for Arjun Novo:
DiGiSENSE is a technology platform enabled by a Telematics device installed in the Arjun Novo tractor. Data is sent from the device to the Mahindra server via mobile network. The same data is processed and sent back to the customer on his mobile app and web-application on laptop/computer in real time, thereby allowing the customer to access important information and benefit from it. The DiGiSENSE technology will enable the following:
Geo fencing & Live tractor tracking:  Farmers can now secure their tractors in the area defined by them on a google map. The Farmer will receive an alert when the tractor drives out of the fenced area and also he will be informed when the tractor drives inside the fenced area. This is similar to having a virtual tractor lock.
Alerts: These are SMS and notifications about critical parameters of tractors which allows customers to monitor & take corrective actions such as Low fuel alert, Battery not charging, Clutch override, High engine temperature, Air filter clog and High Engine rpm alert
Reports: This allows customers to access online and real time reports through the website on their laptop/computer about the usage of engine rpm on an hourly basis and other vital information on the vehicle usage and alerts.