PUNJAB ATTRACTS NATIONAL AND INTERNATIONAL INVESTORS WITH ITS UNIQUE RENEWABLE ENERGY POLICIES
SETS UP 250 MW SOLAR POWER PROJECTS IN RECORD TIME
ALL SET FOR GENERATING 200 MW SOLAR POWER FROM ROOF TOPS
SIGNS UP AN MoU FOR SETTING UP OF ASIA'S FIRST BIO-ETHANOL REFINERY
SETS UP WORLD'S LARGEST COW DUNG BASED BIO-CNG PLANT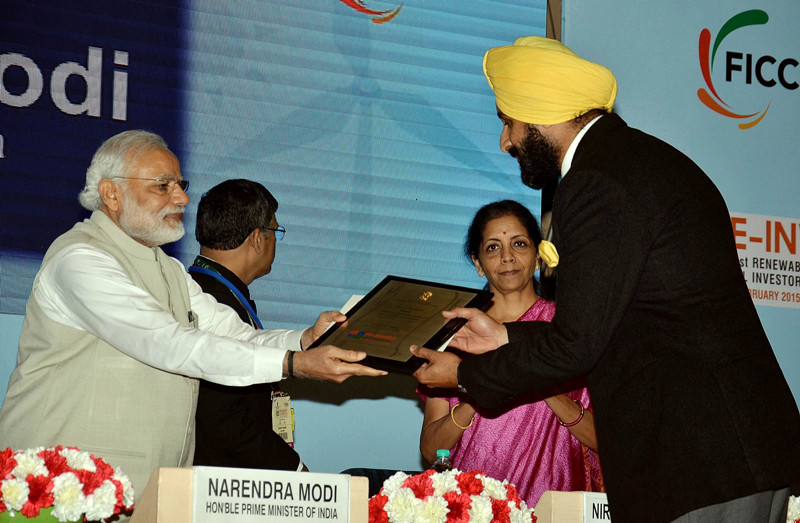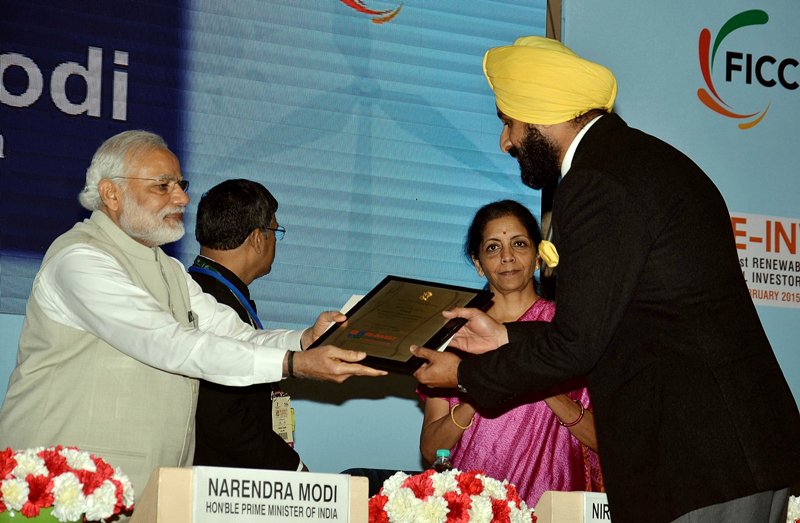 NewZNew (New Delhi/Chandigarh) : Punjab's innovative and result oriented solar mission today won the recognition of the nation with Prime Minister Narendra Modi today awarding the best performing State award in renewable energy capacity building to Punjab New and Renewable Energy minister Bikram Singh Majithia in the inaugural session of the First Renewable Energy Global Investors Meet and Expo – 2015 held here.
Congratulating the State on its outstanding performance in promoting renewable energy in a big way at the Investors Meet and Expo held at Vigyan Bhawan, the Prime minister emphasised the need to use solar power to better the life of the ordinary man. He stressed on manufacturing equipment needed to create solar power in India to generate jobs besides the need to go in for technology upgradation in league with nations who possessed expertise in this field. Mr Modi also gave a call to develop solar and wind energy side by side wherever possible to give a boost to the renewable energy sector in the country.
Later, in the afternoon during interactions with investors, Mr. Bikram Singh Majithia said the state had achieved so much in the renewable sector in a short period due to political will coupled with innovative hand holding. He exhorted entrepreneurs to invest in Punjab as the state was committed to extending every possible support to them to set up their projects. He pointed out that Punjab had formulated a policy to allot projects within 60 days by using the single window project clearance system. He said as Minister In-charge he himself monitored day to day developments besides involving the district administration to address local issues on the spot.
Highlighting the advantages for renewable power projects in Punjab, Mr. Majithia revealed that the state possessed the country's best power transmission and distribution system with 66 KVA sub-stations at every 10 Kms. He said it also had the country's first ever 400 KVA ring main system covering the entire state besides excellent road network, healthcare facilities, airports, availability of skilled manpower and above all 'Invest Punjab' a single point project approval facility. He said Punjab also facilitated investors to take up village common lands on lease basis as it reduced costs and also supplemented the income of village panchayats. Listing the achievements of state government on solar power front, the Renewable Energy Minister pointed out that Punjab had touched 250 MW solar power figure from 9 MW in just two years and was all set to bid out 250 MW solar power projects with investment potential of 430 Million USD. He said with Union government's in principle approval to a 1000 MW mega solar power park, Punjab would soon offer this project also to the industry. He said that the state was offering power purchase agreement for 25 years with the state power utility, which made solar projects a viable investment.
The Minister informed that Punjab had floated India's largest tender of 100 MW grid connected roof top solar power projects after identifying the required roof tops throughout the state. He said the state had the world's single largest roof top solar power project of 7.5 MW in Beas (Amritsar) and 28 MW more were being added there itself. Similarly, he said the state had notified its net metering policy and was committed to set up 200 MW power projects on 1 lac houses in next three years with the motive of encouraging people to produce their own power.
Urging investors to set up biomass power projects, the Minister pointed out that the state had huge potential of 21 Million tonne of agriculture residue availability. He said Punjab at present had 7 biomass power projects with joint capacity of 62.5 MW but huge potential remained untapped. Mr. Majithia said that the state had signed an MoU to set up first ever Bio-Ethanol Refinery followed by five more such paddy straw based production units having joint investment of 1 Billion USD. He said the world's largest cow dung based Bio-CNG plant of 10,000 cubic meters would also be commissioned next month.
Others present on the occasion included Mr. Anirudh Tewari, Secretary Renewable Energy, Dr. Amar Pal Singh, CEO PEDA and Mr. Balaur Singh, Director PEDA.