Davesh Moudgil, Mayor of Chandigarh called a meeting of all the councillors, representatives of Chandigarh Business Council, Chandigarh Vyapaar Mandal, Chief Architect, UT, Chandigarh and concerned senior officers of MCC to discuss and review Chandigarh Street Vending Plan.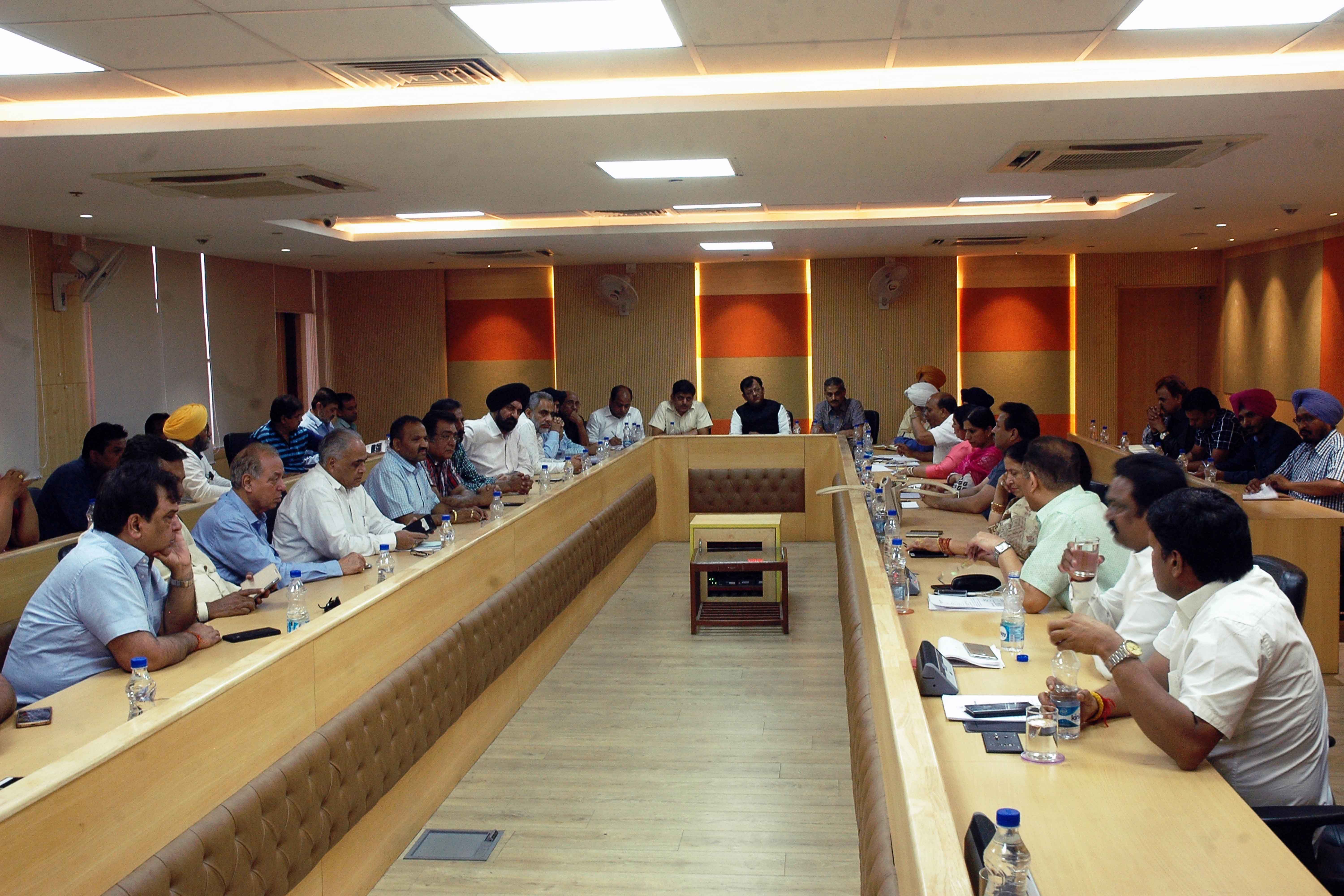 The meeting was started at the conference hall, MCC building, Sector 17 which was attended by Gurpreet Singh, Senior Deputy Mayor, Vinod Aggrwal, Deputy Mayor, Anil Garg, PCS, Additional Commissioner-II, Kapil Setia, Chief Architect, Tejdeep Singh Saini, PCS Joint Commissioner, Rajinder Singh Kalsi Senior Town Planner, Dilbag Singh, Planning Officer, Arti Sharma, Architect, Vivek Trivedi, Social Development Officer.
The MCC councillors who attended the meeting were including Charanjiv singh, Heera Negi, Arun Sood, Dr. Jyotsna Wig, Ravi Kant Sharma, Farmila, Sat Parkash Aggarwal, Hardeep Singh, Dalip Sharma, Anil Kumar Dubey, Ravinder Kaur, Devinder Singh Babla, Sheela Devi, Asha Jaswal, Shakti Prakash Devshali, Jagtar Singh Jagga, Sunita Dhawan, Raj Bala Malik, Shipra Bansal, Mahesh Inder Singh Sidhu and Bharat Kumar.
The representatives of Chandigarh Business Council, Market Associations and Resident Walfare Associations were also present during the meeting including Kamaljeet Singh Panchhi, Parveen Gulati, Harvinder Singh Gujral, Satpal Garg, J.P Singh Kalra, Sushil Bansal, Neeraj Bajaj, Baldev Goel, Subhash Sethi, L C Arora, Ashutosh Vermani, Ranjan Verma, Sanjeev Chadha, Anil Vohra, Parshotam Mahajan, Pardeep Malhotra, Anand Syal, Pardeep Bansal, Ravinder Singh, Ravinder Bajaj.
The Mayor requested the present officials, representatives of associations and Councillors to introduce first in brief and also share the issues being faced in light of Street Vendors Act, 2014 and Chandigarh Street Vending Plan.
The representatives of Chandigarh Business Council and Vyapar Mandal suggested in the meeting that no street vendors shall be allowed to sit in any market as the traders have invested huge sum of money into their business and are paying taxes to government. The present plan under the Street Vendors Act, 2014 will ruin their businesses as street vendors are causing nuisance in the market. They also said that the association is not against any street vendors, as they also have to earn their livelihood to support their families but they should be relocated away from markets.
They praised the efforts of the Mayor in declaring Sector 17 as No Vending Zone.They also added that Sector 19 and 22 should also be made No vending Zone on similar lines to protect the interest of businessmen.
They pointed out that the sector 17 market has been degraded at the behest of street vendors for more than 1.5 years. He suggested that Sector 17 has been declared as No Vending Zone by Chandigarh Administration, but street vending is rampant by unauthorised street vendors. Street Vendors are not following FSSAI norms and they are selling food products in open in unhygienic conditions. The vending zone should be developed on priority for rehabilitation and relocation of registered street vendors, they added.
They also suggested that uniform kiosk should be made by Municipal Corporation Chandigarh so that city's heritage and urban character cannot be compromised. Such step will also differentiate and classify the types of street vendors.
During the meeting the councillors suggested that Municipal Corporation Chandigarh should consult three key stakeholders first namely Residents, Market Associations and Street Vendors to come amicably on feasibility of any vending zone in conflict. They said, no one is happy with MCC, be it is street vendor, resident or shopkeepers. He is of the view to retain food vendors at least in the market as they fetch customers to markets.
They said that street vendors should be relocated and rehabilitated at a place which is in close proximity to potential market and customers with viability to earn livelihood. They should not be evacuated and uprooted in the wake of any policy as the act says it is for protection of livelihood and regulation of street vending. Discrimination shall not be made on the basis of any affiliation to any state.
Anil Garg, Additional Commissioner, MCC said that only Aadhar card holders of Chandigarh had been considered for registration of street vendors. He said that TVC has revised size of vending site from 5X3 to 6×5 including circulation space on the humanitarian context. He has requested the Chief Architect to speed up the process of approval of vending zone sites as per the request of MCC. He also suggested to consult area Councillors, Market Associations, RWAs and vendors for finalization of vending plan in sector 22 and 19, where conflict has emerged.
Kapil Setia, Chief Architect said that department of urban planning has planned sites and zones in consultation with TVC only and the same plan was discussed in MCC House too, which resolved to discuss before councillors in a separate meeting under the chairpersonship of Mayor. Later the same plan was approved by the Administrator Chandigarh.
He said, if there is problem in certain zones then the suggestion given by Additional Commissioner to conduct consultation seems to be valid to avoid confrontations with key stakeholders. He said, it should happen in only those areas where there is possibility to have conflict.
In the last, Davesh Moudgil, the Mayor gave a conclusion to have joint consultation with Area Councillor, Market Association, RWA and street vendors in finalizing a street vendor zone. He said that the act should be implemented in letter and spirit towards welfare of informal sector.