Minister Smriti Irani launches Room to Read India and Boeing partnership on Literacy Program in Amethi: The Hon'ble Minister of Women and Child Development and Minority Affairs of the Government of India, Smt. Smriti Irani, on Friday, August 25, 2023, announced the launch of Room to Read India and Boeing's partnership on Literacy Program in the Amethi district of Uttar Pradesh.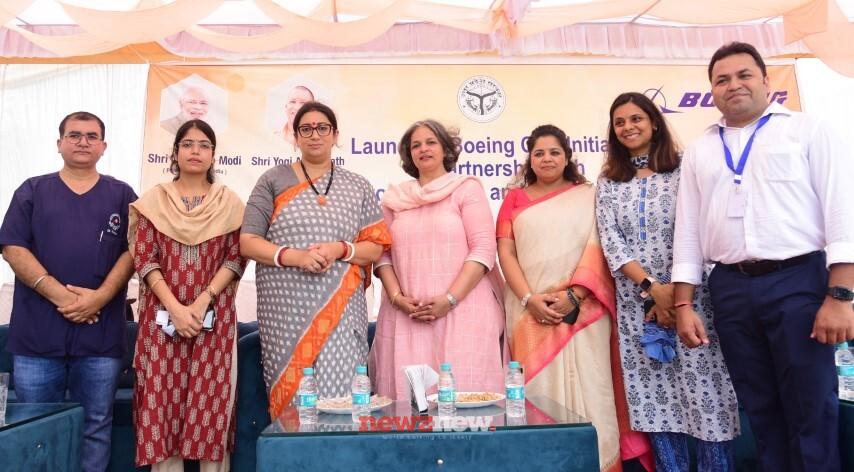 The event also marked the inauguration of a Doctors for You (DFY) medical diagnostic center.
Boeing will support Room to Read India to implement a comprehensive literacy program in 60 carefully selected primary schools within Amethi for the next four years. This initiative aims to foster independent readers and lifelong learners among students.
Minister Irani was joined by senior Government and district officials, Ms. Poornima Garg, Room to Read India's Country Director, Ms. Praveena Yagnambhat, Boeing India's Chief of Staff and Boeing Global Engagement lead, and Dr. Ravikant Singh, Founder of DFY, at the launch ceremony in Amethi.
It's the prime focus of the government to provide access to quality education facilities to the people at the grassroots level in Amethi. Boeing's community engagement initiatives in partnership with Room to Read will make a remarkable contribution to the lives of the people of Amethi in primary education. I applaud Boeing's commitment to partnering with the people of Amethi to help build a better future for all," said Smt. Smriti Irani.
"When we nurture children's imagination and curiosity, we build the next-generation disruptors, inventors, innovators. Our longstanding partnerships with Room to Read and Doctors for You, underscore our continued commitment to provide resources that make literacy, education, and healthcare available to all," said Mr. Salil Gupte, President, Boeing India.
Speaking on the partnership, Ms. Poornima Garg, Country Director, Room to Read India said "Boeing has been a long-standing partner of Room to Read India. With their support, we've been able to work on a shared vision to support children realize their right to quality education.
The partnership started in 2015 with 10 schools and from then on has seamlessly risen to benefit 187 schools and 20,000 children across India. We thank Boeing for trusting us and choosing us as a literacy partner."
The Room to Read India program will set up library rooms in the selected 60 schools, offering modern amenities like books, reading tables, open bookshelves, and educational materials.
The initiative will also drive family and community engagement through various activities such as meetings, events, camps, parental orientation, and reading campaigns. Professional development training for educators and faculty will further enrich the program's impact.
Know More About Room to Read 
Room to Read India was established in 2003 and presently has programs in eleven states – Andhra Pradesh, Chhattisgarh, Delhi NCR, Jharkhand, Karnataka, Madhya Pradesh, Maharashtra, Rajasthan, Telangana, Uttarakhand, and Uttar Pradesh.
Room to Read is a global organization transforming the lives of millions of children in low- income communities by focusing on literacy and gender equality in education. Since 2000, Room to Read has benefited more than 39 million children across 23 low-income countries. Learn more at www.roomtoreadindia.org.