Tears You Apart will feature on the exterior of 14 railway trains on major routes across eight states including Punjab

NewZNew (Ludhiana) : The Ministry of Health and Family Welfare (MoHFW), with technical support from global health experts Vital Strategies,today launchedapowerful outdoor campaign to raise awareness of the harms of smokeless tobacco. Images and messages from the recently-launched Tears You Apart anti-tobacco campaign will feature on the exterior of trains on some of India's busiest major railway routes across eight states from today until September 2016. The railway ads will potentially be seen by millions of low and middle income Indians – who are more likely to use smokeless tobacco – across urban and rural areas. This campaignis one of the most geographically extensive health promotion campaigns to utilize the world's most heavily used railway network.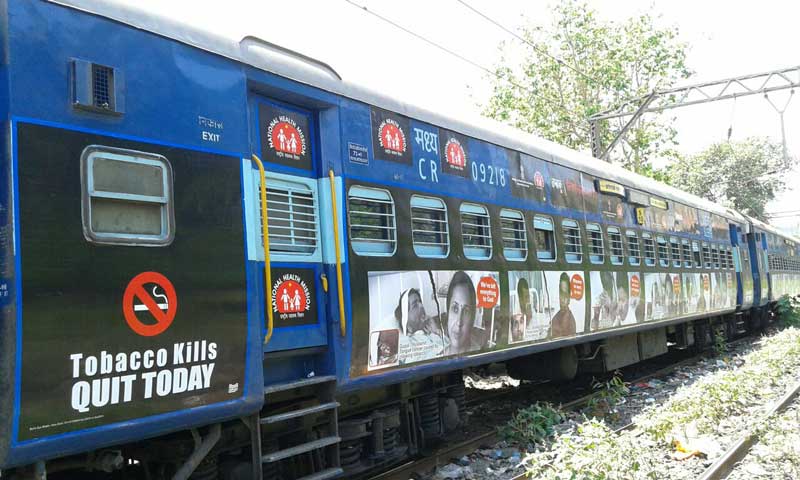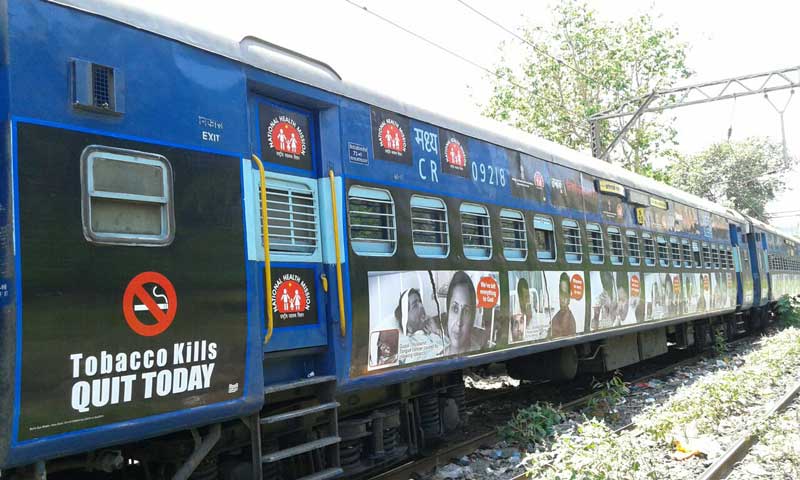 The railway ads are part of a powerful, multi-channel campaign designed to warn people about the health, social and economic harms of smokeless tobacco, which is used by tens of millions of Indians every day. The Tears You Apartcampaign features a Public Service Announcement (PSA) filmed in B. Barooah Cancer Institute in Guwahati, Assam and at the Tata Memorial Hospital in Mumbai, Maharashtra, which shows real victims suffering from horrific cancers and disfigurements as a result of their chewing addiction. It also includes the victims' relatives, who describe how tobacco-related disease has destroyed careers and family life, and added to their financial burdens. The railway ads could reach people who had notpreviously seen the campaign on TV.
According to Mr. C.K. Mishra, Additional Secretary, Ministry of Health and Family Welfare,Government of India, "TheGovernment is committed to ensuring healthcare and social safety for all Indians. Warning people about the dangers of tobacco is a key part of our strategy, using mass media campaigns, Film Rule, and all other methods of Behaviour Change Communication. Tears You Apart shows that tobacco-related suffering isn't limited to disease and disability among patients; their loved ones also share immense health, emotional and financial pains and hardships. It was important for us to highlight this reality in this campaign."
José Luis Castro, President and Chief Executive Officer, Vital Strategies, commented: "We congratulate the Government of India on this campaign and are delighted that it will reach so many Indians in the course of their daily lives as they travel on the railway or see the trains go past. India is facing an increasing burden of non-communicable disease for which tobacco use is a leading risk factor, and an economic burden from tobacco-related disease of more than 1.4 trillion rupees every year. Smokeless tobacco plays a major role in that burden of harm. This powerful, emotivecampaign empowers victims and their families to show how smokeless tobacco tears lives apart. We hope India's millions of smokeless users will respond to the real faces of tobacco in this campaign and in India's new graphic pack warnings, and decide to quit."
 The Tears You Apart Campaign
Messages and images from Tears You Apart will feature on the exterior of 14 railway trains on major routes across eight states (Maharashtra, Uttar Pradesh, Chhattisgarh, Odisha, Karnataka, Tamil Nadu, Delhi and Punjab).
The Tears You Apart PSA is also being broadcast on the channels of public service broadcaster Doordarshan – across all states and regional languages – until early June 2016. The PSA wasbroadcast on 66 satellite channels for the past month, including major private TV channels such as CNN/IBN, Colors TV, India Today, Sony Entertainment, Star Plus, VH1, Zee TV, and Zee Cinema. In addition, Tears You Apart will soon will be broadcast in cinemas and on TV under India's COTPA "Film Rule". An innovative and integral part of India's tobacco control act, the Film Rule requires that warnings about tobacco's harms are shown before and during films and television shows that portray tobacco consumption.The Tears You ApartPSA and images and transcripts from the campaign are available upon request.
Research has shown that mass media campaigns and graphic health warnings on tobacco packs are one of the most effective means to prompt people to stop smoking. They are one of the World Health Organization's M-P-O-W-E-R (W=Warn) strategies to reduce tobacco consumption. M-P-O-W-E-R strategies are endorsed and promoted bythe Bloomberg Initiative to Reduce Tobacco Use, of which Vital Strategies is a principal partner.