A one of a kind fashion pageant Mr. Prince & Miss Princess North 2018 is all set to kick off with auditions starting in July all across North India. Details of this pageant which will give an opportunity to people in the age group of 14-30  across the region, were announced at a press meet by Tricity's ace Choreographer, MTV Fame Artist & Director of Art of Dance Studio, Dipesh Sekhri and Preetika Sharma, Director, Privika Entertainer Event Co. The duo are the brains behind the fashion pageant. Dipesh & Preetika were accompanied by famous Punjabi singer Mani Singh, who also runs his company Mani Entertainers. Mani has given some chartbuster songs like 'Ek peg laake phone karda' , 'Shaukeen Munde' et al. Ms. Rohita who is a well known Make Up Artist & Fashion Blogger too was present. It was informed that Mani Singh will be a member of the jury & Rohita will be judging the auditions in different cities.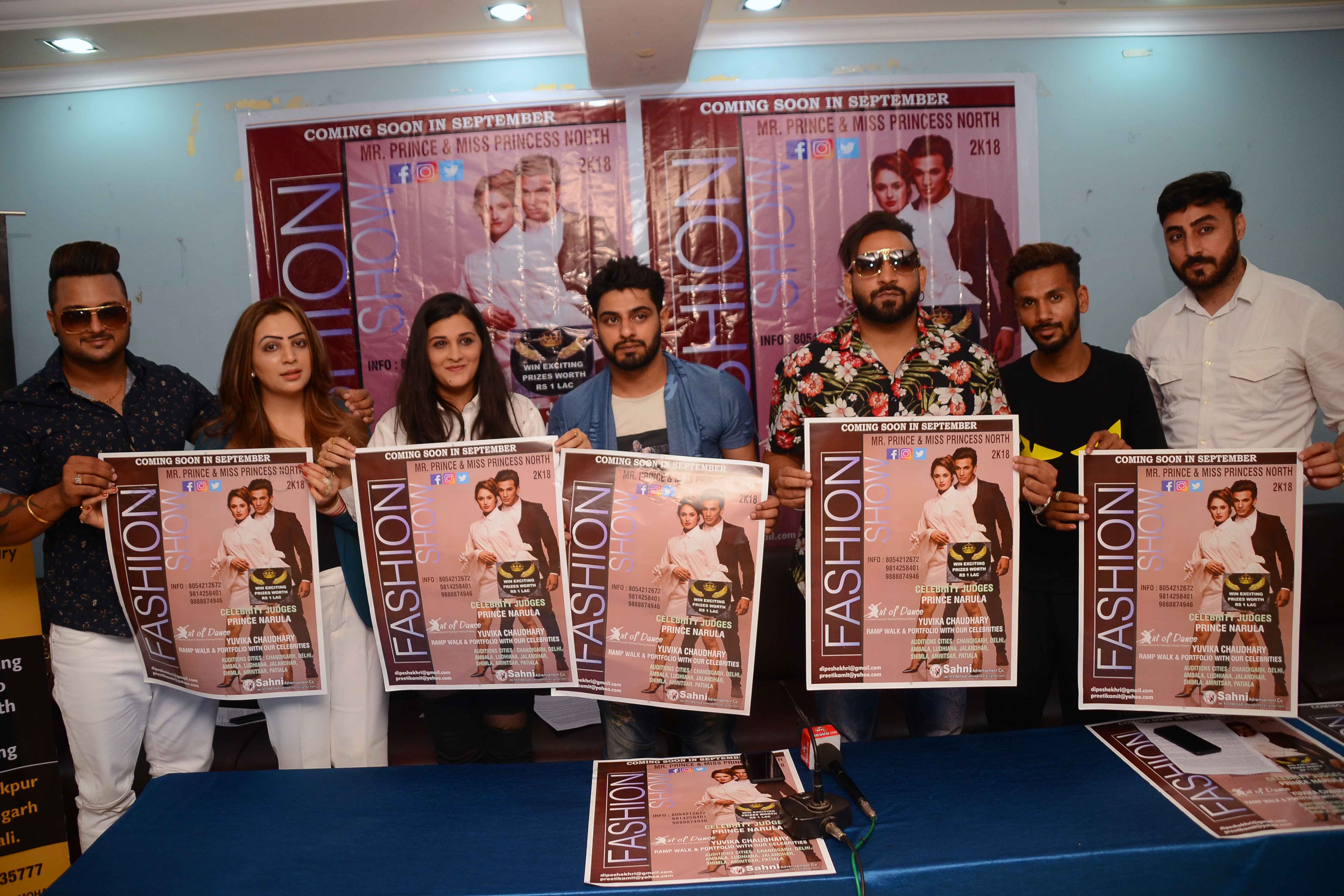 "The fashion pageant's finale will be held  at Chandigarh Club, Sec 1, Chandigarh on September 8. It gives me great pleasure to announce that Prince Narula the Big Boss 9 winner, popular model, actor & TV personality and Actress Yuvika Chaudhary who has acted in  Bollywood films like Om Shanti Om will be the celebrity Judges, during the grand finale. They will also act as guides & mentors to those participating  in this unique  mega fashion show. I am happy to share with you that the audition in Chandigarh will take place on July 22 at E Fit , Piccadily Mall, Sec 34, Chandigarh." Said Dipesh Sekhri.
Auditions will be held in 7 different cities — Ambala on July 15, Chandigarh on July 22, Shimla on July 25,Patial on July 29, Ludhiana on Aug 5, Jalandhar on Aug 12, Delhi on Aug 19 and Sundarnagar on August 26.  Out of all these cities 50 contestants will be chosen for  walking on the Ramp in front of the judges. "Grooming sessions will be held for the participants. Three days of training which includes personality development, stage confidence, talent grooming, handling question/answer round, ramp walk style dress, dressing appropriately so that they can perform better and efficiently, will be held before the finale." Said Preetika Sharma.
The icing on the cake is that Prince Narula & Yuvika Chaudhary will be judging the talent of the youth and will be bringing them up on stage to present the title of Mr. Prince & Miss Princess North 2018. What's more, the winners will also get a chance to get a portfolio shoot done with the two celebrities.
"One unique aspect of the finale wil be a welcome dance performance by all the 50 finalists which will be choreographed by me and will act as a grand welcome to the celebrity judges  Prince Narula & Yuvika Chaudhary." Said Dipesh. Invitations are being sent to the top most Fashion Schools, Colleges, Universities of the region, so the fashion pageant will truly be covering North India well. There will be present special guests/judges, celebrity models, artists from TV shows during the auditions in different cities.
Baddi Univerity has come on board to partner with the event & so has. Texas Therapeutics too has announced its support to the event.  Oxizone Fitness & Spa is the Fitness partner. The winners will be getting a total of Rs 1 Lakh worth of gifts & prizes. What's more, they will also be eligible  for a free portfolio shoot with the celebrity judges.