MyTrident, leading home furnishing brand, announces Kareena Kapoor Khan as Brand Ambassador: MyTrident, the flagship home furnishing brand of Trident Group (a USD 2 billion conglomerate) announced the iconic and ever-radiant Kareena Kapoor Khan as their brand ambassador during the launch of its Fall-Winter'23 collections in Andaz, Aerocity, New Delhi.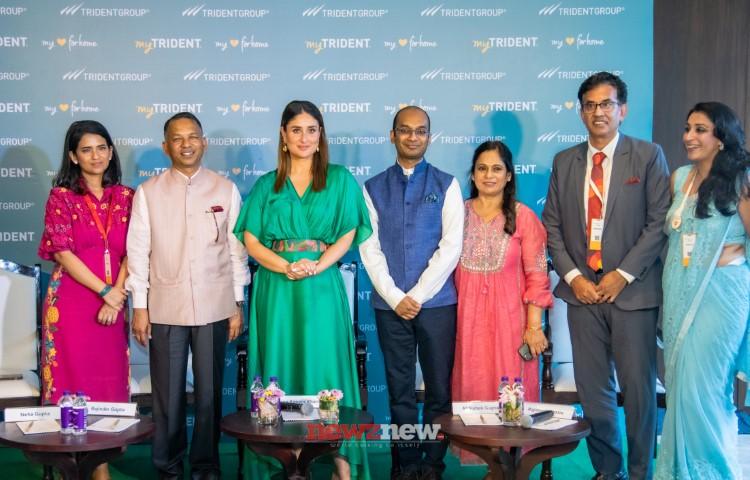 The rapidly expanding retail and e-com brand MyTrident welcomed the blockbuster celebrity to its family with a vision to provide accessible luxury to every Indian household.
While addressing the media at the event, Kareena Kapoor Khan said, I'm delighted to be associated with MyTrident.  Known for their wide range of home furnishing collections, their innovative designs and premium finish reflect one's true self and set the perfect mood for any home space. There is something to suit every style and every home."
"We are super-excited and thrilled to welcome Kareena Kapoor Khan in MyTrident family. She is an exceptional blend of grace, talent, and relatability that makes her an ideal face for our brand. Her values seamlessly mirror the brand's dedication to crafting living spaces that are not only exquisite but also welcoming and comfortable. As we continue to strive for excellence and innovation in our products, we are confident that Kareena's influence will enhance our brand's narrative of providing value to our customers" said Dr. Rajinder Gupta, Chairman- Trident Group.
Kareena Kapoor Khan will be instrumental in realising the vision of 'Ghar Ghar mein MyTrident' and reaching 10,000+ retail touch points across the country. The brand aims to cross revenue of INR 1,000 crores by FY 2025-26.
Starting its journey in India in 2014, MyTrident is today amongst the leading brand in home furnishing across home and HORECA in India. Its growth has been driven by doubling the point of sales, adding new categories, and diversifying the range based on the evolving needs of the consumers. Currently, the company has a retail network of 3,500+ retail touch points, including 50 exclusive stores across India.
Know More About MyTrident
MyTrident is Trident Group's flagship brand specializing in luxurious & premium home furnishings. The company caters to all segments across luxury, premium to everyday.
From designs, innovation and sustainability, the brand has been setting benchmarks in the home textile industry. With a sharp focus on customer demands, MyTrident offers a range of exquisite products including bed sheets, towels, luxury rugs, bathrobes and much more.
Each item is crafted with precision and attention to detail, to offer customers an unparalleled sense of comfort, style, and elegance. MyTrident products can be found across all leading hotels of the country. The brand also offers an easy online shopping experience at https://www.mytrident.com/