National Seminar on "Recent Advances in Material Science" held at SD College: A one day National Seminar on "Recent Advances in Material Science" organized by Department of Physics, GGDSD College, Chandigarh, witnessed a huge participation.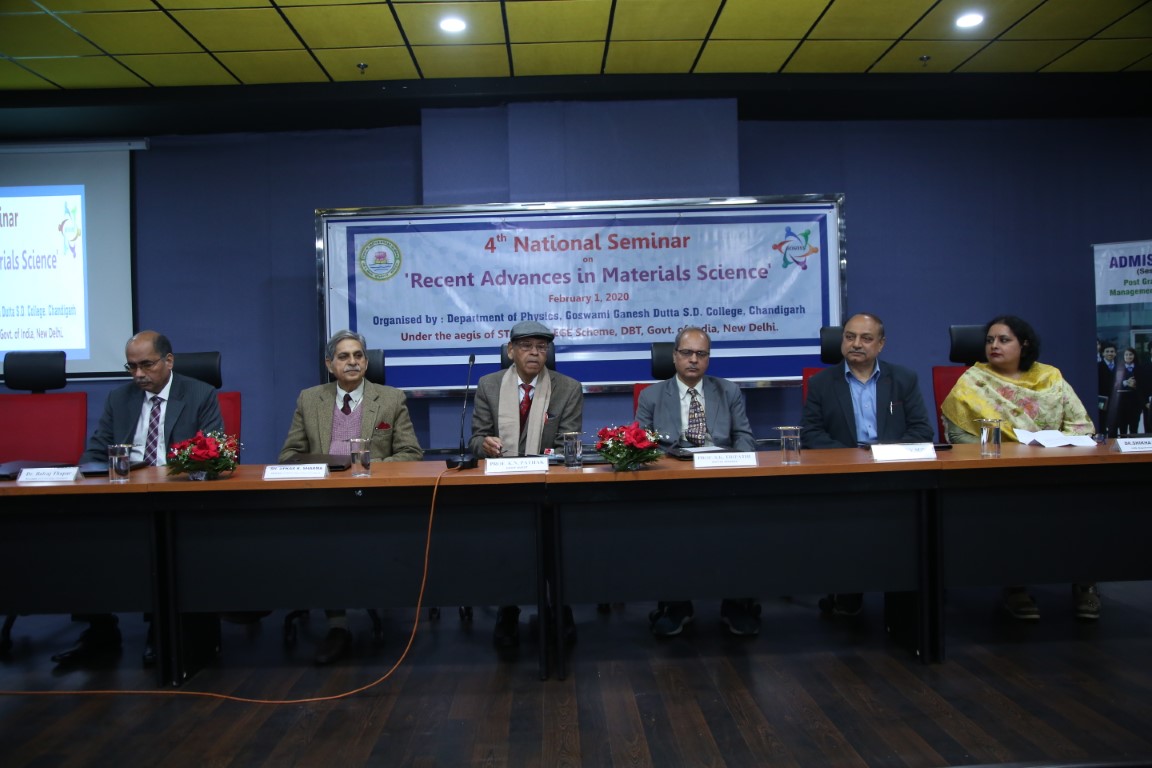 More than 250 academicians and research scholars from renowned universities and institutions including IITs and CSIR-NPL attended the seminar.
Chief guest for the occasion, K.N. Pathak Ex-Vice Chancellor, Panjab University, was felicitated by President GGDSD College Society, Sh Upkar Krishan Sharma and General Secretary, Dr Anirudh Joshi.
Mr Pathak while delivering the keynote address, said, "The seminar would provide an excellent platform for substantial discussion on recent advances in material sciences and industry needs." He spoke about the Quantum Monte Carlo simulation studies of electrons and lattice-systems in nanostructures.
Sh Upkar Krishan Sharma, in his welcome address, thanked the distinguished guests for their valuable presence. While  sharing  the growth of the GGDSD College from its inception to the status of 'A College with Potential for Excellence', by the UGC, said," the seminar has bought  researchers and scientists from across the nation on a common platform to share and access the recent trends in the field of Material Science."
Apart from series of interactive lectures chaired by eminent academicians and scientists such as Prof SK Tripathi, Panjab University, Dr Rajesh Kumar IIT, Roorkee; Dr Bipin Kumar Gupta, Senior Scientist, CSIR-NPL, New Delhi; Dr Narinder Singh from IIT Ropar; Prof. R. K. Moudgil, Kurukshetra University, research scholars from various institutes also presented their scientific posters and papers on a wide range of contemporary physics.
The event was a great success and ended with the distribution of prizes and certificates to the participants by the Principal Dr Balraj Thapar accompanied by Dean Sciences, Dr Soni and Head, Department of Physics Dr Shikha Gupta.