Neeru Bajwa and Amrit Maan starrer 'Aate Di Chidi's' poster released
The film is set to go on the floors soon under the banner of Teg Productions
Aate Di Chidi, the name which most of the children of the present era are unaware of was an integral part of Punjab's culture. But this time the renowned director Harry Bhatti is coming with a new film titled 'Aate Di Chidi' where he will showcase the importance of this forgotten part of Punjabi culture.
This movie will cast Neeru Bajwa and Amrit Maan as lead pair and the stellar star cast of the movie includes Gurpreet Ghuggi, BN Sharma, Anmol Verma, Karamjit Anmol, Harby Sangha and veteran actor Sardar Sohi.  Aate di Chidi is directed by Rabb Da Radio and Sardar Mohammad-fame Harry Bhatti alongwith Raju Verma. This project is produced by Teg Productions and Charanjit Singh Walia.
On Saturday, the producers of the film released the poster. Without prior announcement, they presented the poster to Amrit Maan, Sardar Sohi,Karamjit Anmol,Nisha Bano, Raju Verma and Malkit Singh Rauni surprisingly. This was a great moment for Amrit Maan as this is his first movie as a lead.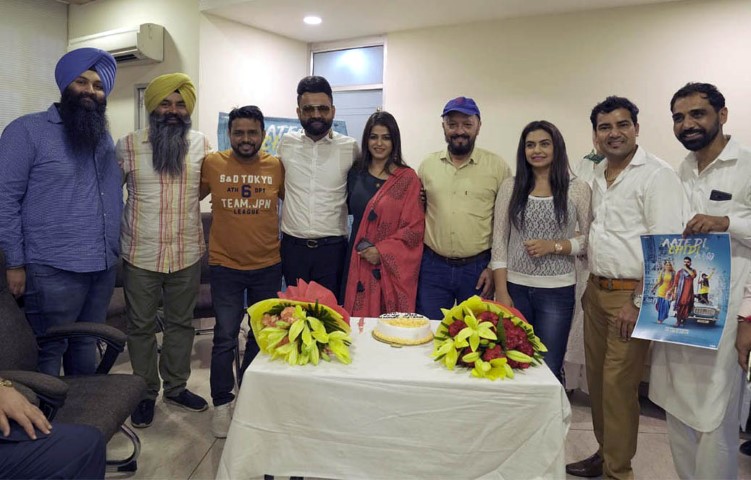 About the poster release, Amrit Maan said, "I am very excited for this and every aspect associated with this film. For quite a time we were planning about the poster release. But yesterday they suddenly invited me and presented me the poster I was so enthralled and now I am just waiting for the release of the film and the response people will give to this film.
"We discussed so much regarding the poster design and finally came up with this one. But before handing it over to audiences we want to know the reaction of people associated with the film. So we first presented it to Amrit Maan and Karamjit Anmol, their response has boosted our confidence that now we are confident enough that people will definitely love it. Now we are eagerly waiting for the release of the film," Charanjit Singh Walia the producer of the film quoted.
The film will be distributed worldwide by Munish Sahni's Omjee Group. 'Aate Di Chidi' will hit the theatres on 19th October 2018.