NewZNew (Chandigarh) : Nobel Hygiene the undisputed leader in the adult diaper category and the only Indian manufacturer of adult and baby diapers, introduced their latest product offering – Teddyy Pant Style Diapers in the Indian market.
The new pant style diapers are specifically designed according to the Indian babies' body structure, with high quality raw materials imported from the best suppliers across the globe and manufactured on the state-of-the-art GDM SPA machinery imported from Italy and customised according to Indian standards.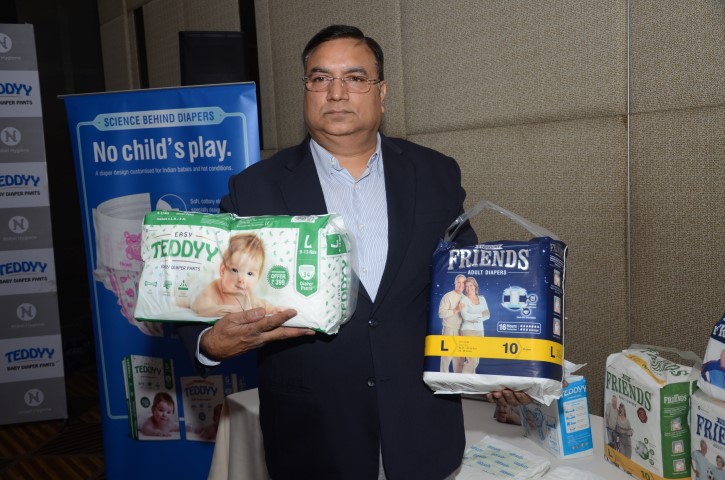 The new pant style diapers are manufactured using the latest in-core forming technology that allows them to construct its core into three dimensional shape, which allows maximum absorbency and comfort. During manufacturing, the pulp is mixed with Super Absorbent Polymer (SAP), which absorbs water and converts it into gel preventing bacterial growth and help keep baby's skin dry for longer duration. The diapers have brief-like leg openings, which help protect against leakage and provides snug comfort like an underwear and cloth-like breathable material, which keeps the baby complete dry and ensures maximum hygiene.
Speaking on the occasion, Kamal Kumar Johari, Managing Director, Nobel Hygiene said, "We have been in the diaper industry from the past 16 years and understand the Indian baby body type well. We have mastered the art and science of diaper manufacturing. Our adult diaper brand – Friends has been the market leader in the adult category ever since its launch. We have imported modern machinery from around the world to offer highest quality disposable hygiene products to our discerning customers. With the launch of Teddyy – Pant Style Diapers, we have completed our product portfolio in the baby diaper segment as well."
At Nobel Hygiene our endeavour is to offer people across age groups, with products that will enhance their comfort and confidence and eventually aid in allowing them to lead a stress free life, added Mr. Johari.
The new pant style diapers are skin friendly and have been manufactured with double elastic leg grippers to provide snug fit and prevent any side leakage. It has a top hydrophilic layer ensuring one-way flow of the liquid. It also has a breathable back sheet, which has micro pores so that hot air can come out and keep the baby skin absolutely dry to prevent any rashes or skin reaction.
Nobel Hygiene pioneered the introduction of adult diapers in the Indian market and over the years has continuously made efforts, through varied avenues, to create awareness about the problems of adult incontinence and other related issues.
Nobel Hygiene is one of the fastest growing consumer good companies in India with an objective of providing Indian consumers with best hygiene products.
The other product offering from the company includes nappies, wipes, nappy pads, adult pull ups and under pads, maternity pads. Nobel Hygiene has a state-of-the-art manufacturing facility in Sinnar, Nasik.
More information can be obtained on: http://www.nobelhygiene.com/