NewZNew (Chandigarh) : The Institute of Company Secretaries of India (ICSI) is organizing its 17th Annual National Conference of Practicing Company Secretaries on the theme "PCS @ Start-up – Accelerate – Outpace" from August 12-13, 2016 at Welcome Heritage Glenview Resort, Kasauli, Himachal Pradesh.
It is in this backdrop that the annual congregation of practising CS members would be deliberated threadbare under the following broad sub-themes:
Start-up India- Professional Opportunities for PCS
Goods and Services Tax
Arbitration Law
Insolvency and Bankruptcy Laws
Real Estate Act
National Company Law Tribunal, Companies (Amendment) Bill, 2016, Competition Law
Spiritual Well-Being /Self -Motivation
Ease of Doing Business in India – Facilitation and Obstructions
Eminent persons and experts in the respective fields from the Government, Regulators, profession and the corporate sector will address the two day Conference.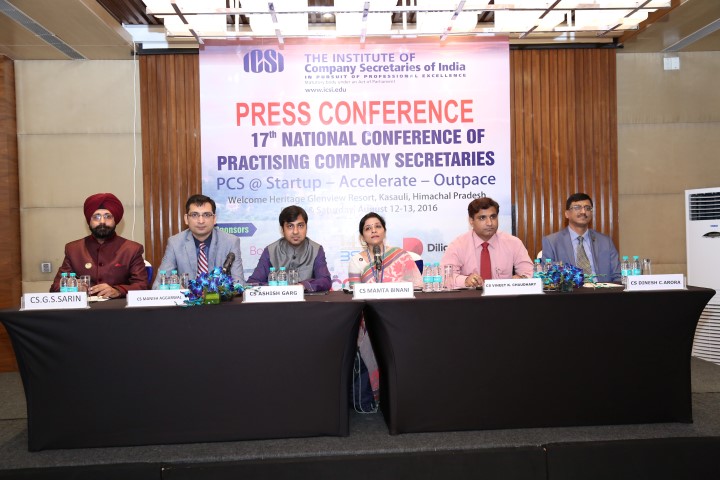 To kick start the annual national conference, a Curtain Raiser Press Conference was organized by The Institute of Company Secretaries of India (ICSI) on 11th August, 2016 at JW Marriott Hotel, Chandigarh. The conference was addressed by Ms Mamta Binani, President, The ICSI.
Speaking at the conference, CS Mamta Binani said, "India is one of the fastest growing economics in the world and entrepreneurship is key in supporting and accelerating such unprecedented growth in India. In last few years, the country has improved its position in 'Ease of Doing Business' index issued by World Bank. The government is promoting entrepreneurship which will help support employment, utilization of skills, skill development and boost FDI. It is the right time now that Company Secretaries should optimally unleash the various opportunities offered by the government through its Start-up drive. Company Secretaries need to perform a dual role: firstly, a CS himself can accelerate as a young and profound entrepreneur and secondly as a compliance officer he can help in realizing 'ease of doing business' drive for entrepreneurs in running their start-ups. In both ways, Company Secretary will rationalize his contour in the nation building process".
Emphasising the importance of CS profession Ms Binani said, "The crucial role that a CS plays in a company can be gauged by the fact that the Companies Act, 2013 recognises Company Secretaries as a "Key Managerial Personnel" along with the Managing Director / Manager, whole-time director and Chief Financial Officer (section 203). A Company Secretary is required to be mandatorily appointed in every company with a paid up share capital of 5 Crores and above, under Companies Act 2013".
CS Vineet Chaudhary, Council Member, the ICSI, and Programme Director of the 17th National Conference of Practising Company Secretaries, CS Gurvinder Sarin, Chairman – Chandigarh Chapter of ICSI and CS Dinesh Chandra Arora Secretary, the ICSI were also present on the Occasion.