NewZNew (S A S Nagar) : 'Hai Kya Chaabi'  a unique Shopping Fiesta conceptualized by The North Country Mall and 92.7 BIG FM has concluded with a Bumper Draw for a brand new I 20. The concept was to give the customers of Tricity & Punjab something new, different and an exceptional experience during this end of season sale shopping fiesta at the North Country Mall. Not only they could enjoy the evening with live music and concert every week from leading bands but also win multiple gifts like Honda Bike, Super Bicyle, LED, Washing Machine, Microwave, cash vouchers every week and be entitled for the bumper prize of Hyundai i20 car.
On the concluding day The North Country Mall and 92.7 Big FM announced the lucky winner of 'Hai kya Chabbi' contest. Mr Neeraj won Hyundai I-20 Car. "It was wonderful experience I could not sleep at night before the bumper draw, as i was full of dreams. Thank you North Country Mall." said by Mr. Neeraj(i20 winner)
The winner details are available on the website and facebook page of 92,7 FM and North Country Mall. 92.7 Big FM is also playing it on air.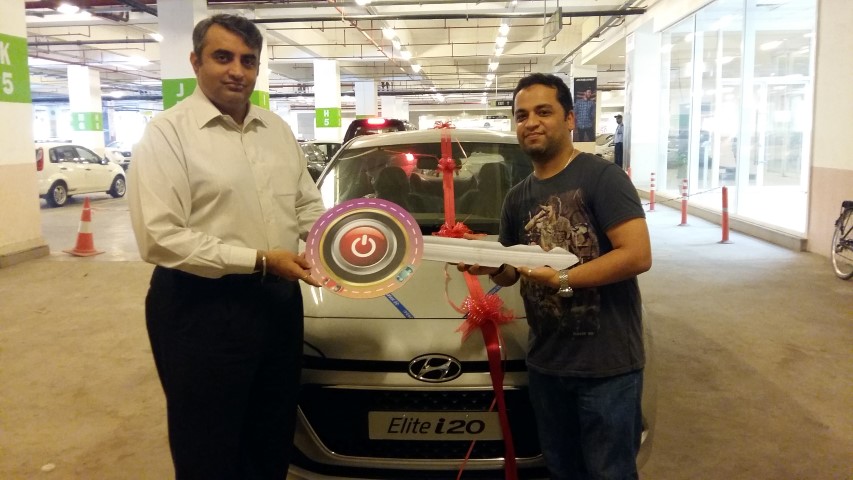 It was a one month event in which Tricity people enjoyed not only the shopping but also the live solo performances and the live concert by prominent bands like  Euphoria, The local train, ROOH and Swastik.
"We want to offer something new and exciting every time our customers come to the mall with their family and friends. Hai Kya Chaabi was one such concept in a series of events to come and we were delighted with the response" said Keshav Thapa (COO)
More than 25000 people participated in the weekly & bumper draws held during the fiesta. More than 550,000 customers visited the mall during this period.
"We got a fabulous response from Tricity and surrounding towns of Punjab. The event was a great success and we hope to bring similar activities for our customers on regular basis"  said Nitin Bir (Vice President)
In the mall to enhance the experience, a lot of fun and games were organized every day. Emcee interacted and engaged with customers and gave away gift vouchers and other gifts. Wheel of fortune, Sling shot, Air Graffiti, Tattoos and Sketch Artist engaged the customers. A gift 15 feet Chaabi was installed in the middle to the atrium for customers to take selfie's and pictures. Even cash vouchers were given out to visitors. These were of brands like H&M, PVR, Fun City, Central, Casio, Da Milano, Touguer Restaurant Classico Cafe etc.
These were the lucky winners during the fiesta:
| | | | |
| --- | --- | --- | --- |
| S.No. | Winner Name | Contact Number | Prize |
| 1 | Darshpreet | 9417483350 | Honda Navi-Bike |
| 2 | Kabir | 9878059799 | Bicycle |
| 3 | Meenu | 9356333246 | Honda Navi-Bike |
| 4 | Divya | 9783396917 | Bicycle |
| 5 | Kiran | 9780012859 | Microwave |
| 6 | Shiana Mahajan | 9646002081 | Bicycle |
| 7 | Sumeet | 9878425934 | Honda Navi-Bike |
| 8 | Sakshi Raina | 7508944764 | Microwave |
| 9 | Satinder Kumar | 9915242142 | Honda Navi-Bike |
| 10 | Vibhor | 9999758282 | Washing Machine |
| 11 | Roopam | 9462494439 | Bicycle |
| 12 | Madhu | 8288874510 | LCD |
| 13 | Dhanvi Garg | 9815336888 | Honda Navi-Bike |
| 14 | Neeraj | 9814387143 | I-20 Car |