ICM group brings its most awaited and prominent international travel and tourism exhibition, India Travel Mart (ITM) Chandigarh back in city. The three day exhibition is scheduled from 23rd March 2018 till 25th March 2018, from 11.00 AM till 07.00 PM at Himachal Bhawan, Plot No 4, Sector 28 B, Madhya Marg, Chandigarh.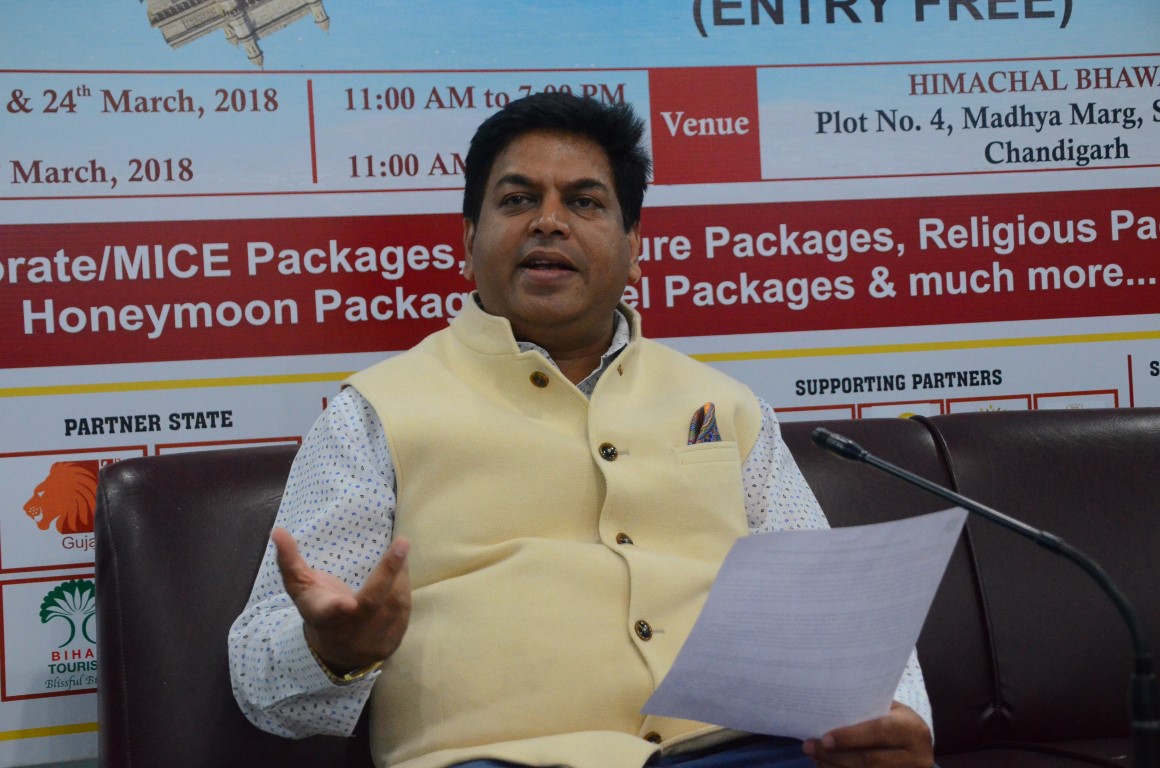 ITM is known for its unique quality of exhibitions and travel events showcasing the best from the Travel, Tourism, Hospitality and other related industries. Today's stressful lives calls for a refreshing holiday and unique travel destinations and this exhibition aims at the same. The main focus of the exhibition is on making travel more interesting and hassle free for the traveller. It provides a detailed knowledge about the various sources that can help make most of your travel. There is a wide variety of attractive packages and unique tourist destinations to choose from. The exhibition also focuses on inbound, outbound & domestic tourism.
Chandigarh is one of the biggest Outbound, Domestic and Inbound Travel Market. Many International Tourism Boards, State Tourism Departments, Hoteliers, Travel Agents & Tour Organizers along with Himachal Pradesh Tourism, Bihar Tourism, Goa Tourism, West Bengal Tourism, Telangana Tourism, Chandigarh Industrial & Tourism Development Corporation Ltd / Chandigarh Tourism, Gujarat Tourism, Cox & Kings, Yatra.com, East Bourne Hotels & Resorts, Suryavillas Luxury Resort & Spa, Country Inn Group Of Hotels, Spiceland Holidays, KAIRALI – THE AYURVEDIC HEALING VILLAGE, Comfort Inn Alstonia, Globewel Holidays Dubai LLC, Jungle Lodges & Resorts, Neo Holidays, Travel Tours, Atlantic Tourism (P) Limited, Hotel Kuthar Palace, Kasauli (Alcor Spa Resort), Karam Vidhata Resorts, Kufri, Dist. Shimla, One Hotels, Travel Mail, ITFT as knowledge partner and many more from India and Abroad always actively promote their destinations from Chandigarh & Punjab. ​
FABULOUS PRIZES in LUCKY DRAW TO WIN EVERY HOUR
Visit & Win – Daily & Every Hour from 12 pm to 7 pm Lucky draw to win One Gift Voucher, One Shopping Voucher, Two Movie Ticket, Lunch Coupon for 2 pax, Dinner Coupon for 2 pax and MEGA DRAW ON 25th March at 5.00 pm and WIN One Thailand Package in Lucky Draw
India Travel Mart was started to bring together travel industry and customer under one roof.  Mr. Ajay Gupta, Chairman and Managing Director, ICM Group, with years of experience in Travel Industry pioneered India Travel Mart which provides a common platform for interaction, understanding, and business generation for the associated travel partners. His vision has brought all of travel & tourism industry under one umbrella in a direct interaction with consumers, to provide them with great and hassle free deals. It has been a success from its inception and has been going strong since then. The exhibition focuses on inbound, outbound and domestic Tourism. ITM has been running successfully in cities like New Delhi & NCR, Ahmedabad, Jaipur, Ludhiana, Amritsar, Lucknow, Goa, Srinagar, Noida and Pune.