newznew (Chandigarh) : Most cardiac operations today are performed through a sternotomy, which involves splitting the entire breastbone. Minimally invasive cardiac surgery (MICS) encompasses a variety of operations which are performed through incisions that are substantially smaller and less traumatic than the standard sternotomy.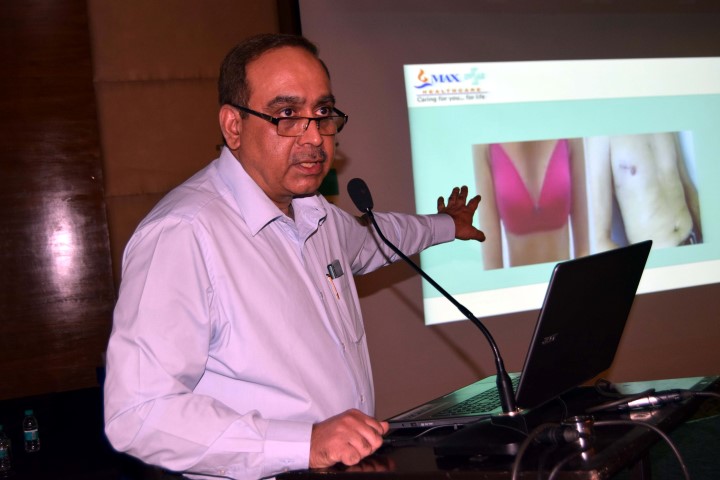 Announcing this new technique during a press conference at a hotel here today , Dr Virendar Sarwal, sr director & head of cardiothoracic & vascular surgery  at Max Hospital, Mohali  and world renowned heart surgeon Dr Lucia Torracca, chief of cardiac surgery department, Ospedali Riuniti,  Ancona Italy said that conventional coronary artery bypass surgery or open heart surgery as it is commonly called is performed by splitting or cutting through the breastbone (sternum). MICS for coronary bypass surgery is a safe procedure that has revolutionized the way coronary surgery is performed.
Sarwal said that in this technique the heart is approached through the side of the right or left chest via a small 3-4 inches incision. This cut is placed just under the nipple and the chest is entered between the ribs without cutting any bones and by splitting the muscle.
Sandeep Dogra, sr vp & zonal head, Max Hospitals Punjab said the latest technology will hugely benefit patients from the tricity and adjoining states.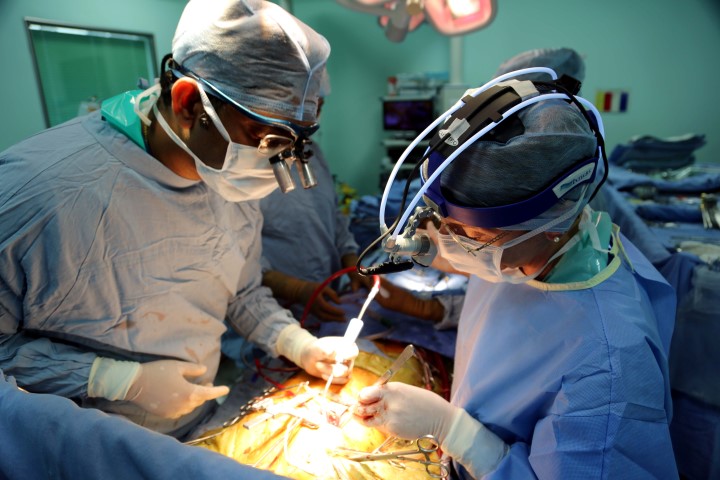 Meanwhile Dr Sarwal along with Dr Lucia demonstrated live surgeries of this new technique at Max Hospital, Mohali operation theatre this morning .
Elaborating the technique further , Dr Sarwal said that the operation is performed using all arteries or a combination of arteries and veins removed from the leg. The vessel from the leg in these operations is also removed endoscopically without cutting the skin over the leg. Highly advanced instrumentation and advanced techniques allow for the operation to be performed very safely.
Dr Lucia said that MICS confers many advantages over standard approaches, reduced trauma to the chest wall tissues being the most important. This latest technique of open heart surgeries comes with huge benefits to the patient such as early discharge in 2-3 days from hospital and back to work early in 10 days as compared to 6-8 weeks in the conventional technique. Other benefit include smaller incisions, smaller scars, reduced infection risk, shorter hospital stay and recovery time and most importantly less blood loss.
MICS vs traditional technique:
No bones are cut. This has several advantages in reducing pain, retaining function and having a positive effect on breathing. Unlike traditional heart surgery return to normal life including driving or other activities is not disrupted and can be started almost immediately.
Blood loss is almost negligible eliminating blood transfusion in most and eliminating blood borne infection.
Reduced infections whether it be wound infections or post surgical lung infection. This makes the procedure ideal in diabetics and older patients who have poor resistance to infection.
The incision is so cosmetic and measures just 3-4  inches that it's practically impossible to tell that a heart operation has been done, so it is a preferred procedure especially for women.
The procedure Hospital stay is only 4 days unlike the conventional heart surgery that takes 9 days.
All these benefits put together ensure short hospitalization and recovery. All the blocks irrespective of their location in the heart can be bypassed in a safe and predictable manner.
Dr Lucia added that it is a beating heart operation or an 'Off pump operation' i.e. the operation is performed on the beating heart. Pump support may particularly be used when the heart is weak. Elucidating how people with diabetes etc can benefit from the surgery, Dr Sarwal said that diabetics can be safely be operated up for minimally invasive cardiac surgery as infection rates are almost eliminated. The quality of the vessels for diabetics will dictate whether you are suitable for this technique and your surgeon is the best judge. The best part about this new technique is that the risk of infection is close to zero. All infections are reduced dramatically in MICS CABG even in diabetics.
Other Heart Surgeries like Valve replacements, closure of hole in heart are also done through same small incision from right side. Here as these procedures are done on pump the heart lung machine is connected through vessels in the groin. Rest of advantages here also remain the same.