Mango love takes a dramatic twist of ACTION as Bollywood heartthrob, Varun Dhawan and the Bad Man, Gulshan Grover tussle over their delicious, refreshing bottle of Maaza.
Varun Dhawan has been appointed the brand ambassador of Maaza
Continuing with the theme of "Har Mausam Aam, Har Mausam Love", the new Maaza campaign starring Varun Dhawan and Gulshan Grover, adds a refreshing twist of 'ACTION' to the endearing story of mango mania
The ad campaign is set to hit airwaves on 11th April, 2015
Maaza to be now available in afresh avatar through a new Visual Identity System (VIS)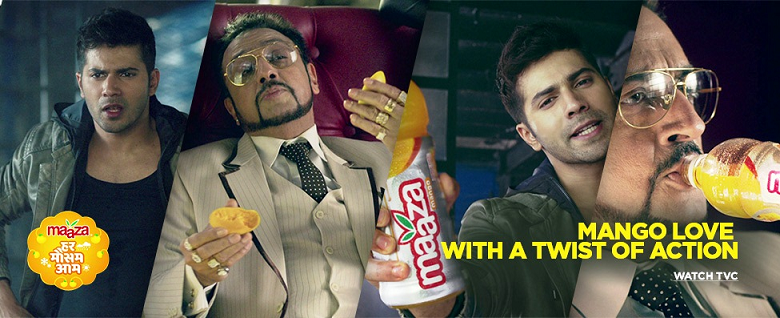 NewZNew (Chandigarh) : Anxious wait, childlike relish or sheer greed – there is always an element of drama in the things we love immensely. Think of mango and mango lovers and you know what we mean. Maaza, the 'Harmausamaam' which owes its origin to arguably India's most loved fruit, is back with its all new communication campaign but with a dramatic twist. Starring heartthrob, Varun Dhawan and Bad Man of Bollywood, Gulshan Grover, the latest ad campaign of India's favorite, most trusted and most exciting beverage drink continues the mango saga through an action packed story of a hero and villain with a loveable twist in the end.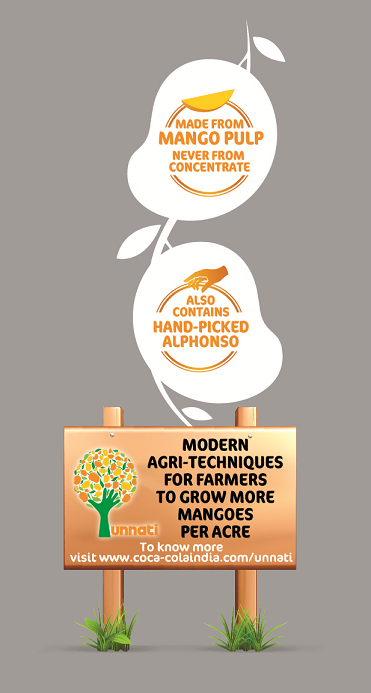 Did you know this about Maaza?
Speaking about the campaign, Debabrata Mukherjee, Vice President-Marketing and Commercial, Coca-Cola India and South West Asia, said, "Consistent delivery on the superlative product quality and taste experience layered with fresh and engaging communication has been the secret to Maaza's success over the last four decades. Our constant endeavor is to retain this secret formula by constantly refreshing the brand; while not losing sight of its strong heritage. One way to keep the brand contemporary and relevant is to ensure that we stay in touch with the times while drawing on the rich heritage of the brand. The current commercial represents that philosophy wherein Varun Dhawan who has strong youth connect and mass appeal, delivers the brand promise in an engaging manner. Built on the insight that there is always something theatrical and dramatic about things we love, this campaign adds a refreshing twist of action to Maaza's promise of 'HarMausamAam'.
He further added, "His image and personality blends in perfectly with the brand equation of Maaza. I hope to see him take the brand to newer levels of success, reiterating our core message that the longing for mangoes has only one answer – Maaza".
Speaking about this association with Maaza, newly appointed brand ambassador, Varun Dhawan, said, "Every Indian has had some or the other fun and memorable tryst with Maaza and I am no different. I remember how as a child I would look forward to the refreshing and delightful mango indulgence offered by Maaza as an incentive for not being naughty. And now, I get to contribute my bit to this classic brand's journey to giving mango lovers a reason to smile all through the year. I couldn't ask for more. This is an honour and I am looking forward to this association with Maaza, a very special brand which has been an integral part of my life".
Commenting on the film, Sainath Saraban, National Creative Director, Leo Burnett, says, "There is always a sense of drama associated with mangoes and mango lovers. Previously in our campaigns, we had focused on how mango indulgence can work magically in creating a love story. This year we wanted to take the messaging to another level. Along with love, there is also a lot of action associated with mango fanatics. Therefore, we teamed up the coolest hero and villain in the industry, Varun Dhawan and Gulshan Grover, to create an action-packed drama for Maaza, this season."
Storyboard
The hero enters the gangster's den with a bang, looking for the villain only to find him feasting on a plate of mangoes as he thinks that the season of mangoes is soon going to end and he will not get mangoes after that.  The hero mocks the villain and pulls out a bottle of Maaza telling him that mangoes can now be enjoyed all-round the year. At the end of the ad, we see that the villain is all tied up and the hero is enjoying the same bottle of refreshing chilled Maaza. Therefore, we see that it is not with bullets, but by tempting the villain with Maaza, the hero wins over him. We believe the new campaign captures the thought of drama in a humorous and quirky manner.
Creative Team
SainathSaraban (National Creative Director)
Ashish Poddar (Associate Executive Creative Director)
Rajesh Minocha (Creative Director )
Soda Films (Production House)
JayantRohatgi (Director)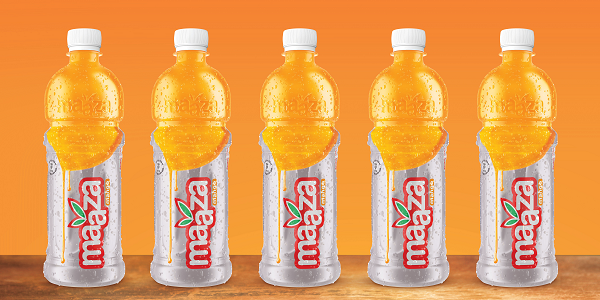 New Visual Identity 
The new Maaza visual identity has been designed to enhance the brand and fruit appeal. Along with a revamped logo and tempting images of thick, juicy and delicious mango, the pack aims to convey the true essence of the beverage. It highlights the superior product credentials of the beverage which Indians have loved for 4 decades; re-assuring them about the unmatched and unaltered mango taste experience that only a Maaza can offer – clearly calling out the presence of mango pulp (as against concentrate) and the king of mangoes Alphonso. It also brings to fore the sustainability initiative- Project Unnati, undertaken by Maaza in partnership with Jain irrigation to facilitate higher growth and income for mango farmers and streamline supply chain and enhance productivityfor Maaza and Minute Maid Mango.
"Maaza is a classic, proven, well trusted and loved brand. Hence our attempt is always to evolve it in keeping with the times, making it relevant to the youth of today. The focus of the design is to showcase the tempting nature of the fruit which no one can resist – which is also the true essence of our brand. The packaging design change that we are unveiling now is the result of months of creative development and testing, a journey that started more than 2 years back", said Debabrata Mukherjee.