NewZNew (Comic) : Read Surinder Singal Barnala Ke FILMY KUTAPPE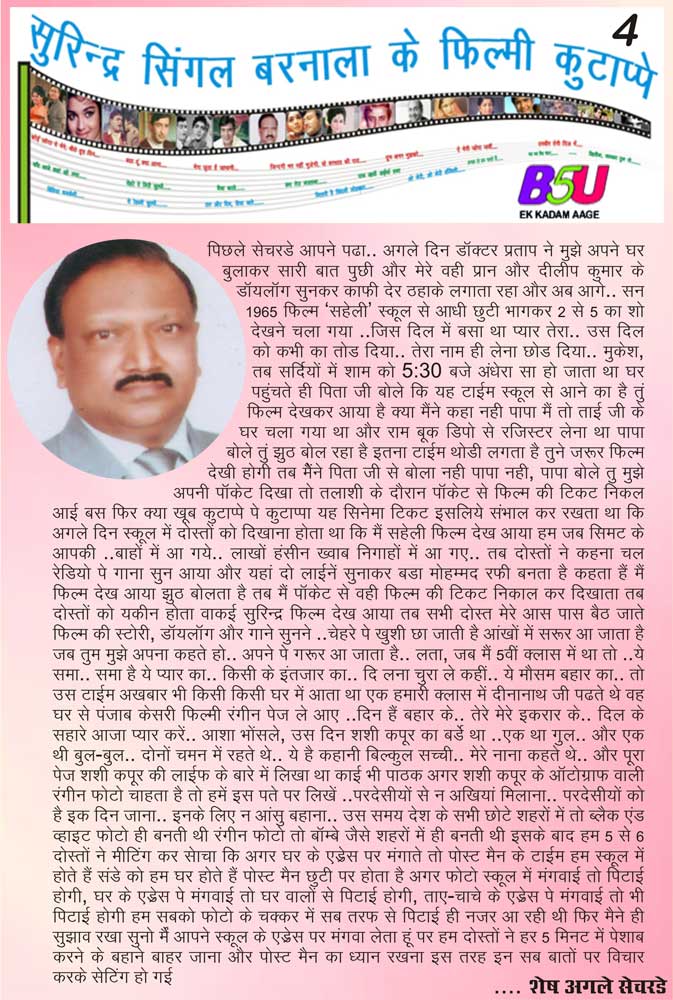 Filmy Kutappe – 4 in English
last saturday you have read..next day
[dropcap]D[/dropcap]r.Pratap called me at his house and asked me the full story and after hearing the dialogues of Pran and Dilip Kumar he kept on laughing for a long time and now next….In 1965 I took half day from school and went to watch a 2pm to 5pm film show at Film Friend School. The name of the movie was Dil Mein Barsa Tha Pyaar Tera ..Us Dil Ko Kabhi Tod Diya..Tera Naam Hi Lena Chhod Diya. at that time winters were going on and it started getting dark after 5:3Opm . When I reached home my papa asked me that this not the time to come from school and you watched a movie before coming to home? I said "no papa I went to Tai ji's home and I had to buy a rigester from ram book dept. my father said you are telling a lie going to tai ji"s home and buying a register does not take this much time you must have watched a movie.No papa I said my father.
My father asked me to show my pockets to him and when he searched my pockets, he got a film ticket from my pocket and then I got a lot of scoldings. My father said he kept this ticket safely because next day he had to show this ticket to his friends that i have watched the friend film. lakhs of beautiful dreams came into my mind then my friends said tht he has listened a song from the radio and after singing two lines he being Mohammad Rafi and saying that I have watched the movie he's telling a lie then I took out the movie ticket from my pocket and showed it to my friends then they believed me that I have really watched the movie and then all my friends gathered around me and asked me to tell them the story,dialogues,and songs of the movie.
When I was in 5th class Ye Sama Sama Hai Pyaar Ka ..Kisi Ke Intzaar Ka .. Dil Na Chura Le Kahin..Ye Mosam Hai Bahar Ka.. At that newspaper was delivered in some of the houses. In our class there was a boy Dinanath ji. Everyday he brought Punjab Kesari Filmy Rangeen page Le Aye Din Hai Bahar Ke.. from his home. Tere Mere Ikrar Ke ..Dil Ke Sahare Aaja Pyaar Karen.. Asha Bosle. On that day it was the birthday of Shashi Kapoor . My nanu told me a story which was really true the name of the story was Ek Tha Gul.. Aur Ek Thi Bul-Bul..Dono Chaman Mein Rehte The.. and a full page was written on Shashi kapoor and if any gernalist wanted the colourful page of autograph then he/she had to write on this address – pardesiyon se na akhiyan milana.. pardesiyon ko hai ik din jana ..inkeliye na aansu bahana..at that time  there was only black and white photos in small towns , colourful photos were made only  in cities like Bombay.
Then we 5-6 friends thought that if we order this photo at Home address then we ll not at home and on sunday the postman will be on holiday and if we order at school's address then we will punished and even at home as well. We have seen punishment all around in the matter of photograph. After all this we have decided to order at school's address, we have decided to go for toilet after evry five minutes to saw postman….rest next Saturday…
Read Surinder Singal Barnala Ke FILMY KUTAPPE every Saturday exclusively on www.newznew.com
for More Filmy Kutappe Please like www.facebook.com/newznewonline