NPC – PHD Chamber celebrate National Productivity day  : Addressing a Regional workshop on Circular Economy for Productivity & Sustainability organized by National Productivity Council, Chandigarh in association with PHD Chamber of Commerce and Industry at PHD House, Chandigarh on the occasion of National Productivity week celebration.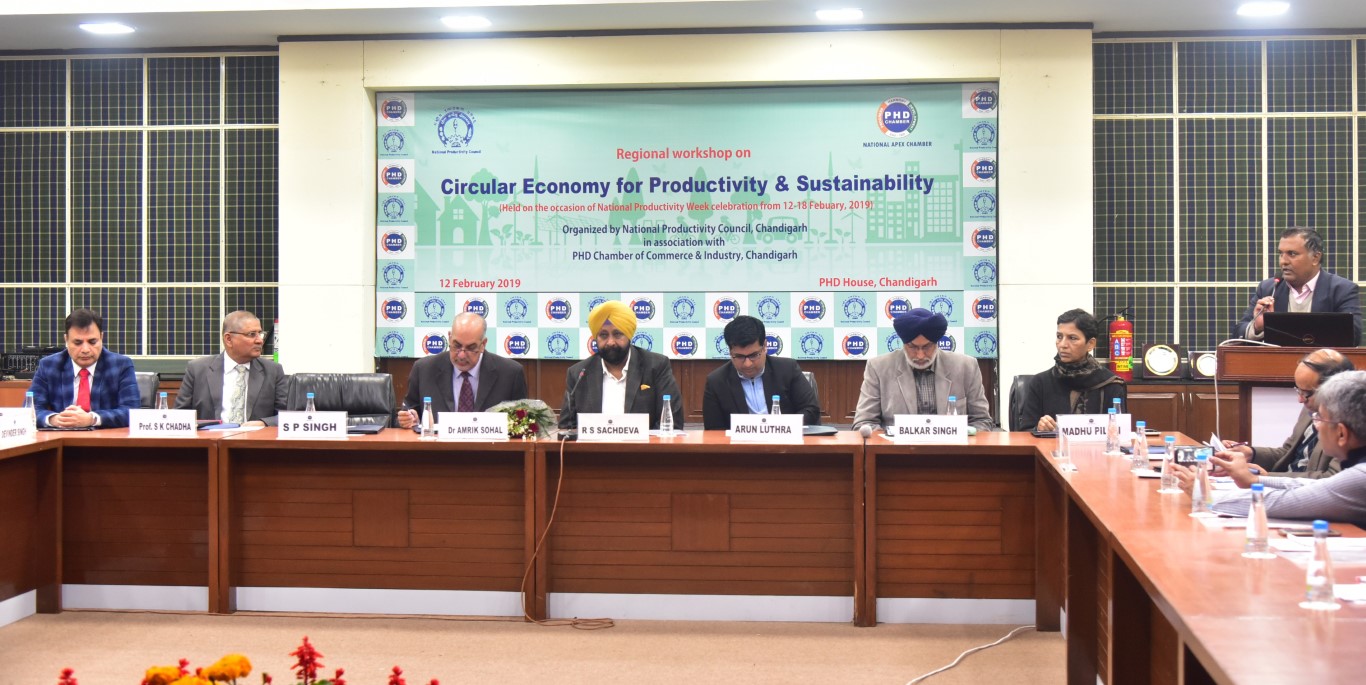 Shri RS Sachdeva, Chairman, Punjab State Chapter, PHDCCI said, India has the opportunity to save money, make money and do good by adopting the principles of the circular economy. In a world that is increasingly running out of natural resources, this thinking is an asset that must be leveraged by businesses, policymakers and citizens in an organized manner and expanded to include other elements to make the economy truly circular, he added.
While addressing participants on the occasion, Chief Guest, Dr. Amrik Sohal, Former Dean-Department of Management, Monash University, Australiaexplained difference between linear economy and circular economy, principles of Circular economy and challenges in moving towards circular economy.
Further speaking on the occasion, Mr. SP Singh, Regional head, NPC Chandigarh said every year NPC celebrates as National Productivity day and 12-18 February as National Productivity week to promote productivity culture in the Country. Every year a unique theme related to productivity is selected on which seminar/ workshop/ training/other events  are organized to create awareness among  citizens, industry and other stakeholders. He further stated Circular Economy for Productivity and Sustainability is the theme for Year 2019.
Eminent speakers including Professor S.K. Chadha, Former Chairman,University Business School, Chandigarh; Professor N.K.Chawla, Punjab Engineering College Chandigarh;Shri Neelkanth Mahajan,Technical and Management Consultant;Shri Vishal Duggal, Environment Management Consultant;Shri Devinder Singh, Energy Management Consultant; Mr. Arun Luthra, CEO, Amerging Technologies; Shri Balkar Singh, AGM, Punjab Energy Development Agency (PEDA), Chandigarh deliberated on different tools and aspects of circular economy for productivity and sustainability.
Mr. Ashok Kumar, Deputy Director, NPC Chandigarh also shared his views on the subject. Queries and various issues on environment and economy were discussed at length during the interactive question and answer session.
The programme ended with vote of thanks by Ms. Rimneet Kaur, Deputy Resident Director, PHD Chamber.Nearly 70 industry members and professionals from Punjab, Haryana, Himachal Pradesh and Chandigarh got benefited from the programme.