A unique Sports event Exotic Grandeur Mirchi Neon Run is all set to take Chandigarh by storm with its first edition on Sunday, 18th March at Circus Ground Sector 17 Chandigarh 5 pm Onwards. The event is being organised by Radio Mirchi with the support of Exotic Grandeur, a premium real estate development of the tricity. VR Punjab is also associated with the Neon Run and will be hosting the after party on 24th of March in their mall premises itself.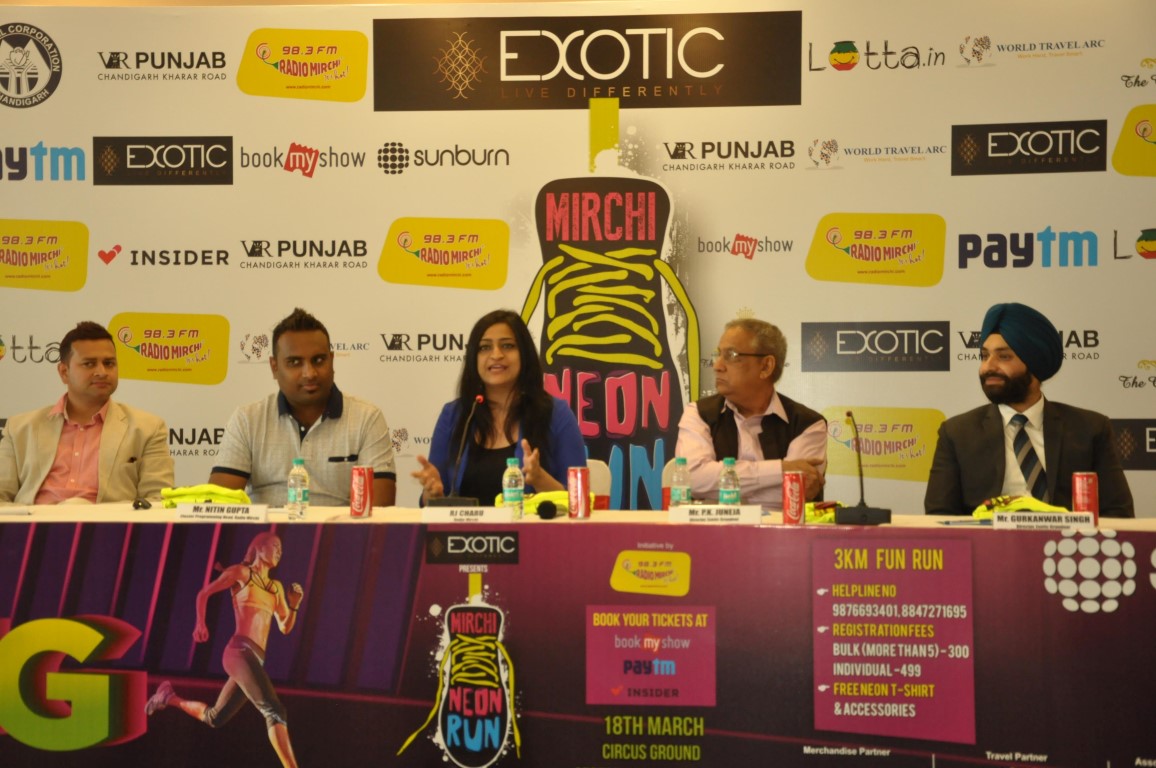 Details of the Run were shared at a press meet graced by Mr Gurkawar Gandhi, Mr Neeraj Garg, Mr Ankur Juneja and Mr. PK Juneja,  all Directors of Exotic Grandeur along with Mr Prikshit Sharma, Head, Mirchi Activations and Mr. Nitin Gupta, Cluster programming Head, Radio Mirchi and Charu, an RJ from Radio Mirchi. A symbol of the run – Neon T Shirts which will be worn by runners, were unveiled at the press meet.
"Keeping in line with our  vision to create unique and memorable events that add a freshness and fun to people's lives, the ambience of event is themed on neon colors and glow. This run promises to set the city aglow with its vibrancy. " Said Mr Prikshit Sharma, Head, Mirchi Activations, which is the organisation behind the concept & its implementation.
"As part of the Virtuous Retail's 'Connecting Communities' programme, we are pleased to support and come on board as an associate to Radio Mirchi's inaugural Exotic Grandeur Mirchi Neon Run in the Chandigarh Capital Region. We look forward to hosting the Mirchi Neon Run success event on the 24th of March and wish all the runners a very good luck", said Jonathan Yach, VR Director Retail Operations on Phone.
The run is India's first neon theme-based one. This experience will cater to people across different ages and fitness levels and ensure a fun-filled party run for the entire family. The event will Begin with a Zumba warm-up session, followed by a 3 km run and then will be the final post-run EDM party curated by Sunburn.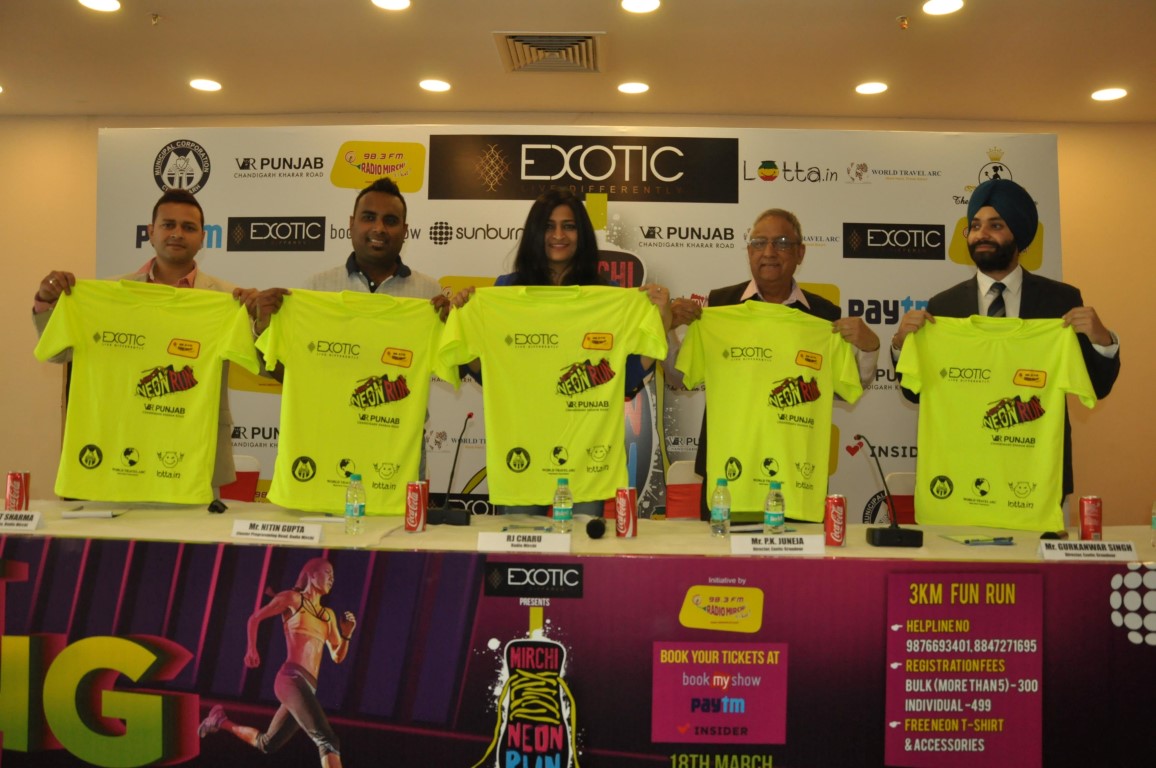 Neon run started in 2015, & due to its spectacular success from the first edition onwards, this year the organisers are taking the run to 13 cities including Bangalore, Chandigarh, Surat, Pune, Coimbatore and Delhi in addition to Mumbai, Vadodara, Ludhiana, Chennai, Indore, Ahmedabad, Surat and Hyderabad where it has already taken place this year.
In Chandigarh a large number of people are expected to participate in this unique event. With the tagline "Run. Dance. Party!", the Neon Run promises to be a scintillating experience where one can have fun and fitness with friends and family. Registrations for the event are open through BookMyShow, Insider and Paytm and can be booked from the exclusive neon run registration desk set up in VR Punjab till the final day that is 18th March 2018.