Oil & Gas Conservation drive 'Saksham 2019' launched : To create mass awareness about the need for judicious use and conservation of petroleum products, oil industry under the aegis of Ministry of Petroleum & Natural Gas and Petroleum Conservation Research Association (PCRA) is organizing an oil and gas conservation month from 16th January to 15th February, 2019.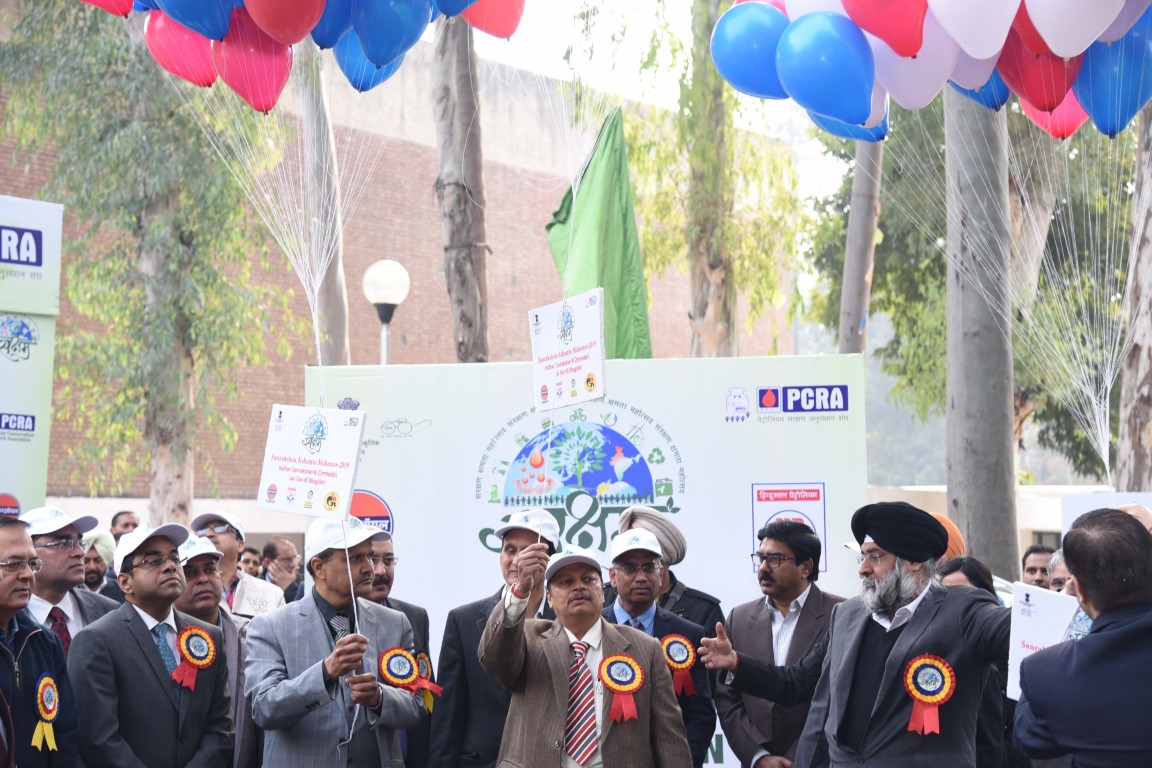 The campaign called 'Saksham 2019' (Sanrakshan Kshamata Mahotsav) was inaugurated at Tagore Theatre here today by Mr CSR Reddy (IPS), DGP – Investigation, Lokpal, Govt of Punjab.
Mr Reddy inaugurated the awareness drive at a colourful programme by releasing balloons and flagging off a Fuel Awareness Van, which will travel across the length of the state of Punjab with conservation messages and relevant literature. He appreciated the efforts of PSU Oil & Gas Companies in spreading the message of conservation of precious petroleum products. He further stressed upon the need for conservation of natural resources and thereby environment to ensure a better future for the coming generations.
Mr Sandeep Jain, State Level Coordinator for Oil Industry in Punjab and Chief General Manager, Indian Oil Corporation Limited, Punjab, J&K and Himachal Pradesh and Chandigarh, in his welcome address outlined the various activities carried out by Oil Industry towards oil and gas conservation in association with PCRA. He also highlighted the constant endeavours of the oil companies in improving the quality of fuels and lubricating oils, thereby enabling the Indian consumers to to save fuel and the environment by reducing fuel emissions.
Mr Gagandeep Singh Sodhi, State Level Coordinator for oil industry at UT Chandigarh and Deputy General Manager, Hindustan Petroleum Corp. Ltd. said, "By adopting simple tips in our day to day life, one can achieve judicious utilization of available resources. Oil companies in India are actively engaged and are investing in renewable and cleaner sources of energy like bio-fuels, wind energy, solar energy etc."
Check post on Instagram :
Conservation tips were given by Mr Sanjeev Verma, Additional Director, PCRA. A short play on conservation was presented by Samwad Group. Various activities with the theme "Indhan Sanrakshan Ki Zimmedary, Jan Gan Ki Bhagidari" are planned for housewives, school children, drivers, mechanics, industrial and agricultural users as well as general public. Mass awareness campaigns will be held by PSU oil companies in Punjab during the month.